Department of Geosciences - Field Camp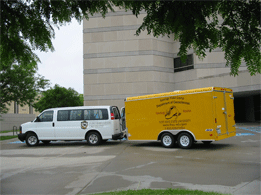 Field Camp Trailer. Honk if you see us going down the road!!
2017 Field Camp
Dates: TBD (late May - mid June)
GSCI 454 - 3 credits & GSCI 454 VA 3 credits [Total 6 credit Semester Hours]
FIELD CAMP 2018 Information pending. See information below for general information.

An integrative geosciences capstone course involving a broad range of applied field techniques and procedures. Students will not only be evaluated in the field on traditional field methods such as measuring and describing stratigraphic sections, correlating stratigraphic sections, interpretation of ancient depositional environments, making geologic maps, mapping structural features, they will also complete projects on applied environmental geophysics using MagMapper, Surfer, and Grapher computer modeling, GPS, and ArcView GIS.
Overview
Field Camp heads west to Colorado and Utah, and will be taught primarily by Dr. Jonathan Sumrall with project support from Dr. Ken Neuhauser. Mapping projects cover large and small sites beginning with simple to more complex in Dinosaur National Park and the San Rafael Swell of Utah, as well as in the San Juan Mountains of southwestern Colorado. These projects involve the use of bruntons, topographic and air photo base maps, and stereonets. Products [which you may keep] include geologic maps, composite stratigraphic sections, and structural and stratigraphic cross sections, as well as supplemental interpretive reports. You will also use a Geometrics cesium magnetometer in conjunction with GPS and GIS databases, Surfer, and ArcView GIS in an applied geophysics and scientific writing project on the FHSU campus. Note: Field Camp is physically demanding - you must be in shape. At times you will be required to hike up rugged rocky slopes at elevations as low as 6000 feet up to 11,000 feet in hot weather. So, be sure you are prepared for such respiratory demands. A typical daily routine begins with breakfast at 7:00 am, in-field projects until 4 or 5 pm, followed by supper. Evenings consist of in-camp study time in department tents or dorms. Campsites will be in national parks and private campgrounds. You will also have access to showers, laundry, phone, etc. at most of the campgrounds, with a few exceptions - see itinerary for specifics. You will also have a mineral, rock, and fossil exam at the end of camp.
Email instructors for documents with complete information on field camp including overview, itinerary, how to enroll, what to bring, and other important information.
How to Enroll:
If you are already an FHSU student enrolled in Dr. Jonathan Sumrall's Field Methods you will pre-enroll as you normally do using Tiger Tracks. You will also need to submit a $100 commitment deposit, complete field camp forms, and make your final fee payment as outlined in the information provided to you.
If you are not an FHSU student enrolled in Field Methods at Fort Hays State University during the spring semester please complete the following steps:
You will be officially enrolled when the following is complete: the field camp fee-balance and full tuition payments arrive and enrollment has been approved by Dr. Jonathan Sumrall.
Mailing contact:
Dr. Jonathan Sumrall,
Assistant Professor of Geosciences
Department of Geosciences
Fort Hays State University
600 Park Street
Hays, KS 67601
---