Fort Hays State University Hispanic College Institute 2017
The 2nd annual Fort Hays State University Hispanic College Institute was an incredible experience for all in attendance. Whether you were a participant, student leader, volunteer or staff member, everyone played an important role in the success of the program. All students were able to get a sneak preview of what to expect as a college student, and specifically, what FHSU has to offer in order to make the college transition seamless.
Activities ranged from team building exercises to informational sessions that exposed the students to future process they would encounter when applying for college. Student leaders were able to aid in building the connections with each familia student group and assist in students gaining valuable life skills! Overall, our participants left with a sense of belonging, improved personal development skills, and with the dream of pursuing a college education becoming a reality!
'The 2017 Hispanic College Institute was a huge success,' said Tricia Cline, director of admissions. 'Students learned not only about the importance of higher education, but also the next steps they needed to take in order to achieve their goals.' There were 58 high school students in attendance from Kansas and two other states. Nine were returners from last year's HCI. 'I loved seeing the students arrive as strangers on Wednesday and leave as a family. There were a lot of tears shed on Saturday as everyone said their goodbyes,' Cline said. 'The HCI is a life-changing event for many of these students, as they learned they were admitted to Fort Hays State University and would be able to continue their education right here on campus after high school.'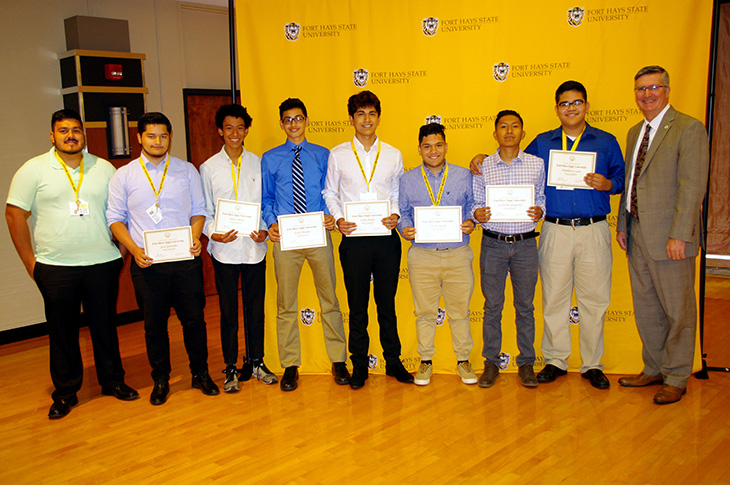 Pictured left to right: HCI LEAD, Ricardo Sauceda, Jose Gonzalez, Julian Mann, Erick Mendez, Carlo Pulido, Victor Banda, Guielermo Gutierrez, Humberto Luna, and Dr. Joey Linn