Kelei Zhang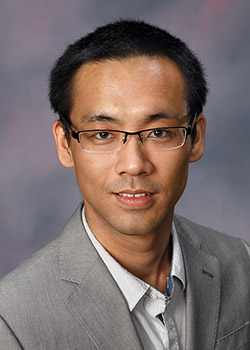 Title: Instructor
Department: Informatics
Emphasis: Management Information Systems & Informatics
Phone: (785) 628-4775
Email: k_zhang4_sia@fhsu.edu
Address: Hammond Hall, Room 159
Background
Kelei Zhang is an Instructor in Department of Informatics. He earned his first master's degree in Business Administration from FHSU. He has since followed his passion in the cybersecurity field, pursuing his second master's degree in Cybersecurity.
Upon his graduation, Kelei completed independent training in the cybersecurity field. He passed the 24-hour long Offensive Security Certified Professional certificate test in November of 2015. As a OSCP, the "try harder" slogan pushes him to achieve the next level to the Offensive Security Certified Expert exam. His expertise on Penetration Testing will bring new thoughts and security awareness to the courses he teaches.
Kelei's current research is focused on mobile security in finding generic security testing methods, 64-bit Windows software buffer overflow testing, and algorithms on malware against antivirus detection.
Courses:
INF 101 Introduction to Computer Information Systems
INF 302 Windows Client Administration
INF 405 Research Methods in Informatics
MIS 216 Professional and Ethical Issues in MIS
MIS 301 Business Software Development