Larry Dreiling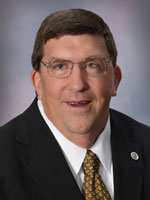 Title: Adjunct Professor
Department: Informatics
E-Mail: ljdreiling2@fhsu.edu
Background:
Larry Dreiling is a senior field editor for High Plains Journal, where he is the agricultural weekly's principal reporter on farm policy as well as rural finance and development issues. In his over 35 years as a journalist, Larry has reported from more than 20 countries on subjects as diverse as government farm programs, rural trauma care, and antique tractor restoration.
Larry served as 2000-01 President of the American Agricultural Editors' Association (AAEA) and as 2005-06 President of the association of North American Agricultural Journalists (NAAJ). In 1999, he received NAAJ's J.S. Russell Memorial Award for setting high ethical standards for his peers and his life of service to his profession. He also holds a Rural Fellowship in the Association of Health Care Journalists.
In 2011, Dreiling received the Reuben Brigham Award from the Association for Communication Excellence (ACE), an association of communicators, educators and information technologists who extend knowledge about agriculture, natural resources and life and human sciences. The award cites Dreiling as "a communicator who has made a major contribution in the field of agriculture at the regional, national and international level."
Larry is an AAEA Master Writer and an early winner in AAEA's writing contest for Best News Reporting for the Internet. He is also the first U.S. reporter to win the International Federation of Agricultural Journalists Star Report Prize for outstanding foreign coverage.
Larry earned bachelors' degrees in political science and communication from Fort Hays State University in 1980 and his Master of Science in Communication degree from FHSU in 1985. While on staff of The University Leader, Larry won the College Media Advisers National Award for Business and Economics Reporting. In 2011, he was presented with FHSU's Nita Landrum Award, given for service to his profession, community and the university.