Spring 2014 Leadership News
SNU Students Visit Shooting Range
On May 10, Mr. Seth Kastle, Instructor of Leadership Studies, took several of the SNU China students out to the shooting range to gain basic knowledge of firearms from Dr. Duane Shepherd and the Fort Hays State University Shooting Team. This was the first time many students had ever been to a firing range. It was a memorable experience for all involved.



Leadership Professor Receives Service Award
Congratulations to Dr. Curt Brungardt, Omer G. Voss Distinguished Professor of Leadership Studies & Executive Director of the Center for Civic Leadership, for being awarded the Spring 2014 Outstanding Service Award at Fort Hays State University. Teaching, scholarly activity, and service are central to the mission of FHSU. Each semester, faculty members who exemplify excellence in these areas are nominated by their colleagues for the Outstanding Teaching Award, the Outstanding Scholarly Activity Award, and the Outstanding Service Award. We are very proud of you, Curt!
L3 Serves Kansas City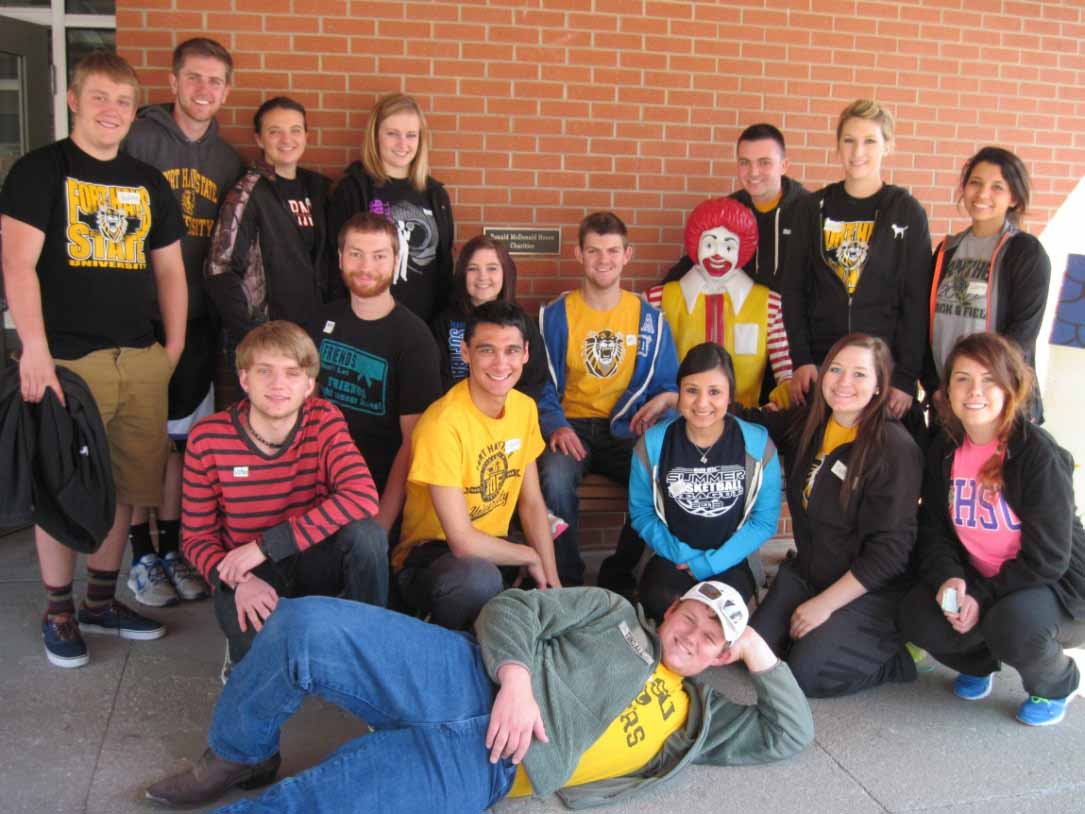 On April 17th-18th, the L3 (Live. Learn. Lead.) Learning Community went on their service trip to Kansas City. Dr. Jill Arensdorf and Dr. Justin Greenleaf of the Department of Leadership Studies accompanied 16 students. The Learning Community volunteered at the Kansas Humane Society, Kansas City Ronald McDonald House, and Harvesters Community Food Network. Some of the activities at the Humane Society included cleaning, preparing adoption packets, putting together animal beddings, and playing with the cats and dogs. They also served breakfast to families at the Ronald McDonald House. At Harvester's they supported the Feeding America BackPack Program by compiling backpacks with nutritious and easy-to-prepare food for underprivileged elementary children to have access to after school and over the course of weekends.
Of the students, Reagan Quick, a freshman pursuing a Physics degree, said that she enjoyed preparing breakfast for families staying in the Ronald McDonald House because, "It was exciting to see that the kids liked the pancakes, but actually being able to sit down and interact with them and their families was priceless." Reagan also explained, "It was such a fulfilling trip and every organization that we stopped at was so thankful that we chose to volunteer for their cause. This trip really reinforced the importance of volunteering. Without volunteers, organizations such as the ones we worked at wouldn't be able to provide their much-needed help and services. Being able to actually work inside and see how organizations use the funding and or donations that they receive really gives you a fresh perspective that many other people simply do not get. Going on a trip that allowed us to build stronger bonds as a group, all while working towards truly worthwhile causes was an incredible opportunity that we will never forget."
"Pack the Truck" on May 3
Join us Saturday, May 3rd from 9 a.m. to 1 p.m. in the Orscheln's parking lot at 2900 Broadway Ave in Hays, Kansas for "Pack the Truck." Pawprints for Change, an FHSU leadership 310 team, needs your help to pack the back of a pickup truck full of supplies for the Western Plains Animal Refuge (WPAR).
Items currently needed:
pet beds, pads, and blankets
pet carriers and wire pet kennels
leashes, collars, and harnesses
brushes and grooming supplies
Purina One or Diamond Naturals cat food
IAMS or Science Diet Ideal Balance kitten food
Diamond Naturals or Nutro Natural Choice dog food
scoopable kitty litter
natural dog and cat treats
external parasite treatment and repellent
Seventh Generation cleaning products
We encourage you to purchase these items from Orscheln, but all donations are accepted and appreciated!
If unable to attend the "Pack the Truck" on May 3rd, drop off at the FHSU Leadership department in Rarick Hall 235 or you can drop it off at Orscheln's.
For more information about WPAR, visit them on Facebook. 
The Department Spring Social is April 24
The Department of Leadership Studies & Leadership Studies Association invite you to their Spring Social being held Thursday, April 24 from 5:30 to 7:30 pm at Precision Valley Golf Center. The event is open to all students and includes free food, golf, and fun!
Phenomenal Women of FHSU
Congratulations to this year's Phenomenal Women at FHSU. The goal of the FHSU Phenomenal Woman project is to recognize FHSU women (students, faculty, and staff) who positively define womanhood through breaking gender stereotypes, taking action and leading by example while making outstanding contributions to FHSU and/or the community. This year's recipients are:
Dr. Jill Arensdorf
Dr. LeAnn Brown
Dr. Christie Brungardt
Ms. Jenna Day
Ms. Sadie Lungren
Ms. Karen McCullough
Ms. Carol Solko-Olliff
Ms. Yvonne Pacula
Ms. Kim Perez
Dr. Stacey Smith
Dr. Beth Walizer
Ms. Amie Wright
Dr. Christie Brungardt Recognized as One of 50 Kansans You Should Know in 2014
Congratulations to Leadership Studies faculty member, Dr. Christie Brungardt, for being recognized as one of Ingram's 2014 50 Kansans You Should Know. Ingram's is a monthly Kansas City Business Magazine. Christie is being recognized for her amazing work on gender-related violence awareness and teaching leadership. We are so proud of you Christie!
To view the story visit: http://www.ingramsonline.com/
Diane Nash Visits Fort Hays
Diane Nash's story is one of courage and inspiration. Join us on March 27th at 7 p.m. in the Beach Schmidt Performing Arts Center on the campus of Fort Hays State University as we celebrate Women's History Month. Ms. Nash will share her powerful story of promoting racial and gender equality.
Sponsors for this event include: Center for Civic Leadership, Office of Student Affairs, Provost,Office, Forsyth Library, Center for Student Involvement, Women's Leadership Project, Leadership Studies, College of Arts and Sciences, American Democracy Project, Political Science, History, Sociology and Social Work, University Relations and Jana's Campaign.
Over fifty years ago, America was a battleground over civil rights and racial equality. At the heart of this struggle was a group of students from Fisk University who were determined to use Gandhi's nonviolent strategy to bring an end to racial segregation and discrimination in the United States.
Diane Nash's involvement in this nonviolent movement began in 1959 after enrolling at Fisk University. Shocked by the extent of segregation she encountered in Tennessee, Ms. Nash became an active leader in the 1960 Nashville sit-ins, with the single goal of desegregating downtown lunch counters. A year later, Ms. Nash played an active role in the Freedom Rides, where she joined others to desegregate the interstate bus transportation system in the South.
2014 Kansas Hunger Dialogue

On February 26, 2014, a group of students attended the Kansas Hunger Dialogue in Wichita, KS. This marked the third annual Kansas Hunger Dialogue, an event sponsored by Kansas State University. The event brought together individuals from across the state to build awareness, advocacy, and action about hunger through the sharing of research, best practices, and model programs. This event is based on the belief that something is terribly wrong when enough food is produced that allows for every person to have 4.3 pounds each day, yet one billion go hungry. As a result, Kansas Colleges and Universities met regarding a campus system, and statewide commitment to integrating hunger awareness, advocacy, and action.
Fort Hays State University had the largest delegation at the event. This included a dozen students on the trip, 6 of whom were part of 3 separate presentations. A group of Leadership 310, (Fieldwork in Leadership Studies) students presented about their experience organizing Poverty Awareness Week and Shack City last October. Agriculture Department students presented their experience helping with SWIPE Out Hunger. Brendon McCampbell presented his practices for food and hunger initiatives presented insight on the Victor E. Garden and Tiger Food Exchange. Among the students on the trip were 2 KAMS students in the Global Challenges class. Our food and hunger work at FHSU have clearly been an inspiration to other campuses across Kansas.
Alyssa Peppiatt, a senior in Organizational Leadership, participated in the Dialogue with her Leadership 310 team including Nathaniel Holland and Brenna Johnson. Peppiatt said, "The event brought unity among the Kansas Universities that there is indeed an issue with hunger on both worldwide and national levels. We, as college students, have the opportunity to gain this knowledge and make a difference in the simplest ways. This was a great chance to share perspectives with other universities on areas we could improve, change, and continue to advocate this serious issue in many diverse ways." Thank you to all Fort Hays State University students who represented our University for a great cause.
Leadership Professor Travels to Indonesia
Distance education takes on new meaning in a nation of islands
Leadership studies professor begins her work at FHSU
in China, then finds possibilities in Indonesia
03/06/14 kb local, statewide
HAYS, Kan. -- Dr. Jeni McRay's career at Fort Hays State University started in China, took a detour to Indonesia for another university as part of a U.S. Justice Department project, then returned to the United States, to Wichita.
Where, in fact, she lives, but still teaches in China for FHSU. She is an assistant professor of leadership studies, teaching five sections of undergraduate leadership studies courses for two of FHSU's Chinese partner institutions, Shenyang Normal University, Shenyang (pronounced shinYAHNG), and Sias International University, Xinzheng (pronounced shinJUNG). She also teaches a virtual graduate course for FHSU's Department of Leadership Studies.
The time in Indonesia, she said, was "amazing."
"It was the single greatest professional experience of my life, because, as a teacher, you always want people to be really engaged in what it is that you're doing, and you really want to feel like you have some impact and you want to feel like they are really learning from you," she said.
And the people in Jakarta, she said, "really learned, and they wanted to learn, and they wanted more."
"They would have come back for another week or two. They were just fantastically, genuinely engaged and interested in everything we had to say."
What she was teaching in Indonesia's capital, at the Academy of the Indonesian National Police, was how to teach at a distance. She was teaching teachers, many of whom already had Ph.D.s, people who occupied high levels of a very hierarchical world.
The job was a consulting contract with Northern Arizona University, Flagstaff. That university was, and is, working with the U.S. Department of Justice's International Criminal Investigation Training Assistance Program (ICITAP, called "issytap"). The particular project on which McRay worked is one component of an initiative to complete the conversion of the Indonesian National Police from a military to a civilian model.
The instructional challenge in that is the nature of Indonesian geography: a country of more than 17,000 islands, more than 900 of which are permanently inhabited by 234 million people. It is, said McRay, one of the largest democracies in the world. Much education is necessarily at a distance.
"What we're doing," she said, "is teaching the faculty at what we would call the national police academy how to move their content from a face-to-face format to distance technology, so they can reach out to the people in some of the outlying locations and islands."
The directors of ICITAP Indonesia had a connection with Northern Arizona, where a former colleague of McRay's contacted her, whose background is not in police work but in education.
"My expertise has been in online course development, faculty development, program development -- training faculty, working with faculty."
It was this expertise that brought her to the attention of Dr. Jill Arensdorf, chair of the Department of Leadership Studies at FHSU.
"Her primary teaching responsibility is in our international program," said Arensdorf. "However, we are going to start having her teach some domestic virtual courses as well as graduate courses."
Arensdorf and McRay think there is a potential for partnerships in Indonesia.
McRay, who traveled to both Indonesia and China last year, sees possibilities. She was supposed to go to Indonesia first, having been hired to a consulting contract with Northern Arizona's ICITAP project before being hired at Fort Hays State. However, a delay in their security clearances put off that trip until October, so, in the meantime, she went to China to become familiar with the workings of FHSU's international program.
Then, reflecting on the educational possibilities in that island nation, she said, "I was thinking that we could do something very similar to what we do in the Chinese cross-border program with FHSU, which could be directly teaching students at universities, either doing the cross-border program that's similar to what Fort Hays State already has, where we bring some Indonesian students here, or doing it the same way we do it in the international program - a cooperating teacher in the physical classroom over there and the instructor of record here."
She also said that Indonesia has a need for leadership studies education in particular, as well as higher education in general. She illustrated that point with the idea of the individual as a leader as part of a larger process.
"I think they are ready for, actually hungry for, the idea that individual people can have an impact in a variety of different organizations and not necessarily be in explicit leadership positions," she said, "and the idea that they can be accepting of a diverse set of perspectives and how to effect change within individual organizations using a collaborative partnership style. That's a set of theories that I think they are ready for."
The challenges are many. The Indonesian educational structure is in the beginning stages of developing distance education programs. They are trying to do in a few years
-- make the leap from the traditional face-to-face classroom model of education to online course delivery -- what was in the United States a decades-long transition from classroom to correspondence to videotapes to interactive TV to course management software.
Part of ICITAP, she said, is providing help building out the infrastructure needed for the police academy to deliver its programs to students in the outlying islands. That infrastructure, however, is dedicated to the police training program, sponsored by the U.S. Justice Department, owned by the Indonesian police and run by a contract with Northern Arizona University. That would not be available for other partnerships.
But, she said, trying to create partnerships with existing higher education institutions in Indonesia could provide additional opportunities for FHSU.
"I have no idea what their capabilities are at a university level," she said. "But I do know there is a consortium of colleges right now that have partnerships with Indonesian universities, and that is something we can explore."
Speaking of the programs available in China and elsewhere, she said, "We already have the structure and the expertise at Fort Hays State to be able to move the same kinds of programs we have in China to other areas, and because of the need in Indonesia and because of the thirst in Indonesia, and because of the attitude that I experienced when I was there, I just felt that it was ripe with possibilities."
What most impressed her, though, were the people she met in the classroom in Jakarta.
"I have been doing a lot of different types of education for over 20 years, and I have never had a more engaged group of learners," she said. "Ever."
Spring 2014 Speaker Series
Students are encouraged to attend the Spring 2014 Speaker Series on Monday, February 24th. 10:30 am to 11:30 am in the Union Stouffer Lounge. This Spring's guest speaker is Denny Stoecklein, the General Manager of the Kansas State Fair. He will be sharing on the behind-the-scenes organization operations at the Kansas State Fair, the event planning process, his leadership practices, and more. All are welcome to join in this free event.
LDRS 310 in the News
FHSU students gather supplies for animal shelter
310 team coordinates Water Festival
The second annual Walk for MS is April 12
FHSU students make a difference with support from Dr. Michael Meade
Fall 2013 Deans Honor Roll
Congratulations to the following Fort Hays State University Organizational Leadership students. They have been named to the Dean's Honor Roll for the Fall 2013 semester.
Lizette Avalos
Joni Barker
Aaron Bently
Korby Boswell
Kendra Clark
Christina Donelson
Maureen Duffy
Tristen Galliart
Michaela Gower
Tyler Hayes
Trevor Henningsen
Brenna Johnson
Lois Millspaugh
Stacy Pachta
Alyssa Peppiatt
Megan Rinkenbaugh
Siria Spencer
Paul Stevens
Ashley Templeton
Sarah White