Dr. Kunal Y. Sevak
Assistant Professor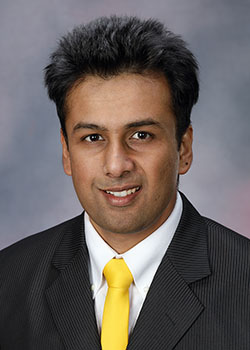 Contact Information:
Office: McCartney Hall 318
Office Phone: (785) 628-5338
E-Mail: kysevak2@fhsu.edu

Degrees:
Ph.D. in Management- Auburn University, 2016
MBA in Management- Auburn University, 2009
Bachelor of Law- Gujarat University, 2006
Bachelor of Commerce- Gujarat University, 2003
Courses Taught:
ENTR 350: Opportunity Development and Creativity
ENTR 401: Opportunity Evaluation
MGT 301: Management Principles
MGT 650: Business Policy
Research Activities:
Opportunity Development in Entrepreneurship
Strategic Management
Technology Entrepreneurship
Social Entrepreneurship
Dr. Sevak received his doctoral degree in business from Auburn University, Alabama in 2016. In addition, he has received his MBA degree from Auburn University, and a Bachelor of Law degree as well as a Bachelor of Business Administration degree from Gujarat University, India. He has presented on multiple occasions at prestigious conferences such as the Academy of Management Conference (AoM) and the United States Association for Small Business and Entrepreneurship (USASBE). Dr. Sevak has contributed significantly in developing a comprehensive entrepreneurship curriculum at the department of management, and has served as a board member at the Robbins College of Business & Entrepreneurship to fund local startups and small businesses through funding obtained from the Kansas Chamber of Commerce. He currently serves on several departmental and collegiate committees to promote entrepreneurship pedagogy and research at FHSU. In his spare time, he enjoys reading non-fiction books and watching movies with his family.