Science and Mathematics Education Institute MakerSpace
All events are free and open to the public.
Sponsored by the Science and Mathematics Education Institute. 
| | |
| --- | --- |
| MAKERSPACE | HOURS |
| Sunday | CLOSED |
| Monday | 8:00 am - 5:00 pm |
| Tuesday | 8:00 am - 5:00 pm |
| Wednesday | 8:00 am - 5:00 pm |
| Thursday | 8:00 am - 5:00 pm |
| Friday | 8:00 am - 5:00 pm |
| Saturday | CLOSED |

Current Events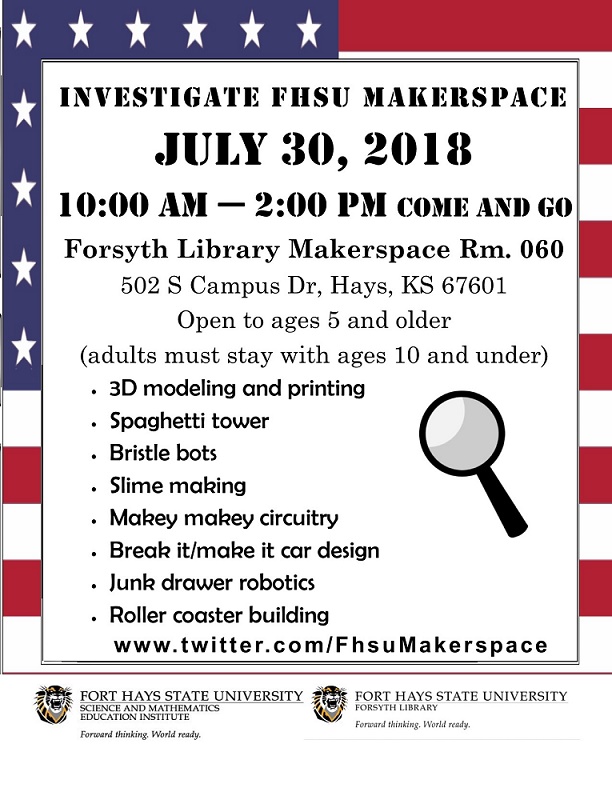 Interview with Mike Cooper, Early Connections - - September 19, 2014
The FHSU Makerspace is a space in the Forsyth Library that provides an area for any FHSU student or Hays community member to build, tinker and explore projects and ideas within the STEM fields. We currently host the High Altitude Balloon, Asteroid, Rocketry, and Quadcopter research groups. During our regular hours we provide access to our 3D printers, 3D scanner, tablet computers, televisions, tools and ample workspace. We also maintain numerous projects that anyone can participate in including Lego Robotics, rocket building, hydrogen fuel cell cars and computer programming.
"A makerspace is a place that takes from the imagination and produces reality. The purpose is to drive Science, Technology, Engineering, & Math through fun and educational interaction with a Do It Yourself environment." -Earl R. Watkins II
For more information regarding the Forsyth Library at Fort Hays State University please click here.

Past Events
Introductory Coding - - April 7, 2018 from 1:00 PM - 3:00 PM
Participants learned what coding is all about.

Maker Wednesdays:
    April 4 - - Leonardo 3D Drawing
    April 11 - - Bristle Bot Challenge
    April 18 - - Make Your Own Ice Cream
    April 25 - - Relieve Stress Before the Test


Makerspace Eggstravaganza - - March 26 to March 30 from 8:00 AM - 5:00 PM
Printing an Easter Egg with our Makerspace Egg-Bot
Slime Time - - July 20, 2017 from 10:00 AM to 12:00 PM
Participants learned the science behind the creation of slime and get to make different types of slime.
MakerSpace Intervention Day
July 6, 2017
Participants received a small box of miscellaneous items which, along with any small, household item they bring from home could be used to create a unique invention.
Introduction to 3-D Printing
November 14, 2016
How does a 3-D printer work? How are people using 3-D printers? What might a student at FHSU want to do with a 3-D printer?
Holiday Ornament Competition
Nov 7 through Dec 7

Introduction to MakerSpace
October 31, 2016
What is a MakerSpace? What can you do in the MakerSpace? How can MakerSpace projects tie into learning? How can you gain access to the MakerSpace?
Break It Day/Make It Day
February 20, 2016 & March 5, 2016
Break It Day - - participants spent the afternoon taking apart simple machinese and learning how they work.
Make It Day - - participants brought in something broken and attempt to fix it.
MakerSpace 2015 Holiday Ornaments
Super Stem Saturday - - September 26, 2015
Includes 3D printing and design, bristle bots, stomp rockets, and building and designing your own rocket. In case of high winds or inclement weather, this event will be cancelled.
Free and open to the public
Space Week - - October 4 - 10, 2015
Includes a rocket launch, solar observation, 3D prints from NASA, and the opportunity to look at books and objects from the space shuttle.
3D Print Contest
Come to the Maker Space between November 1 and December 1 and create your ornament! Ornament must be turned in to a MakerSpace staff member by December 2 at 5 pm.
Super STEM Sunday Maker Party - - September 7, 2014
For students who are currently in grades K - 12. Cost is free. Held in the Fort Hays State University Forsyth Library, Room 020.
Catapults - - August 1, 2014 10:00 a.m. - 12:00 p.m.
For grades 3-5
Discover the principles of mechanics by launching water balloons as far as possible with your own catapult.
Soldering and Circuitry - - July 25, 2014 10:00 a.m. - 12:00 p.m.
For grades 6-9
We'll teach you about the basics of circuitry and how to make your own alarm clock, electronic dice, or "Simon Says" machine as you solder your components
States of Matter - - July 18, 2014 10:00 a.m. - 12:00 p.m.
For grades 3-5
Explore the states of matter with us as we explain the in-betweens and make some very, very odd things. Oobleck and Glurch anyone?
Design and Printing - - July 11, 2014 10:00 a.m. - 12:00 p.m.
For grades 6-9
Learn how to use Google SketchUp and Blender in order to create your very own 3-D printable objects and join us in printing your creations
Super Science Sunday - - May 4, 2014
The John Heinrichs Scholarly and Creative Activities Day - April 30, 2014
High Altitude Balloons - Teacher Workshop
Future Tiger's Day - After School Program 
Fall 2017 Hours
SUN: CLOSED
MON: 1:30 PM - 7:00 PM
TUES: 10:00 AM - 6:00 PM
WED: 1:30 PM - 7:00 PM
THURS: 10:00 AM - 7:00 PM
FRI: 1:30 PM - 5:30 PM
SAT: 12:00 PM - 4:30 PM
Staff
MacKinzie Foster
FHSU Student

Cadin Sanner
FHSU Student

Patrick Cook
KAMS Student

Grant Nichol
KAMS Student
Administration
Dr. Paul Adams
Science and Mathematics
Education Institute

Ms. Ann Noble
Science and Mathematics
Education Institute

Mr. Andy Tincknell
Forsyth Library

Contact Us:
Forsyth Library - - 060 & 062
785.628.5449

Email us at:
fhsumakerspace@fhsu.edu
Twitter:
https://twitter.com/FhsuMakerspace

Our YouTube Channel