COBE instructor wins Kansas Business Education Association Post-Secondary Educator of the Year
Fort Hays State University's College of Business and Entrepreneurship has many outstanding faculty members. This fact was recently affirmed when Scott Jones, instructor in the department of management and marketing, was presented with the Kansas Business Education Association (KBEA) post-secondary educator of the year award.
Jones is ramping up for the 2014-2015 school year after traveling to Wichita, KS last October to receive the award at the KBEA State Conference.
When asked what receiving the award meant to him, Jones replied, "I have been teaching for 20 years, and it is a great profession. To be recognized by my peers, people who I have a great deal of respect for, was very humbling - but also a very proud moment."
Jones was recognized for his service to the Business Education Community, quality teaching and advising, support of student organizations, and educational attainment. KBEA presents this award because it wants to acknowledge that it is important to recognize people who are committed to the profession.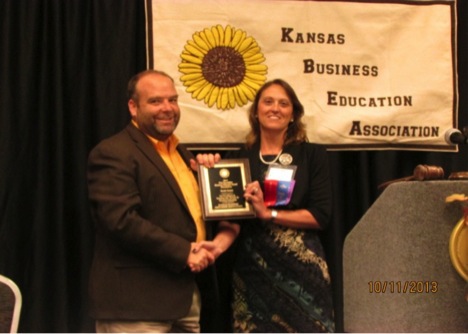 Scott Jones receives the post-secondary educator of the year award from
Lori Chambers, president of KBEA, at the KBEA State Conference.