Credit for Prior Learning
Fort Hays State University recognizes that students learn from many sources outside of the university classroom.  Credit for Prior Learning (CPL) allows students the opportunity to demonstrate they have the knowledge that would normally be acquired in a FHSU course.  College learning can occur in many fields, but it must be in a field offered at FHSU to be considered in these programs. This knowledge can come from a variety of sources including: Work, volunteering, community service, certifications, workshops, non-credit course, or independent study.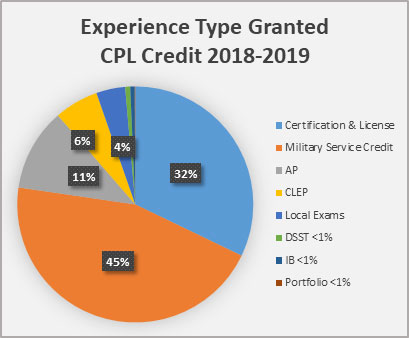 CPL allows you to demonstrate learning you already have and gain college credit. This means you can avoid taking courses that you don't need, saving you time, and money.  Fueling the Race to Postsecondary Success, a study conducted by CAEL, found that students who received credit for classes through CPL were almost 3 times more likely to graduate, and that those students did so more quickly.  At FHSU, a three hour course completed by a CPL method can save anywhere from 10% to 100% of tuition (fees may still be required by testing companies). 
To learn more about CPL at FHSU check out the type that applies to you.  FHSU uses four methods to grant credit for college-level learning that has occurred outside of the direction of a regionally accredited school (for previous coursework at a regionally accredited school see here). You may also be interested in the CPL policies that apply to all forms of CPL. 
Credit by Examination
FHSU accepts national tests, e.g. AP or CLEP, and local testing known as Advanced Standing for Credit (ASC) examinations.  See the Credit by Examination page for more information about the tests. 
Credit by Documentation
Credit may be granted to students based upon documentation showing what the student has completed elsewhere.  Fort Hays State University has partnership agreements with various organizations, accepts International Baccalaureate (IB) curricula, and may accept industry certifications, licenses or accreditations.  See the Credit by Documentation page for more information about this type of CPL.
Credit by Portfolio Evaluation
Students with significant work or life experiences, including non-regional accredited schools or training programs, may develop a portfolio to request course credit. See the Portfolio Page for more information. 
Military Service Credit  
For students who have served in the military.  FHSU awards course credit for some educational experiences in the Armed Services.   Visit the Military Service Credit page for more information.