NOTICE:  the ACP program at FHSU will be discontinued:  We will accept courses completed by July 31, 2020 on ACE transcripts received during the 2020-2021 academic year.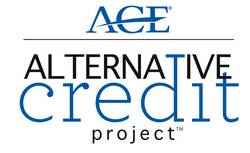 The Alternative Credit Project ™ (ACP) developed a pool of courses that Fort Hays State University (FHSU) will accept towards your degree.  The ACP, started with a generous grant from the Bill & Melinda Gates Foundation, is designed to help adults finish what they started – a two-or-four year degree, or a post-secondary certificate. Transcripts received with a passing grade will be recorded as "CR" on the Fort Hays State University transcript.  
 General Information about the program:
Students who wish to participate in the ACE Alternative Credit program must submit an ACE transcript with the ACPE course designation or for work completed after March 2018 the ACE ID listed below.
Transcripts received with a passing grade will be recorded as "CR" on the Fort Hays State University transcript.
Students should consult their academic advisor and/or transcript analysts in the Registrar's Office for specific information on how successful completion of an ACP course applies to their degree program.
No credit is awarded for a course that has been previously completed at Fort Hays State University or a transfer institution.  If a student has previously enrolled in or audited a course, and received a grade, credit or incomplete, ACP credit is not a consideration.
A maximum of 60 credit hours earned through Credit for Prior Learning may be applied toward a Fort Hays State University degree.  Hours earned from the ACE Alternative Credit Program count in this number.
ACP courses are recorded CPL credit (CR). They do not count toward the 30 hours of graded coursework that must be passed at FHSU for a bachelor's degree. A certificate requires 6 hours passed at FHSU and an associate degree requires 15 hours passed at FHSU. 
Transfer work from any other college/university and qualifying ACP credit is only recorded for enrolled students at Fort Hays State University. FHSU will not record transfer work or advanced credit for non-degree students or for students who have not returned to FHSU after a prior enrollment.
ACP credit policies are subject to change upon periodic review.
  

To find academic programs at FHSU visit the university's program page.  Below is a list of courses FHSU accepts as part of the ACP:
Provider Course Title
ACPE Number 
ACE ID#
Course Provider
FHSU Equivalent Course
Biology
Introduction to Biology
ACPE-0005
 PLNS-0091
Pearson
Biol 100 Human Biology
Introduction to Biology Lab
ACPE-0012
 OOSL-0018
Straighterline
Biol 102 Laboratory Experiences in Biology
Environmental Science
ACPE-0020
 PLNS-0030
Pearson
Biol 200 Humans and the Environment
Introduction to Environmental Science
ACPE-0027
 OOSL-0055
Straighterline
Biol 200 Humans and the Environment
 
 
 
 
 
History
American History l
ACPE-0049
 PLNS-0005
Pearson 
HIST 130 United States History to 1877
American History ll
ACPE-0050
 PLNS-0006
Pearson 
HIST 131 United States Since 1877
 
 
 
 
 
Math
Statistics
ACPE-0014
 PLNS-0086
Pearson 
MATH 250 Elements of Statistics 
 
 
 
 
 
Philosophy
 
 
 
 
 
Physics
General Physics
ACPE-0038
 OOSL-0023
Straighterline
PHYS 211 Physics for Scientists and Engineers l
General Physics Lab
ACPE-0039
 OOSL-0085
Straighterline
PHYS 211L Physics for Scientists and Engineers l Lab
Physics: Introduction to Electromagnetism
ACPE-0007
SAYA-0030
Saylor
PHYS 212 Physics for Scientists and Engineers ll
 
 
 
 
 
Political Science
American Government
ACPE-0053
 PLNS-0004
Pearson
POLS 101 - American Government
American Government
ACPE-0072
 OOSL-0063
Straighterline
POLS 101 - American Government
 
 
 
 
 
Psychology 

*Ed4Credit no longer provides courses for this program. Students with ACE transcripts listing the courses before 2020 may still be able to receive credit. 

Abnormal Psychology*
ACPE-0055
EDFC-0030
Ed4Credit [Ed4Online]
PSY 300 Abnormal Psychology
Aging and Society*
ACPE-0058
EDFC-0029
Ed4Credit [Ed4Online]
PSY 420 Psychology of Aging
Psychology*
ACPE-0077
EDFC-0031
Ed4Credit [Ed4Online]
PSY 100 General Psychology
Introduction to Psychology
ACPE-0076
 OOSL-0027
Straighterline
PSY 100 General Psychology
 
 
 
 
 
Business
Accounting l 
ACPE-0085
 PLNS-0001
Pearson
ACCT 203 Principles of Accounting l
Accounting l 
ACPE-0086
 OOSL-0009
Straighterline
ACCT 203 Principles of Accounting l
Accounting ll
ACPE-0087
 PLNS-0002
Pearson
ACCT 204 Principles of Accounting ll
Accounting ll
ACPE-0088
 OOSL-0010
Straighterline
ACCT 204 Principles of Accounting ll