Career Paths      
Graduates from the Department of Criminal Justice are highly sought after by the government sector and can join the ranks of our accomplished alumni working in a variety of criminal justice agencies around the country. With an excellent academic program and a network of alumni in criminal justice around the country, you will be ready to pursue your own rewarding career in America's criminal justice system. 
Research Analysts
Law Enforcement Officers
Sheriffs
Detectives
Probation Officers
Court Administrators
Corrections Officers
Juvenile Case Workers
Private Security Personnel
Insurance Investigators
How much do Criminal Justice graduates make?
Criminal Justice graduates make an average of $67,000 a year, according to the U.S Bureau of Labor Statistics.
96%
Career and Education Success Rate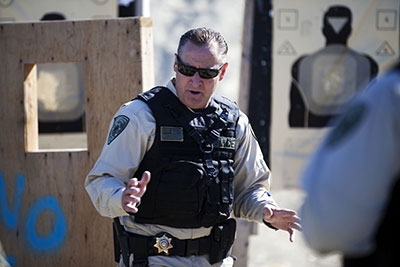 Eric Bremner, a supervising investigator for the San Bernardino County District Attorney's office in San Bernardino, California, says, "The quality of education I received and the tuition I paid made this by far the best deal out there." 
Read More about Eric's career as a supervising investigator for he San Bernardino County District Attorney's office in San Bernardino, Calif. and his experience at FHSU.
What classes will you take as a Criminal Justice major?
The online or on-campus Criminal Justice programs will introduce you to the main theories in criminal justice and allow you the flexibility to specialize in policing, offenders & victims, criminology, or to create your own combination of courses. All majors will complete a 24-hour core in addition to the general education curriculum. The Department of Criminal Justice offers a BA or BS degree. You will also need to take at least 10 credits of a foreign language for the Bachelor of Arts, or courses in the natural sciences for the Bachelor of Science degree.
View the Criminal Justice curriculum
Fast Fact
In our global society, it's increasingly important to develop an understanding of other cultures and their ideas about justice. At FHSU, the Department of Criminal Justice coordinates trips to other countries through EF Tours. Students have visited places like Italy and Costa Rica, learned about how the countries punish criminals, and toured local prisons.
Undergraduate Research Experience opportunities
Criminal Justice students are encouraged to get involved in undergraduate research experiences and explore their passions and interest in criminal justice. A past research project, "Understanding Community Crime Patterns-An Exploratory Study of Spatial Correlation between Neighborhood Structure and Crime Prevention", was presented to local stakeholders and at the Kansas Capitol recently! Learn more at the FHSU Criminal Justice News and Events page. 
Engage with industry leaders
FHSU's degree program in criminal justice combines classroom theory and real world practice. Online and on-campus students have the opportunity to study abroad and gain a global perspective. All students complete an Advanced Seminar in Criminal Justice, and students are encouraged to gain experience through an internship in a legal or law enforcement setting. The department also hosts guest speakers and industry leaders, takes part in American and international associations, and the criminal justice club is an active community partner.
How do you get started on your bachelor's degree in Criminal Justice?
Connect with your admissions counselor or transfer success coach and take the next step toward earning your bachelor's degree in Criminal Justice.
What Bachelor's Degrees are Related to Criminal Justice?
B.S. or B.A. in Sociology
B.S. or B.A. in Political Science
B.S. or B.A. in Psychology