Dr. Steven Tam
Associate Professor of Management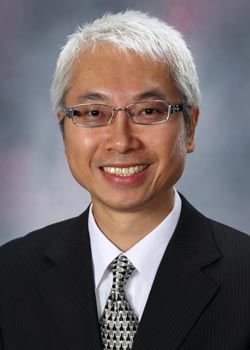 Contact Information:
Office: McCartney Hall 313
Office Phone: (785) 628-4695
E-mail: sktam@fhsu.edu

Degrees:
PhD (Management), Surrey Business School, University of Surrey, UK
Postgraduate Certificate in Executive Education (Advanced Management), Haas School of Business, University of California Berkeley, CA
MBA (Business Administration), University of Central Missouri, MO
BSBA (Computer Information Systems), University of Central Missouri, MO

Courses Taught:
Strategic Management (MBA)
International Business (GR/UG)
Business Policy (UG)
Management Principles (UG)

Research Interests:
Chinese guanxi (ethics)
Firm growth and performance
Leadership styles
Organizational learning
Process innovation
SME development

Professional Activities:
Associate Editor, Journal of International & Interdisciplinary Business Research  
Ad-hoc Reviewer, International Journal of Human Resource Management
Ad-hoc Reviewer, Chinese Management Studies
Ad-hoc Reviewer, Asian Academy of Management Journal

Bio:
Dr. Tam is an associate professor with tenure in the Department of Management, who earned his PhD degree from Surrey Business School in the UK. He has been a multi-time nominee for teaching excellence award and research award university-wide. He primarily teaches Strategic Management and International Business at both graduate (MBA) and undergraduate levels. Blessed with nearly 30 years of industry and academic experience around the world with all elite organizations, he now enjoys working with many great students at FHSU.
 
An award-winning researcher, Dr. Tam drives interdisciplinary management research that focuses broadly on organization theory relating to strategic management, leadership, learning, innovation, and ethics. His publications have appeared in leading scholarly journals, which are centrally tied to business strategy. In his research pipeline, Dr. Tam is collaborating with scholars around the world. He presents papers regularly at international conferences, contributes as a keynote speaker/a session chair, and serves as an associate editor/a reviewer for business journals. He is also active in consulting work for small businesses in the Asia Pacific region.
His quotes:
"Ideas drive a new venture to begin; innovation takes it to fly." – Steven Tam
"A strategic mind includes not only
what for
but also
what if
." – Steven Tam
"A responsible decision maker is committed to
a habit of comparing
all foreseeable odds." – Steven Tam