Nature enthusiast Duane Shook makes generous gift to FHSU's Kansas Wetlands Education Center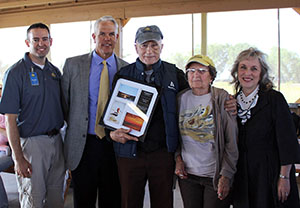 NOTE TO EDITORS AND NEWS DIRECTORS: Photos from the Saturday news conference are available through the Shook gift link on the page at
http://bigcat.fhsu.edu/currentevents/news_photos.php.

GREAT BEND, Kan. -- A recent gift from a longtime nature and animal enthusiast and friend of Fort Hays State University, Duane Shook, has brought new life to the university's Kansas Wetlands Education Center.

The Duane Shook Kansas Wetlands Education Center Endowed Fund, a life income gift of $450,000, will create an endowed fund. Proceeds from the fund will support the KWEC in perpetuity.

The Kansas Wetlands Education Center, located about 8 miles northeast of Great Bend on Kansas 156 Highway, overlooks Cheyenne Bottoms, the largest inland marsh in the United States. The wetlands area is among the most unique and diverse places on Earth.

The KWEC is dedicated to educating the public about the importance of wetland communities and the need for conservation and restoration. The facility offers state-of-the-art exhibits that tell the story from formation to the challenges of preserving the wetlands for the future. It also provides visitors with firsthand experience of bird watching, including thousands of migratory birds taking flight during migration season.

In addition, several tour options are available, including both guided van tours and self-guided driving tours.

"We are fortunate to have a natural treasure like Cheyenne Bottoms in our state, and since this center opened in April 2009, it has provided a gateway for visitors to understand and appreciate why these wetlands are unique and why we need to protect them," said Dr. Mirta M. Martin, FHSU president.

"Cheyenne Bottoms has been designated as one of the top wetlands areas in the world. It is home, at least part of every year, to more than 320 species of birds, and an estimated 45 percent of all shore birds in North America visit Cheyenne Bottoms each spring."

She said that just as Fort Hays State is the destination of choice for students seeking a top-quality education, the Kansas Wetlands Education Center is a destination of choice for people who want to understand and protect the beauty of nature.

"Now, thanks to the generosity of Duane Shook, the future of this rare, international jewel shines even brighter," she said.

"The opening of the KWEC more than six years ago was a monumental chapter in the long history of Cheyenne Bottoms," said Curtis Wolf, site manager of the Wetlands Center, at a news conference today announcing Shook's gift.

"The $4.6 million project was funded fully through grants and private donations, not state general funds. The only way the KWEC exists today is because of donors, volunteers, partners and communities who believe in the importance of our local wetland and natural resources," he said.

Private gifts such as the one from Shook offer security for the future of the KWEC, which is staffed by personnel from both Fort Hays State and the Kansas Department of Wildlife, Parks and Tourism.

"It is through donors like Mr. Shook that we can have some security and reassurance that we will be able to perform the programs and offer the services that we want to and not what we are limited to in the future," Wolf said. "From the FHSU and KDWPT staff at the KWEC, we say thank you to Mr. Shook for his generosity and dedicated support."

Tim Chapman, president and CEO of the FHSU Foundation, emphasized the significance of Shook's gift.

"Duane is a dear friend of Fort Hays State University," he said. "Although he's not a graduate of FHSU, his love for animals and open spaces led him to want to make a gift to the Kansas Wetlands Education Center.

"As the fundraising arm of the university, our FHSU Foundation office has worked with Duane to ensure that his gift will help the Wetlands Center work to preserve the natural environment and ecosystem at Cheyenne Bottoms."

The Kansas Wetlands Education Center is free and open year-round to visitors:
• April 1 to Oct. 31: Open Monday through Saturday from 9 a.m. to 5 p.m. and Sunday from 1 to 5 p.m.
• Nov. 1 to March 31: Closed on Monday and open Tuesday through Saturday from 9 a.m. to 5 p.m. and Sunday from 1 to 5 p.m.

For more information about the Kansas Wetlands Education Center, visit www.wetlandscenter.fhsu.edu.

For more information about how you can support the KWEC, or another FHSU program that you are passionate about, visit http://foundation.fhsu.edu. You may also contact the FHSU Foundation office by calling 785-628-5620 or emailing foundation@fhsu.edu.

Photo IDs:
Shook gift 0481 - From left, Curtis Wolf, Tim Chapman, Duane Shook, Clara Shook, President Mirta M. Martin.
Shook gift 0502 - From left, Tim Chapman, Duane Shook, Clara Shook.