Student voting at FHSU in 2018 mid-terms up 14 percent from 2014 mid-terms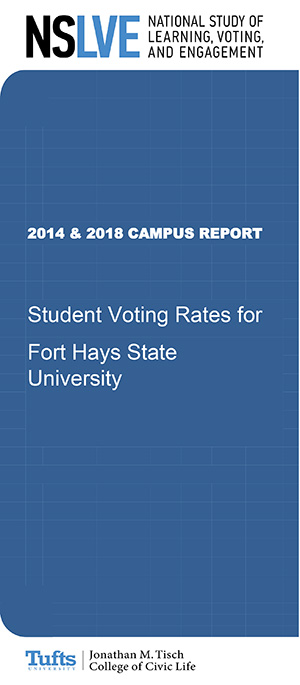 11/08/19
HAYS, Kan. – Fort Hays State University recently reported that student voting on its campus was up in last year's election, increasing to 40.2 percent in 2018 from a rate of 26.3 percent in 2014.
"Education for democratic engagement is more crucial than it ever has been, given the current partisan divide and polarized political environment," said Dr. Larry Gould, chair of the Department of Political Science at Fort Hays State and current faculty adviser and long-time participant in the American Democracy Project.
"Recent student ADP leadership and FHSU's Student Government Association have made a spectacular difference in getting students to understand the importance of voting as a responsibility of citizenship," he said. "The excellent improvement in all voter categories is a testament to their hard work and dedication." 
The report is part of the National Study of Learning, Voting, and Engagement, or NSLVE, conducted by the Institute for Democracy and Higher Education (IDHE) at Tufts University's Tisch College of Civic Life.
The full campus report can be viewed at https://www.allinchallenge.org/wp-content/uploads/Fort-Hays-State-University-NSLVE-2018.pdf
The study shows that, nationwide, the voting rates at participating college campuses doubled on average compared to the previous midterm election, in 2014. In 2018, the Average Institutional Voting Rate among campuses in the study was 39.1 percent, nearly 20 percentage points higher than 2014's average turnout rate of 19.7 percent. Turnout increases were widespread, with virtually all campuses seeing an increase over 2014.
"Voting and registration rates at Fort Hays State University are up in every category – age, race/ethnicity, gender, and enrollment status," said Dr. Donnette Noble, Voss Distinguished Professor of Leadership Studies and director of civic learning and engagement at FHSU.
"The increases are significant and demonstrate that Fort Hays State is living up to its commitment to promote civic engagement and foster a generation of forward thinking and world ready global citizens," she said. "It is incredibly exciting that our community of students is outpacing the national averages."
The NSLVE is the only national study of college-student voting. It is based on the voting records of more than 10 million students at more than 1,000 colleges and universities in all 50 states and the District of Columbia. The IDHE does not receive any information that could individually identify students or how they voted.
The study provides reports to participating colleges and universities, like Fort Hays State, which use them to support political learning and civic engagement as well as to identify and address gaps in political and civic participation.
About the IDHE
Part of Tufts University's Jonathan M. Tisch College of Civic Life, the IDHE is an applied research center focused on college and university student political learning and engagement in democracy. IDHE researchers study student voting, equity, campus conditions for student political learning, discourse, participation, and agency for underrepresented and marginalized students. IDHE's signature initiative, the National Study of Learning, Voting, and Engagement, or NSLVE, (https://idhe.tufts.edu/nslve) is a service to colleges and universities that provides participating institutions with tailored reports of their students' voting rates. Launched in 2013 with 250 campuses, the study now serves more than 1,000 institutions in all 50 states and the District of Columbia.