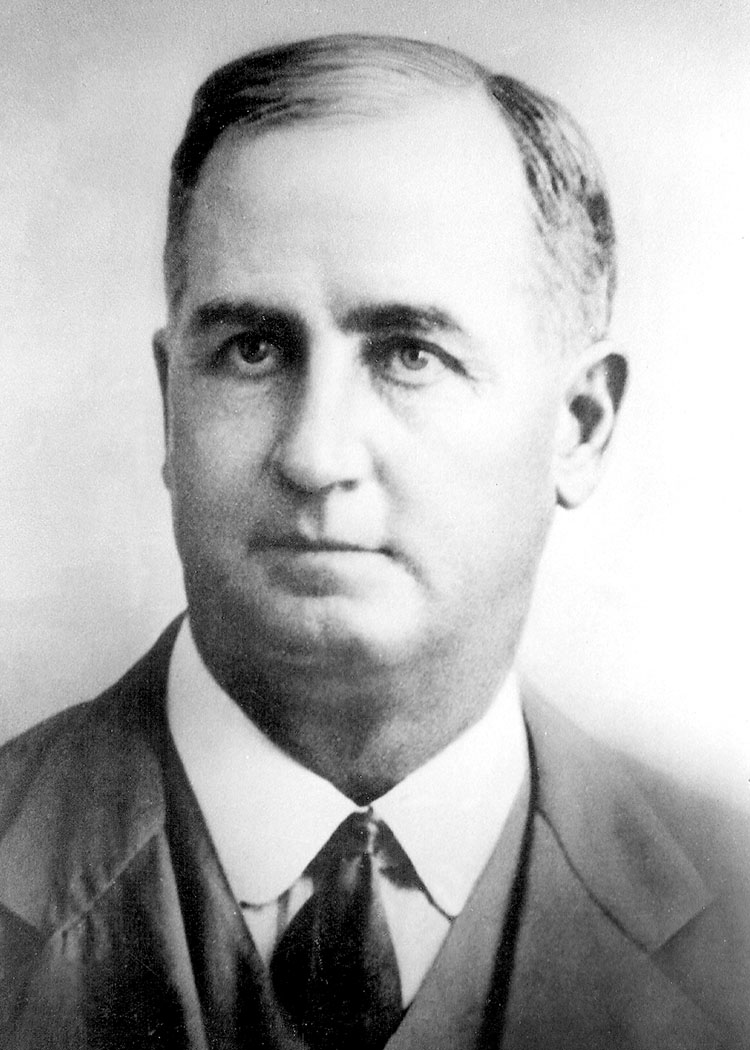 WILLIAM S. PICKEN
(1902-13)
William S. Picken served as the first administrator for the Western Branch of the Kansas State Normal School. Although he often is referred to as the school's first president, Picken's official title was principal.
In addition to the administrative duties as principal, Picken also worked as registrar, financial officer, dean and field agent. He also taught classes full time. He also was the superintendent and manager of more than 4,000 acres of land that belonged to the school.
He helped clear the land of squatters, repair and remodel old buildings for classrooms at what is now historic Fort Hays, and fought prairie fires.
Picked resigned in March 1913 because of his wife's illness. The first building on campus, first called the Administration Building, was renamed Picken Hall in 1911 after Principal Picken.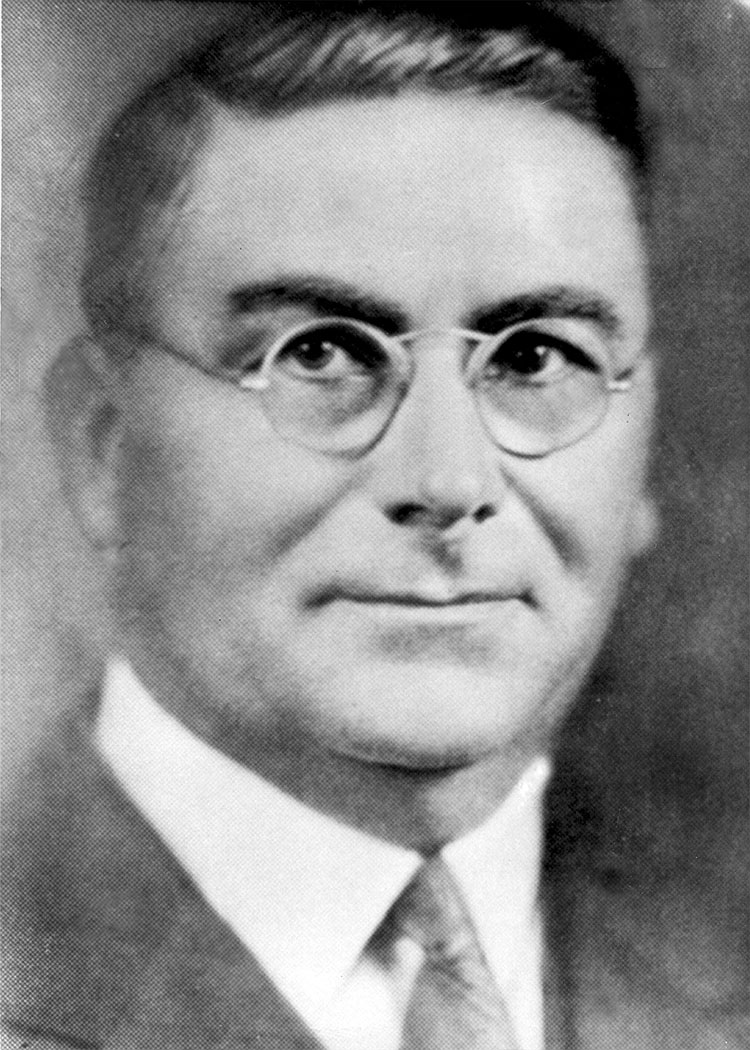 WILLIAM A. LEWIS
(1913-33)
William A. Lewis, the first administrator to carry the title of president of FHSU, developed new policies and initiated new traditions and loyalties.
With the building of the first wing of Custer Hall and a new power plan, the campus continued to grow and became more attractive with newly planted trees. Lewis' goal was the change the image of the institution from a secondary school to a "real" college.
The school went through three name changes during the Lewis administration. After gaining independence from the Kansas State Normal School, it became the Fort Hays Kansas State Normal School in 1914. Nine years later, the name changed to Kansas State Teachers College of Hays, then became Fort Hays Kansas State College in 1931.
Lewis took the lead in getting the institution accredited as a teachers college during 1922 and as a liberal arts college in 1930. He encouraged other educational opportunities at the institution, including extension courses that provided a method for off-campus classwork. Students could take pre-medical, pre-law or engineering courses at Hays and complete their studies at another institution. He also helped establish a training school for teachers in 1913. 
Lewis suffered a fatal heart attack in October 1933, his descend attack that year. FHSU's football complex, Lewis Field Stadium, was named in Lewis' honor in the mid-1930s.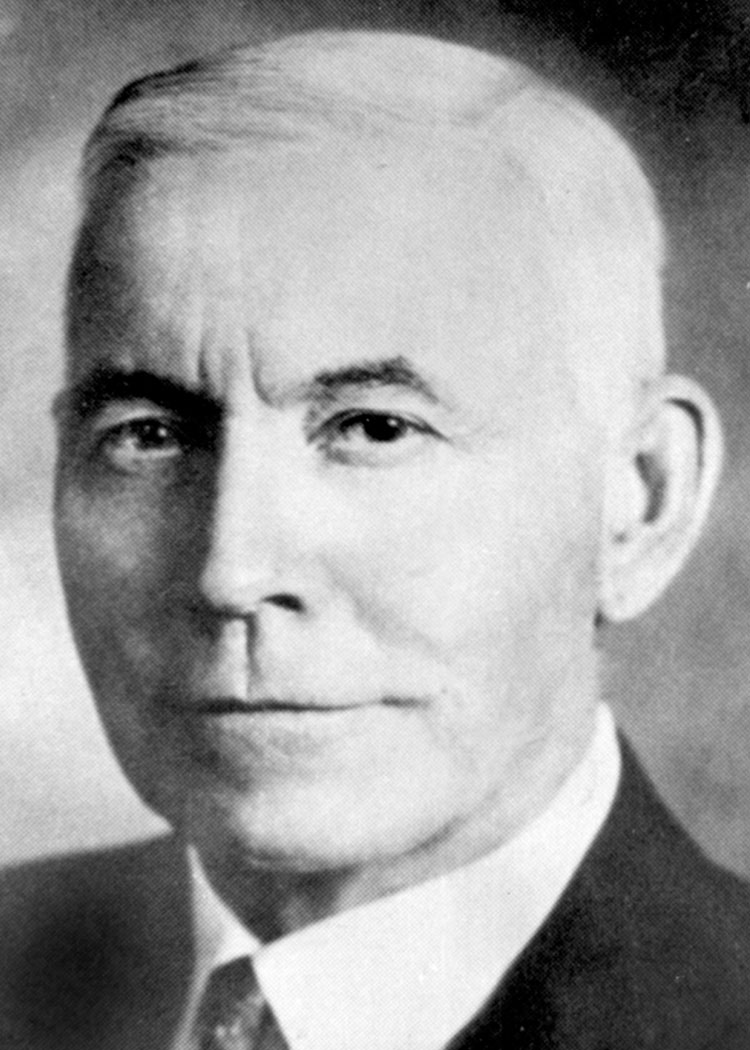 CLARENCE E. RARICK
(1933-41)
Following Lewis' death, Clarence E. Rarick was appointed acting president on Oct. 28, 1933, and was later named the school's third president. His tenure was marked by the Great Depression, drought, crop failures and dust storms. Faculty members endured drastic salary cuts, and students led a frugal existence.
Under Rarick, the Lewis Field Pioneers project was born. For $4 a month, male students could live in barracks purchased from the Golden Belt Fair Association and located near where Lewis Field Stadium now stands.
Before becoming president, Rarick had experience with the consolidation of schools in western Kansas and became an advisor to school boards about school bond issues. In constant demand as a public speaker, Rarick was regarded as an expert on education in western Kansas.
FHSU instituted several instructional changes during Rarick's tenure, including the consolidation of all instructors into four groups - the humanities, biological sciences, physical sciences, and social sciences.
The college continued to progress in Rarick's years, despite the adverse circumstances, and he was popular with the students.
The Agricultural Building, built in 1912, and later renamed the Industrial Building, became Rarick Hall in 1953 in honor of the school's third president. The original building was razed in the late 1970s and replaced at the same location by a new Rarick Hall, which opened in 1981.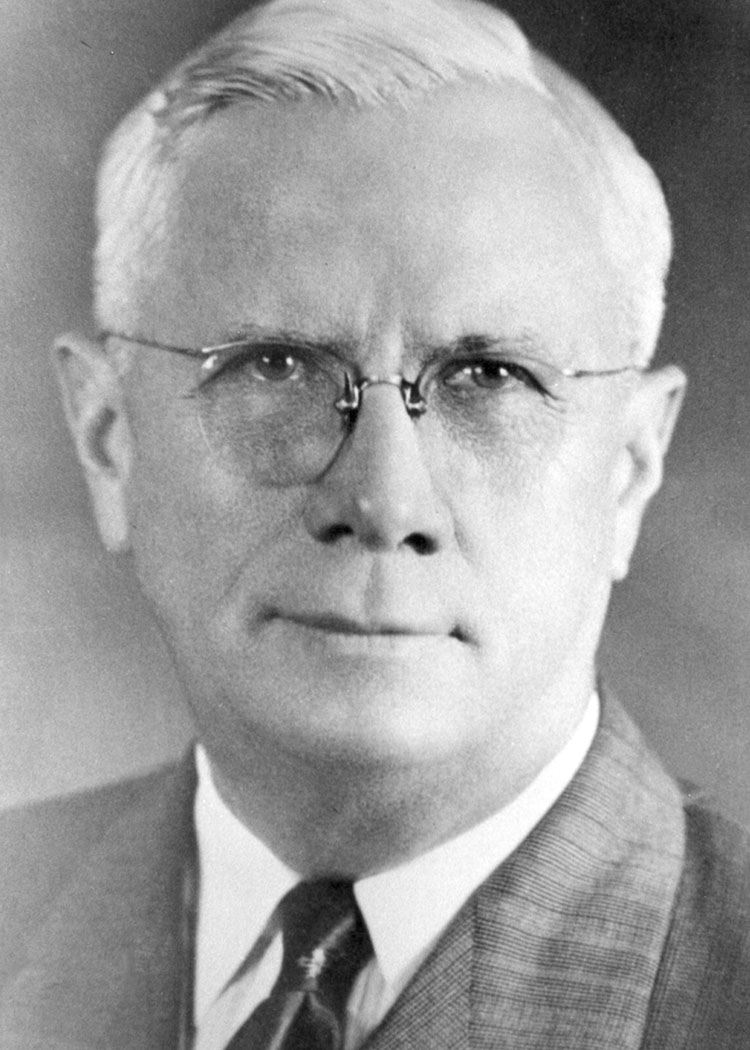 LYMAN D. WOOSTER
(1941-49)
Lyman D. Wooster served on the FHSU faculty for 30 years before being named dean of the college during the last two years of the Rarick administration. He was appointed to succeed Rarick in August 1941.
With the onset of World War II, Wooster faced challenges different from his predecessors. Wartime caused shortages of funds for materials and programs, and registration fluctuated drastically. FHSU also lost more than 20 faculty members: 12 served in the military, and 10 more sought employment elsewhere. Thus, Wooster became adept at rebuilding with minimal resources.
During the war, FHSU offered short courses and workshops that updated teachers of K-12 in addition to providing military training programs.
Soldiers returning from the war took advantage of opportunities to attend college, and Wooster acquired surplus buildings from the Walker Air Force Base for living quarters for students. He planned several construction projects – including the building of the Applied Arts Building, a student union and additions to Custer Hall – that began after his retirement.
He retired in 1949 and began writing a history of the college. His hobbies included photography. His stepson, Robert Rippeteau, died in the flood of 1951 while trying to retrieve Wooster's photography collection from the basement of their home on West Seventh Street.
Wooster died in February 1960 while still working on his historical account, and his colleagues completed the manuscript. The apartment complex, built in 1961 for FHSU married students – Wooster Place – is named after President Wooster.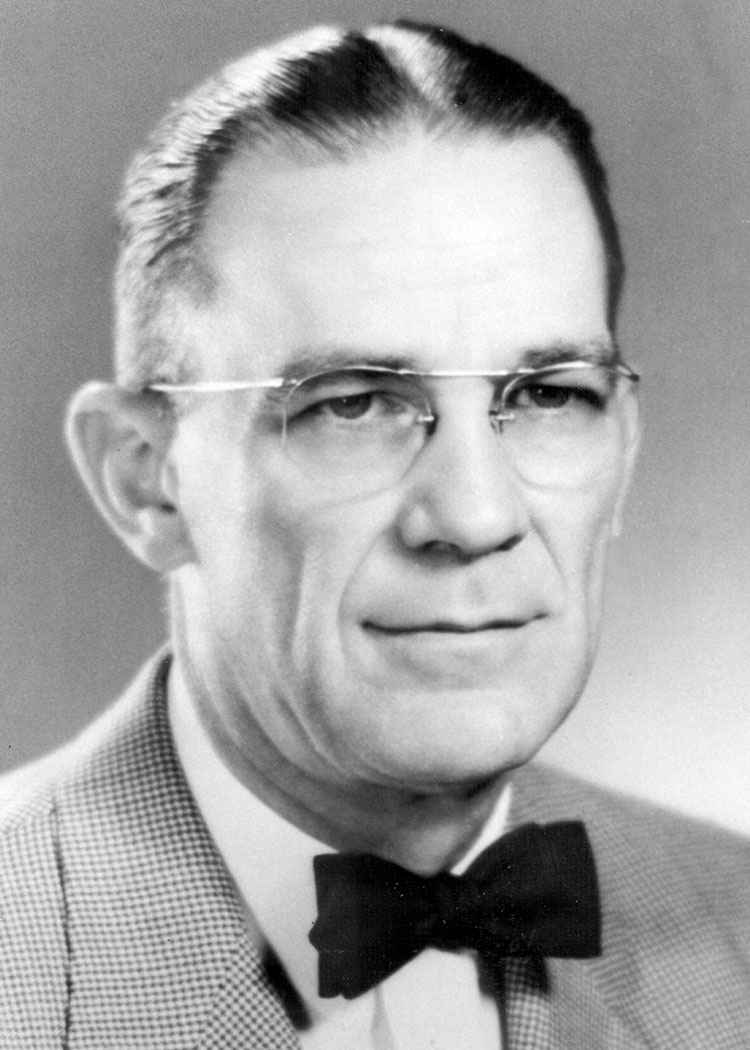 MORTON C. CUNNINGHAM
(1949-69)
Known as the "builder president," Morton C. Cunningham took office at a time when education was on the rise around the country. The number of students and faculty increased dramatically during his 20 years of presidency.
Cunningham became known as the builder president because of his accomplishments of building programs and buildings as he guided the university through a substantial building and remodeling period following the war. New construction including a new president's home and new additions to the existing building were commonplace during cunning ham's presidency, resulting in numerous projects in his 20 years.
Cunningham became well known nationally and internationally because of appointments at the state and national levels. He became the first FHSU president to have an inauguration since the ceremony held for Lewis more than 35 years earlier.
Among other accomplishments under Cunningham's era was the establishment of a nursing program for preparation of registered nurses at the bequest of community leaders in the area. 
The college celebrated its 50th anniversary during Cunningham's presidency. He retired in June 1969, just a few months short of his 20th anniversary as FHSU president. Cunningham Hall, built in 1973 as part of the Gross Memorial Coliseum complex, was after named him.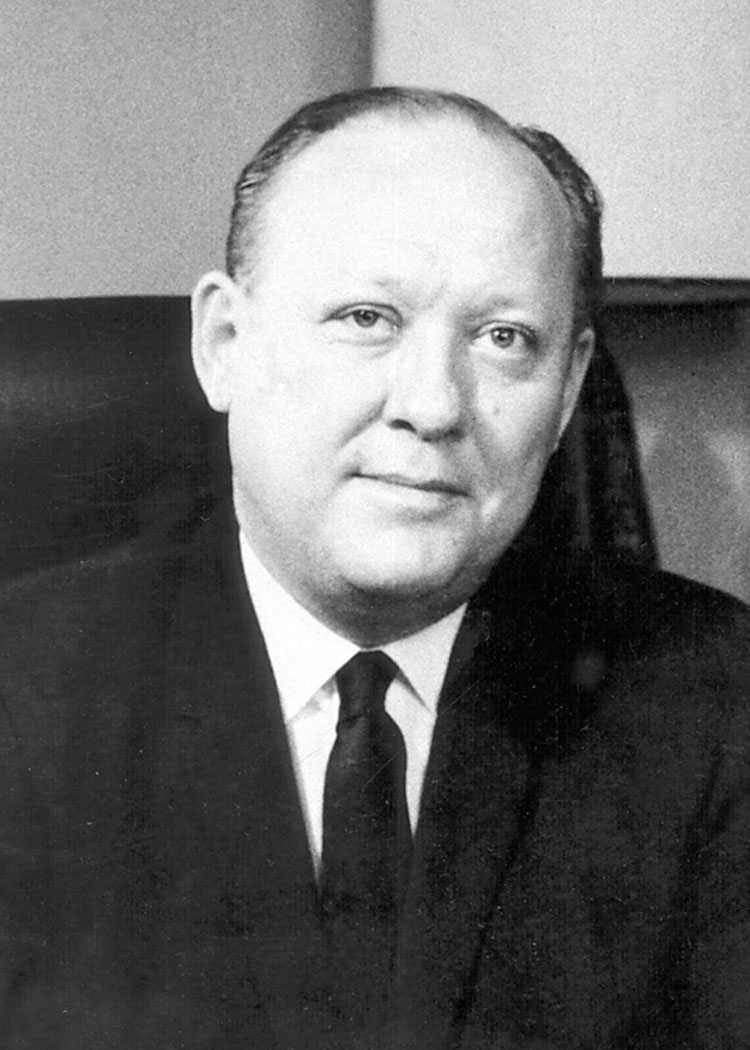 JOHN W. GUSTAD
(1969-75)
John W. Gustad served in a generation of college and university presidents who became known as the "crisis presidents." During a time marked by nationwide antiwar and civil rights protests, the "crisis presidents" attempted to restore stability and establish a new direction.
Revisions to the basic studies program during his tenure resulted in the creation of the general education program, encouraging students to broaden their understanding of other disciplines by taking courses in areas not associated with their academic majors.
He established the foundation for transitioning the college into a university, which was renamed Fort Hays State University two years after his retirement. He also established the positions of vice president of academic affairs and deans of instruction, education, liberal arts, nursing and graduate faculty.
Gustad fell ill with hepatitis in 1975 and retired after only six years at FHSU. The road joining the main campus on the east side of Big Creek with the western side, was named Gustad Drive after the sixth president.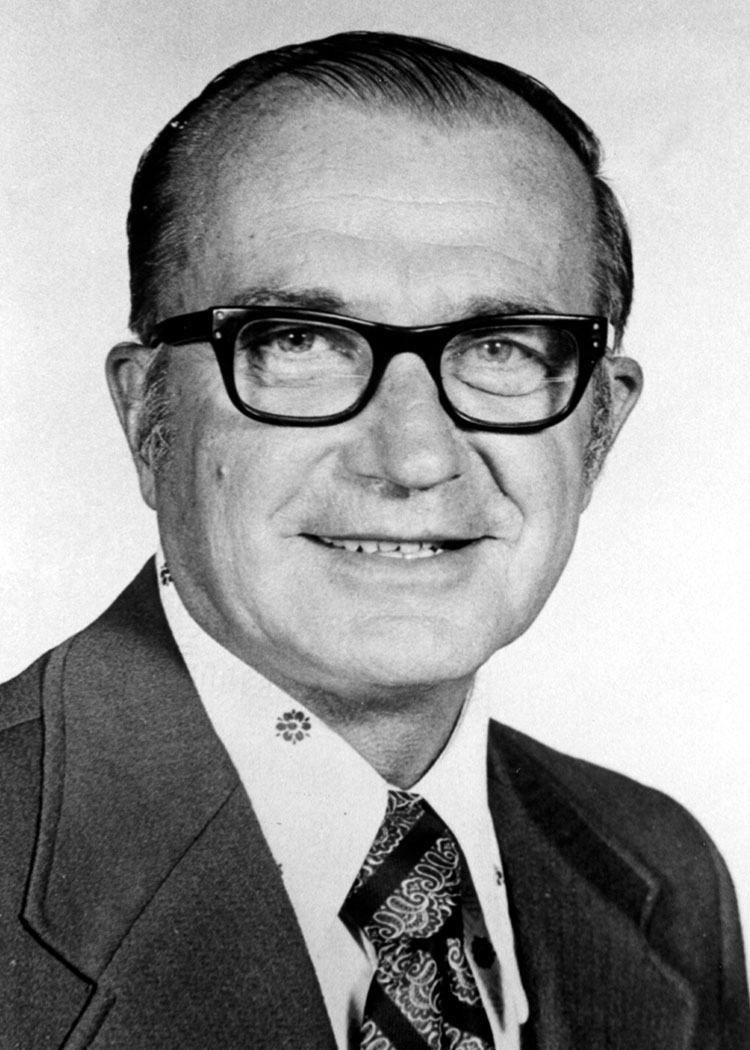 GERALD W. TOMANEK
(1975-87)
Gerald W. Tomanek's association with FHSU began in his youth when his father took one of the first short courses for farmers under Principal Picken. Tomanek's mother also attended Fort Hays State. Tomanek received both his bachelor's and master's degrees from FHSU and began teaching there in 1947.
Described as a personable, people-oriented president, Tomanek's favorite place was in the classroom with his students. During the years leading up to his presidency, Tomanek served as a department chair, vice-president of academic affairs and acting president. He brought the university national recognition for rangeland management and grasslands expertise.
Because of declining high school registrations, Tomanek encouraged the development of off-campus programs and established educational centers at five western Kansas community colleges. Under Tomanek's leadership, the university added several academic programs and remodeled or renovated several buildings in addition to overseeing the construction of new buildings – Rarick, Stroup and Heather halls, as well as a new animal science laboratory.
Fort Hays State earned university status during Tomanek's presidency, and he began the charge to renovate, rather than raze, the old Sheridan Coliseum. 
Tomanek retired in 1987 and lived in Hays for about eight years before relocating to the Kansas City area, where he lived until his death in 2006. A new geoscience building, completed in 1995, was named after Tomanek.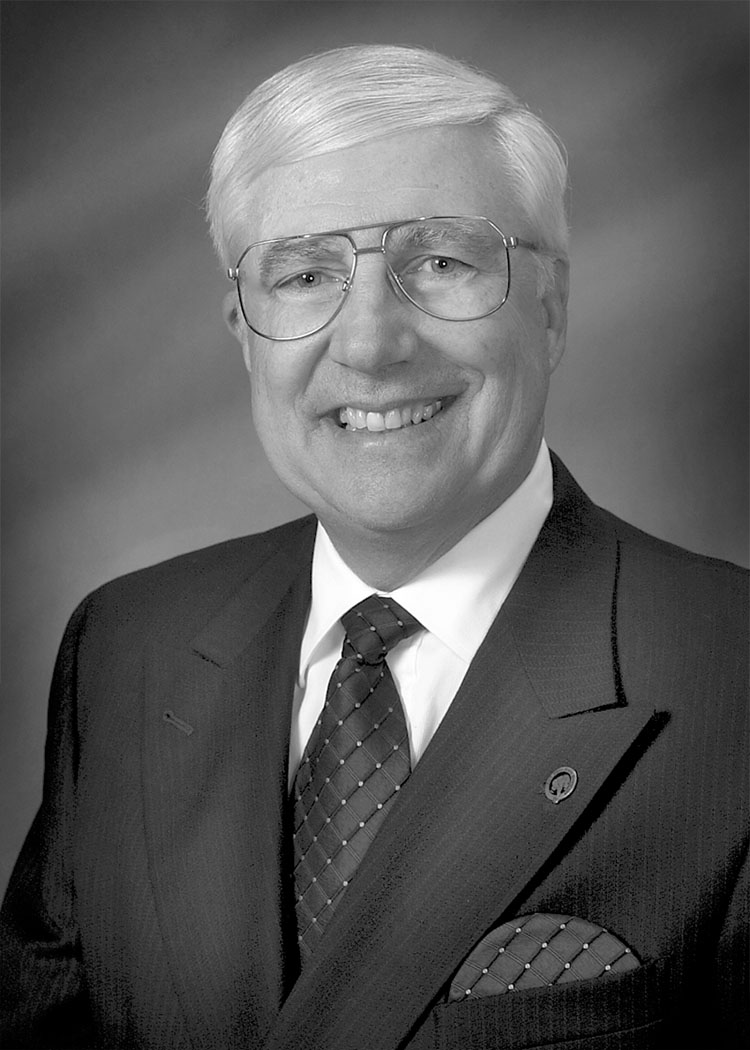 EDWARD H. HAMMOND
(1987-2014)
Edward H. Hammond came to Hays in 1987 with a vision to merge technology with the education environment. The 43-year-old Hammond brought with him unmatched, invigorating energy to Hays and western Kansas and helped build FHSU into the 21st century.
Within his first three years as president, Hammond had integrated technology into the everyday classroom. By the time he retired 27 years later – as the longest-serving president in the Kansas Board of Regents system, Hammond had left his mark. 
On-campus registration increased under Hammond's administration each year, from 4,277 in 1987 to almost 14,000 by the time he retired. The Educational Technology and Continuing Education areas were merged in 1997 to form the Virtual College (now FHSU Online), which now serves nearly 16,000 students at a distance across Kansas, the nation and the world – including several international partnerships. 
Hammond was part of three major capital campaigns during his presidency – a $20 million campaign in the 1990s, a $30 million Centennial Campaign when FHSU celebrated its 100th anniversary in 2002, the $68.7 million Cornerstone Campaign in 2012. Another campaign in his honor the year he retired, the Power of One Scholarship Campaign, raised $12 million for scholarships. The assets of FHSU Foundation grew from about $7.2 million in 1987 to $64.9 million in 2014.
Following in the footsteps of President Cunningham 40 years before him, Hammond also was a "builder president." A new science building, Tomanek Hall, was built during Hammond's administration, and numerous buildings were renovated and updated. In 1991, FHSU bought a former health club in northeast Hays for $1 at a sheriff's foreclosure sale and transformed the 100,000 square-foot structure into the world-renowned FHSU Sternberg Museum of Natural History. Other major constructions during his presidency included the Robbins Center, home of the FHSU Foundation and Alumni Association; two wind turbines for a projected savings in energy consumption of $1 million per year; and the Schmidt-Bickle Indoor Training Facility; and the Center for Networked Learning.
Hammond grew up in the Kansas City area. He received his bachelor's and master's degrees from Emporia State University and his doctorate from the University of Missouri-Columbia. Following his retirement from the presidency, Hammond returned to the classroom and currently teaches in FHSU's Department of Advanced Education.
Prior to accepting the presidency at FHSU, Hammond held administrative positions at the universities of Louisville, Seton Hall, Southern Illinois, Purdue and Missouri. The Center for Networked Learning, completed in 2014, was named in Hammond's honor.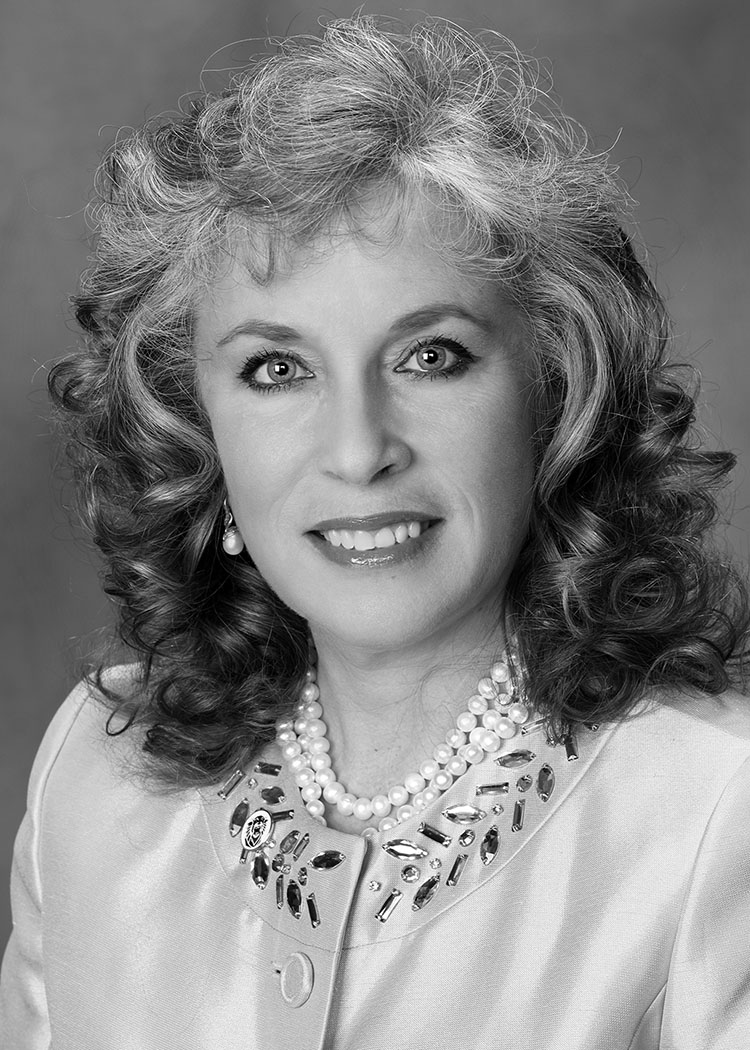 MIRTA M. MARTIN
(2014-16)
Mirta M. Martin was named Fort Hays State's ninth president in 2014 and served for two and half years as the first woman president at FHSU and the first Hispanic president for a Kansas Board of Regents institution.
Martin's early life story included her flea from Cuba at age 6 with her grandmother and sister to escape the Communist regime, eventually ending up in the United States. She received a bachelor of science degree from Duke University and both her master's and Ph.D. from Virginia universities.
At FHSU, Martin increased registration and retention, established programs to facilitate and encourage international experience and developed the Doctorate of Nursing Practice program. Martin also was instrumental in launching the Hispanic College Institute at Fort Hays State. The HCI is a free, four-day, residential program that prepares high school Hispanic students to enter and succeed in higher education. The program received the 2017 National Outstanding New Program Award from the National Association of Student Personnel Administrators (NASPA).
Martin, who began her career in the banking industry, served in several roles in higher education in Virginia before coming to Fort Hays State.
Martin stepped down as president in 2016 and currently serves as president of Fairmont State University in Fairmont, W.Va.