Master of Science and Education Specialist Degree in School Psychology
Who are School Psychologists?
School psychologists apply expertise in mental health, learning, and behavior to help children and youth succeed academically, socially, behaviorally, and emotionally. They provide assessment, support, and intervention services to students; partner with families, teachers, and other professionals to create safe, healthy, and supportive learning environments; work with school administrators to improve school-wide policies; and collaborate with community providers to coordinate services for students.
School psychologists receive specialized advanced graduate preparation that includes coursework and practical experiences relevant to both psychology and education. School psychologists typically complete either a specialist-level degree program (at least 60 graduate semester hours) or a doctoral degree, both of which include a year-long 1,200 hour supervised internship.
Where do School Psychologists work?
The majority of school psychologists work in K-12 public schools. They also provide services in a variety of other settings, including:
Private and charter schools
Preschools and other early childhood settings
School district administration offices
Colleges and universities
School-based health and mental health centers
Community -based day treatment or residential clinics and hospitals
Juvenile justice programs
Independent private practice
There are excellent job opportunities in the field of school psychology. Recent projections indicate that job prospects will continue to be excellent for many years (Davis et al., 2004). School Psychology was recently identified as one of the Best Careers in 2011 by U.S. News and World Report. For more information of the field of school psychology, check out the Web site of the National Association of School Psychologists and the Kansas Association of School Psychologists.
What credentials are required to practice?
One must hold the proper state-issued credential to practice as a school psychologist in any given state or territory. Specific requirements vary across states. Be sure to check credentialing requirements for the state where you want to work, and use the National Association of School Psychologist's resource to clarify state credentialing requirements.
Frequently Asked Questions
If you have additional questions about program accreditation, the application process, and other related program questions, please review the link of frequently asked questions.
School Psychology Program Overview
Master's (M.S.) in Psychology (school emphasis)
Education Specialist (Ed.S.) degree in School Psychology
The graduate program in school psychology at Fort Hays State University has a long history of preparing students for entry into the profession of school psychology with 66 hours of course work - completing the Master's program (30 hours) and continuing into the Education Specialist in School Psychology program (36 hours). Upon completion of the Education Specialist program you will be eligible for licensure as a school psychologist in Kansas as well as other states, as you complete a supervised internship of 1,200 hours. GetEducated.com recently named this online program a "Best Buy."

2017 Most Affordable Online Colleges for Social Sciences Degrees by SR Education Group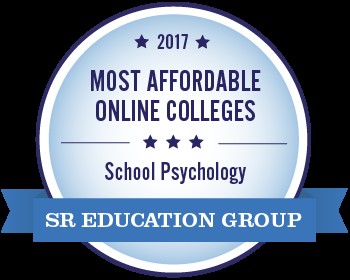 In 2016, Affordable Colleges recognized the Master's program as one of the top programs for quality and affordability.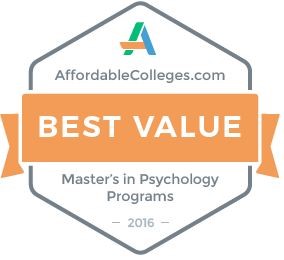 The full program (pursuing both MS and EdS) can be completed in two full years of study. During the first year in residence at the Hays campus, you'll complete your Master's Degree (MS) in School Psychology. During the second year of study, you'll complete a 600-hour practicum in a school district while completing requirements for the Specialist in Education (EdS) degree. Students who have already earned an equivalent Master's Degree in an associated profession may be eligible to apply directly to the EdS program (see application details for the EdS).
***For detailed information about the School Psychology program (both on-campus and virtual programs), please see the School Psychology Handbook.
Admission Requirements
MS Admission Requirements: Currently this program only has a FALL start date
1) Earned a bachelor's degree in psychology or education (with 12 hours of course work from a Psychology Department). If you do not have an undergraduate degree in psychology or education, additional undergraduate psychology coursework will be required.
2) Completed one statistics or research course with a "C" or better from any discipline.
3) A 3.0 or higher cumulative GPA.

To apply for the program, applicants must provide the following (Application materials should be sent directly to the Graduate School, not the Department of Psychology):
1) Scores from either the GRE or MAT (Scores must have been received in the past five years prior to your application date. There are no minimum score requirements.)
2) Two professional letters of recommendation.
3) Statement of intent, including career goals and your interest in the program and direct.
4) Transcripts from your undergraduate program.
5) A completed interview questionnaire.
***Please note that students admitted to the School Psychology Programs will be required to provide documentation of passing a background check to enroll in coursework.
Read and submit online application.
Ed.S. Admission Requirements:
The requirements below are minimum requirements for consideration of admission. Admission to the Ed.S. program is competitive, therefore, meeting the minimum requirements does not guarantee admission to the program. All applicants must apply for admission to the Ed.S. program.
1. Two professional letters of recommendation (one from someone who can attest to competency, ethics, and ability to complete the Ed.S. coursework and internship; one from someone who has supervised the applicant in a group activity within a work or academic setting)
Applicant should advise their letter writers to include with the written recommendations:
Cover letter addressing the applicant's: (1) work ethic, (2) assessment skills, (3) professional ethics, (4) competency, and (5) ability to manage professional relationships
Provide a specific example of a difficult situation you have observed the applicant deal with effectively
Complete the interpersonal interactions rating table
2. 3.0 GPA undergraduate coursework, and 3.25 GPA in graduate coursework
3. Only one C accepted in graduate coursework (letter grade of C in statistics only)
4. Interview (Skype or in person) (Department will contact you for the interview.)
5. Master's degree in psychology or a program of studies that is substantially equivalent to the coursework requirements of the FHSU MS concentration in School Psychology, including documentation of oral or written comprehensive exams. A secondary option to comprehensive exams is to provide scores from designated sections of the EPPP psychology exam. Please submit an email inquiry to SchoolPsychonline@fhsu.edu if you need information about the EPPP exam.
6. If courses equivalent to the FHSU PSY 840 Appraisal of Children and PSY 880 Methods in School Psychology have not been taken within the past 3 years, they will need to be taken as a condition of admittance.
7. GRE or MAT (scores must have been obtained in the past five years prior to your date of admission)
8. Transcripts
9. Vita
10. Personal Statement (see supplemental material) including:
Statement of goals for the EdS program and future plans as a school psychologist
Other information the applicant would like us to know, which may provide the admissions committee with a more detailed picture of the applicant's qualities
11. Responses to vignette scenario questions (see supplemental material)
Program of Study
MS School Psychology Program Requirements:
PSY 895 Curriculum-Based Measurement (1 Credit Hour)
PSY 685 Behavior Therapy (3 Credit Hours)
PSY 810 Developmental Psychology (3 Credit Hours)
PSY 812 Advanced Child Psychopathology
PSY 820 Advanced Learning and Motivation (3 Credit Hours)
PSY 830 Professional Ethics in Psych (3 Credit Hours)
PSY 840 Appraisal of Children (4 Credit Hours)
PSY 845 Experimental Methods (3 Credit Hours)
PSY 850 Inferential Statistics (3 Credit Hours)
PSY 880 Methods in School Psych (3 Credit Hours)
PSY 881 Observation in School Psych (1 Credit Hour)
TOTAL HOURS: 30 Credit Hours
***For the virtual school psychology program we offer three course tracks which allow more flexibility for the working individual interested in completing the program. Please see the School Psychology Handbook for more details about the offered course tracks.
EdS School Psychology Program Requirements:
SPED 802 Theories of Exceptionality (3 Credit Hours)
SPED 811 Characteristics of Early Childhood Special Education (3 Credit Hours)
PSY 846 Program Evaluation (3 Credit Hours)
PSY 875 VA Seminar in Psychology II: Legal Issues in Schools (3 Credit Hours)
PSY 875 VB Seminar in Psychology II: Counseling for SEB Outcomes (3 Credit Hours)
AEP 880 Cultural Diversity (3 Credit Hours)
PSY 981 Psychological Consultation in Schools (3 Credit Hours)
PSY 984 Practicum in School Psychology (9 Credit Hours)
PSY 990 Portfolio (6 Credit Hours) - OR - PSY 999 Field Study (Thesis) (6 Credit Hours)

TOTAL HOURS: 36 Credit Hours

TOTAL PROGRAM HOURS MS and EdS: 66 Credit Hours

Upon Completion of the EdS program a 1,200-hour supervised internship is completed. Candidates are required to enroll in internship hours as a non-degree seeking student.

***For more details about the program of study for the MS and EDS degrees, please see the School Psychology Handbook.
Financial Assistance
You'll find that completing the school psychology program via the Virtual College at FHSU is very affordable and it is an excellent investment in your future career. FHSU's graduate tuition rate is extremely competitive compared to other colleges and universities across the country. In addition, competitive departmental scholarships are available. To apply online, visit the scholarship area of the Financial Aid page. Also, in the state of Kansas (and some other states as well) the full-year internship following graduation from the program is fully paid.
Contact Information
Jessica Feldhausen, EdS - Program Director (schoolpsychonline@fhsu.edu)
Department of Psychology
600 Park Street
Hays, KS 67601
785.628.4405
Inquire about this program