The Buildings of Fort Hays State University
Buildings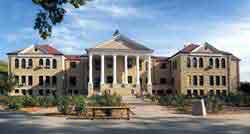 (Picken Hall - 2004)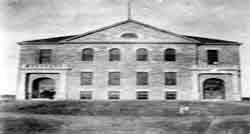 (Picken Hall - 1904)
Picken Hall was named for William S. Picken, the school's first administrator. Built in 1904, it originally was called the Administration building but was renamed in 1911. It was the only building on campus for several years and rather than being destroyed, it has been renovated several times. The building has seen many uses over the years and serves multiple functions including graduate and personnel offices, the affirmative action office, the Docking Institute of Public Affairs, the campus post office, and houses the Information Networking and Telecommunications Labs.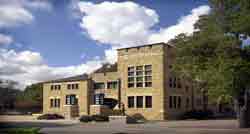 (Martin Allen Hall - 2004)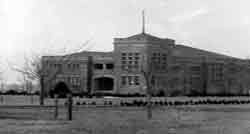 (Martin Allen Hall - 1906)
Martin Allen Hall was named after an early leader of Hays and key player in obtaining the military reservation for the site of the college, Mr. Martin Allen. Completed in 1906, the building originally was used for a gymnasium for 10 years. It then became the library. During the period that it housed the women head office, it became known as the Women's Building, and the Social Building during WWII. In 1960, it returned to its original name. It is now home to the Psychology Department.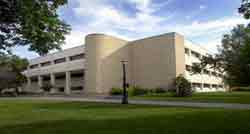 (Rarick Hall - 2004)

The old Rarick Hall
The original Rarick Hall was built in 1912 and was known as the Agricultural Building. It served agriculture, household economics, biological and physical sciences, and geography, as well as the dining hall and laundry facilities. Later it became known as the Industrial Building until 1953 when it was renamed Rarick Hall, in honor of Clarence E. Rarick, the school's third president. In 1978, it was decided that the building had enough deterioration that it was razed and construction began on a new Rarick Hall, completed in 1981. Today, it houses classrooms, offices for the Colleges of Education and Arts and Sciences, and the Moss-Thorns Gallery of Art.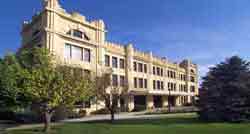 Sheridan Hall was completed in 1917 and patterned after a Roman coliseum. Sheridan Coliseum was named for General Philip Sheridan, once stationed at Fort Hays. It is built from limestone quarried from the campus. The multipurpose facility served as a gymnasium, an auditorium, a convention hall, housed dressing rooms, a swimming pool, classrooms, and several administrative offices. After substantial renovation, it was renamed Sheridan Hall in 1991. Many administrative offices, including the president's office and Beach/Schmidt Performing Arts Center refer to Sheridan as home.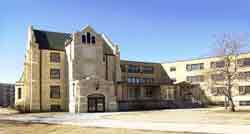 (Custer Hall - 2004)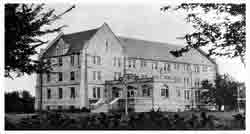 Custer Hall
Custer Hall served as the first women's on-campus residence hall and accommodated 88 residents. Named for Elizabeth Bacon Custer, wife of General George Armstrong Custer, the building was completed in 1923. Later it became a co-ed dormitory. Currently, half the building still serves as a residence hall with the other half containing offices for the alumni association, financial aid and admissions.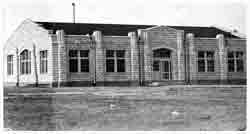 Cody Commons was known even though the building was never dedicated after its completion in 1923. It was named for William F. "Buffalo Bill" Cody. It served as the campus' dining hall until it was incorporated into the Memorial Union in 1958.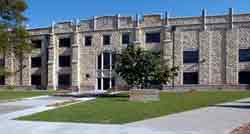 McCartney Hall was completed in 1922 and for the first 40 years housed the Forsyth Library. It also contained the Fort Hays State College Museum in several rooms on the first floor. Eventually, the library expanded and moved to a new location, classrooms were created on the upper floors, and the museum expanded. The building then became known as McCartney Hall in honor of Ray McCartney, a faculty member at FHSU for 35 years. In 1999, the museum moved to its new home and the building was renovated to house the College of Business and Leadership.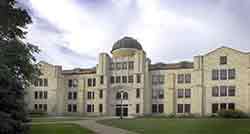 Albertson Hall, the former Science Hall was completed in 1928 with a new wing addition in 1962. It was renamed in honor of Fred W. Albertson, a 43 year faculty member. Renovation was recently completed and it is now the home of the College of Health and Life Sciences, the departments of Agriculture, Biological Sciences and Communication Sciences and Disorders, the Stroke Rehabilitation Clinic, and the Herndon Speech-Language-Hearing Clinic.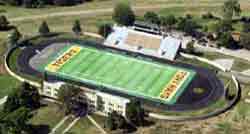 (Lewis Field Stadium - 2004)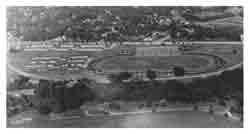 (Lewis Field Stadium - 1948)
Lewis Field Stadium was moved to its present location in 1934 and was completed three years later. It was named for William A. Lewis, the school's second president. In 1993, renovation on the field began including artificial turf for the football field, a new press box, an eight-lane track, a sports medicine center and improvements to the locker rooms.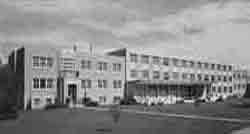 McGrath Hall was a residential hall until it was destroyed in 2000.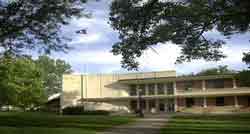 Davis Hall was built in 1952 and was known as the Applied Arts Building which held the home economics department and the art department. Later renamed for Ed Davis, a retired industrial arts department head. It is now the home of the technology studies department as well as administrative and advising offices.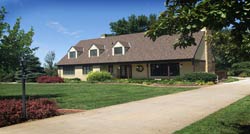 (The President's Home - 2004)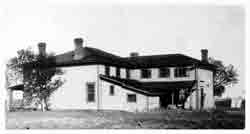 The old President's Home
The President's house was completed in 1954 with Morton C. Cunningham being the first president to live in the home. Previous presidents resided off campus. The house was renovated in 1987 and again in 2006.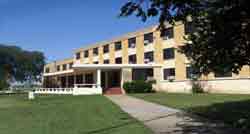 Agnew Hall was completed in 1957, providing more than 80 residence rooms, a kitchen, dining room, recreation room, three lounges, and laundry facilities. Residential life staff offices are located in Agnew It was named for Dean Eritus Elizabeth Agnew, a former domestic economy instructor.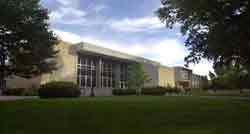 Memorial Union was financed through student fees, contributions, and a loan. The Memorial Union was named as a memorial to former students and alumni who were killed in combat during WWI, WWII, and the Korean War. It was completed in 1958 and incorporated Cody Commons. The union housed Health & Wellness Services, University Bookstore, Student Government Association, a food service area, conference and meeting rooms, and a ballroom. Renovation on the building is scheduled for completion in 2007.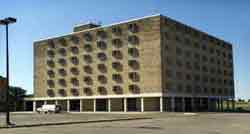 Wiest Hall was originally completed in 1961 and contained living quarters for 120 men as well as laundry facilities and a guest room. Ten years later, a seven-story addition was added and the residence hall can now house about 700 men. The dormitory was named for Charles E. Wiest, an emeritus philosophy and religion professor.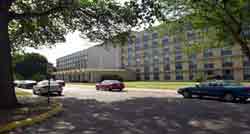 McMindes Hall was completed in 1963 and named after Maude McMindes, a former associate professor of education. The building increased campus housing by half. It is currently a co-ed dorm and provides a recently renovated cafeteria for the on-campus student body.

Malloy Hall was completed and named for Henry Edward Malloy, the first music professor and department head. It is home to the music and communication studies departments, Palmer Hall which is a choral rehearsal hall, and Felten-Start Theatre.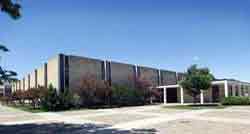 Forsyth Library, named for General George A. Forsyth, was originally housed in what is now known as McCartney Hall. In 1967, it moved to its current 2-story, 105,398 square foot building, built on the old football field site. The basement houses various collections, the Center for Teaching Excellence and Learning Technology, the FHSU Online offices and the Office of Strategic Partnerships.

Cunningham Hall and Gross Memorial Coliseum were built and named for M. C. Cunningham, the fifth college president, and Paul B. Gross. The two men were honored with the completion of the complex in 1973. Replacing the cramped quarters of Sheridan Coliseum, Gross Memorial Coliseum is more than 245,000 square feet and can seat 6,800. It is home to Tiger volleyball, wrestling, basketball, and is used for the university's commencement, community events, and several concerts. Cunningham Hall is home to the Athletic Department, Health and Human Performance Department, Allied Health Department, classrooms, basketball and handball courts, an Olympic-sized swimming pool, and other fitness facilities.

Stroup Hall is home to the nursing department and was named for our nursing program's founder, Leora B. Stroup. It contains a learning laboratory with a simulated hospital setting, seminar rooms, and a classroom featuring a two-way mirror for observing subjects.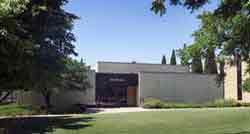 Heather Hall was completed in 1982 and named for Jack R. Heather, director of television, film, and radio. Heather Hall is home to the Information Networking and Telecommunications department and the on-campus television and radio production facilities.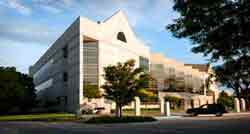 Tomanek Hall, named for Gerald W. Tomanek, the university's seventh president, was completed in 1995, incorporating the best technology in the classrooms. It is home to the chemistry, physics, and geosciences departments as well as the computing and telecommunication center. The lobby is named for former FHSU debater, cheerleader, state senator and congressman, Keith Sebelius.

Sternberg Museum of Natural History is located in Beach Hall which was renovated in 1999 and named for Ross and Marianna Beach, generous contributors to the renovation of the building that houses Sternberg Museum of Natural History. Various parts of the building are named for other key contributors. The 100,000 square-foot Sternberg features several large exhibit areas, a children's discovery room, and a life-sized walk-through diorama. It attracts many traveling exhibits, some of the better known being "A T. rex named Sue" and "Jurassic Park: The Life and Death of Dinosaurs."