Welcome to the Journey!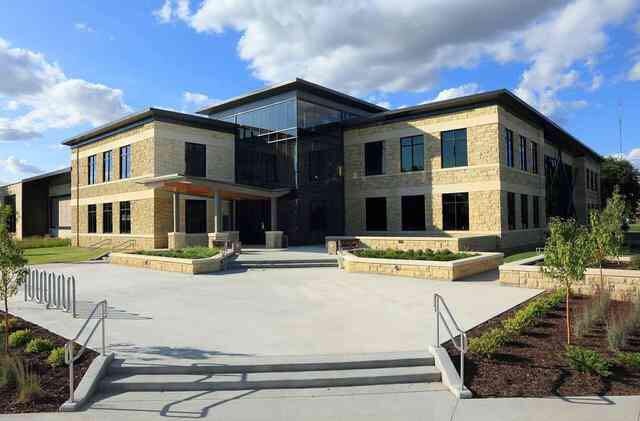 The Center for Applied Technology is the new home to all the Industrial Technology, Technology & Engineering Education, and Sculpture/Art Studio. The Center for Applied Technology is located on North College Drive just across the street from Davis Hall and the Memorial Union. This beautiful building is two stories on the front of the structure closest to College Drive and story & 1/2 near the rear of the building. It has the traditional Fort Hays State University "limestone rock" covering the facade, and iron & millwork covered entryway, and other classic industrial characteristics to let passerby know just what activities are taking place in FHSU's newest academic building.
58,000 square feet make up the new technology center consisting of computer CAD labs, instructional & graphic labs, STEM labs, woodworking labs, metalworking labs, plastic labs, power & energy labs, robotic labs, construction management labs, sculpture studios, and metal foundry studios.
Students can gather and study in the two-story glassed-in atrium area and in a small social cafe nook. There are two seminar classrooms round out the atrium area that can be opened to expose a large space that will be used for symposiums, technology days, and student recruitment. The Center for Applied Technology opened in time for the fall semester of 2017.
The Department of Applied Technology is the place for students seeking careers in the ever-changing field of applied technology. We combine theoretical coursework and hands-on experience to help you develop the academic, technical and leadership skills necessary for success in the educational and industrial world of technology.
Who studies with us?
Students like you who want…
To teach technology or work as industrial technologists.
A well-rounded education that blends liberal arts and technology courses.
To develop applied skills, build a foundation for leadership and growth, and make the most of their college experience.
To be adaptable, flexible and confident in their ability to succeed in a changing workplace.
To be prepared for jobs and careers that haven't been thought of yet.
Applied Technology at FHSU: Forward thinking. World ready.
You'll develop skills and qualities like these:
Knowledge about the evolution of technology and its effect on people and culture
An understanding of emerging and established technologies
The ability to manipulate materials, processes, and systems of instructional and industrial technology
The ability to think critically and solve problems
The ability to communicate well, verbally and in writing
You'll be prepared to succeed in your field-and in life. Though our graduates move on to diverse careers, they share a few traits: passion, dedication and a strong work ethic. If you value those qualities and want to be part of a department with outstanding faculty who care about their students, consider earning a degree in Applied Technology at FHSU.
Learn more about our academic programs and the benefits of a technology degree from FHSU.