Dr. Angela Yan Du
Associate Professor of Economics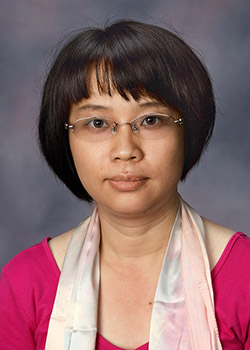 McCartney Hall 203C
(785) 628-4465
y_du10@fhsu.edu
Degrees:
Ph.D. in Economics, Oregon State University, 2008
M.S. in Economics, Oregon State University, 2007
B.A. in Economics, Xiamen University (China), 2001
Courses Taught:
Principles of Microeconomics
International Economics
Survey of Economics
Business Research and Quantitative Methods
Research Interests:
Business Forecasting
Industrial Organization and Antitrust
Applied Microeconomics
Productivity and Efficiency Analysis
Transportation Economics
Applied Econometrics
Business Data Mining and Modeling 
Professional Affiliations:
Western Economic Association International
Agricultural and Applied Economics Association
American Economic Association
World Conference on Transport Research Society
Air Transport Research Society
Publications:
"Impacts of COVID-19 on the Global Supply Chain: A Case Study from the U.S. Less-than-Truckload Motor Carrier Industry," Journal of Business and Economic Policy, 2021, Vol. 8, No. 2.
"Is the Decision to Code-Share a Route Different for Virtual than for Traditional Code-Share Arrangements," Journal of Transportation Research Forum, 2015, Vol. 54, No. 1, pp. 43-58. (Co-authored with B.S. McCullen)
"Determinants of Successful Code-Sharing: A Case Study of Continental and America West Airlines Alliances -- A Discrete Longitudinal Analysis," Pricing Behavior and Non-Price Characteristics in the Airline Industry (Advances in Airline Economics, Volume 3), ed. James Peoples, Emerald Group Publishing Ltd, 2012, pp. 157-175. (Co-authored with B.S. McMullen)
"The Economic Impact of the ATA/Southwest Airlines Code-Share Agreement," Research in Transportation Economics, Elsevier Science, 2008, Vol. 24, No. 1, pp. 51-60. (Co-authored with B.S. McCullen and J.R. Kerkvliet)