Sorority Chapter Info
The Panhellenic Council is the governing body for sororities at FHSU. Fort Hays State University is home to four National Panhellenic Conference sororities. When you join a sorority, you also become a member of Panhellenic and are encouraged to attend all Panhellenic events.
Chapter

Alpha Gamma Delta
Letters
ΑΓΔ
Founded

May 30, 1904

Syracuse University, NY

Colors
Red, Buff, Green
Symbols
Pearl and Squirrel
Flower
 Red and Buff Rose
Philanthropy
Fighting Hunger
Local Website
TigerLink Page
National Website
https://alphagammadelta.org/
"The women of Alpha Gamma Delta live by our Purpose to achieve a higher standard that helps improve the lives of each woman, the people around them, and the communities in which we live. As a chapter, we develop personal, leadership, and academic growth. Our members are supportive of each other in individual and chapter goals through our loving and unique sisterhood. Our vision of "Inspire the Woman. Impact the World." helps guide our everyday lives and motivates us to leave our mark in the places we live and on the people around us." - AGD
Chapter

Alpha Sigma Alpha
Letters
ΑΣΑ
Founded

November 15th, 1901

Longwood College, VA

Colors
Crimson, Pearl White, Palm Green, Gold
Symbols
Phoenix, 4-Point Crown, Palm Tree, Star
Flower
Narcissus, Aster
Philanthropy
Girls on the Run International, Special Olympics, Alpha Sigma Alpha Foundation
Local Website
TigerLink Page
National Website
https://www.alphasigmaalpha.org/
"The purpose of Alpha Sigma Alpha is to foster close friendships between members and to develop women of poise and purpose. Alpha Sigma Alpha members live by the core values of balance, generosity, growth, integrity, learning, responsibility, relationships, and enjoyment. Our mission is to promote high ideals and standards for members by emphasizing balance among our four aims of intellectual, physical, social, and spiritual development." - ASA
Chapter

Delta Zeta
Letters
ΔΖ
Founded

October 24th, 1902

Miami University, OH

Colors
Rose and Green
Symbols
Roman Lamp, Turtle
Flower
Pink Killarney Rose
Philanthropy
Starkey Hearing Foundation, Painted Turtle Camp
Local Website
TigerLink Page
National Website
http://www.deltazeta.org/
"Delta Zeta's aim is to create global citizens, lifelong learners, and women who walk truly in all they do. We strive to become women who are empowered and can empower others, not only in college, but as we continue through out lives. With the help of our sisterhood, each member is able to find the support and love they need to become the best version of themselves. " - DZ
Chapter

Sigma Sigma Sigma
Letters
ΣΣΣ
Founded

April 20th, 1898

Longwood College, VA

Colors
Royal Purple and White
Symbols
Sailboat
Flower
Purple Violet
Philanthropy
Sigma Sigma Sigma Foundation, March of Dimes
Local Website
TigerLink Page
National Website
https://www.trisigma.org/
"The women of the Alpha Gamma chapter of Sigma Sigma Sigma aim to become inspired leaders by upholding our vows and living out our values of love, hope, wisdom, faith, and power. The women of this chapter show support for causes greater than themselves by participating in service activities and by raising money to support their philanthropy. With a strong sisterhood in place, members support one another to achieve scholastic success, promote living with integrity and love, and empowering the individuals surrounding them." - TriSigma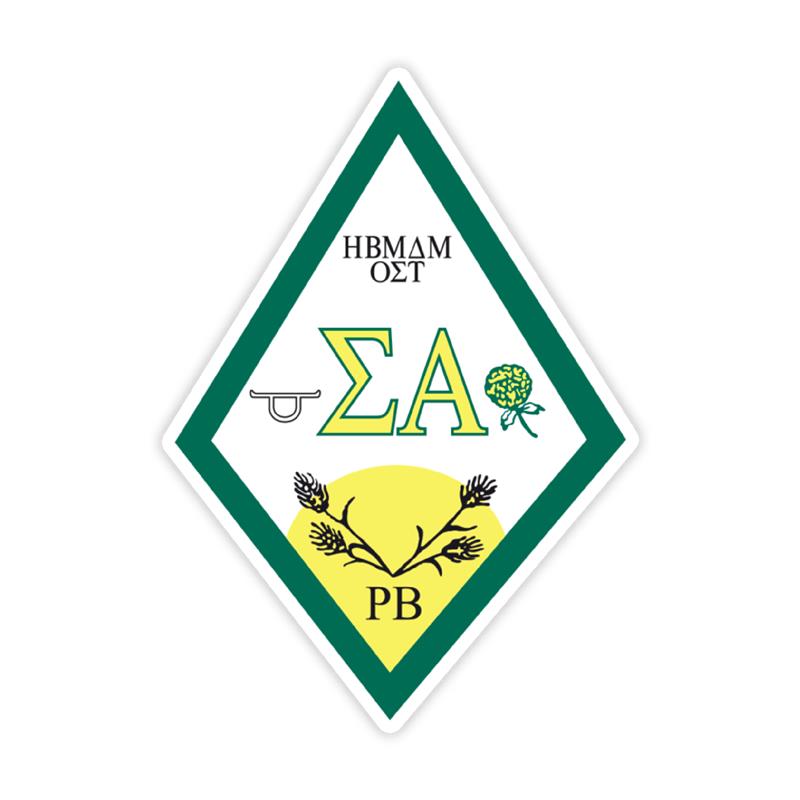 Chapter

Sigma Alpha
Letters
ΣA
Founded

January 26,1978

Ohio State University, OH

Colors
Emerald and Maize
Symbols
Baby Bull
Flower
Yellow Chrysanthemum
Philanthropy
Agriculture in the Community
Local Website
TigerLink Page
National Website
https://sigmaalpha.org/org/
"The objective of Sigma Alpha shall be to promote its members in all facets of agriculture and to strengthen the bonds of friendship among them. It is the purpose of the members to strive for achievement in scholarship, leadership, and service, and to further the development of excellence in women pursuing careers in agriculture."