Frequently Asked Questions about Fraternity & Sorority Life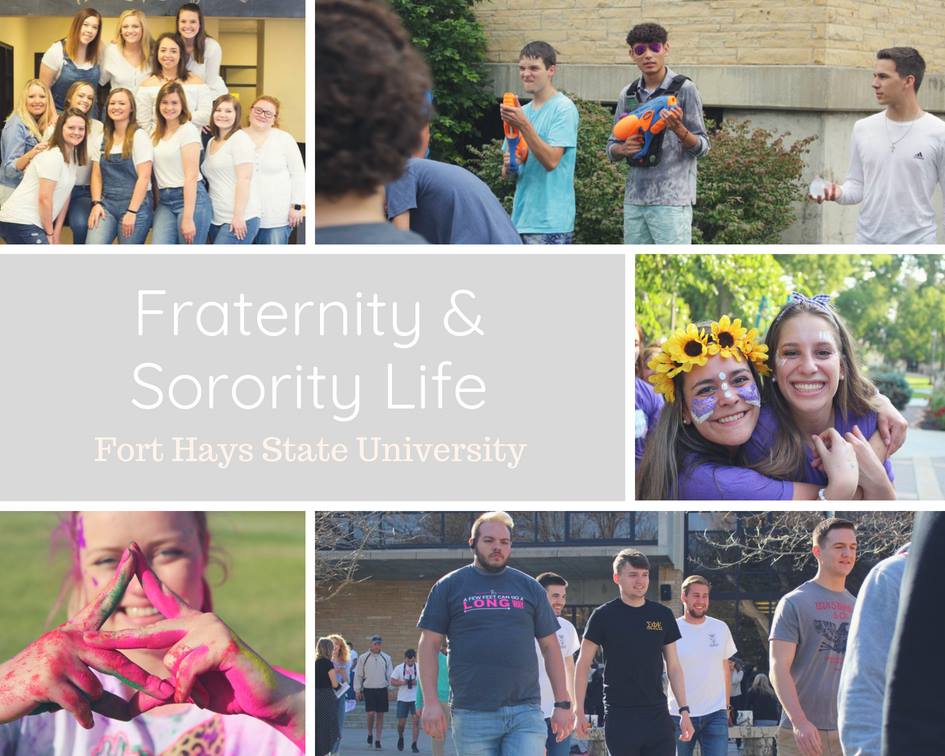 What is Fraternity & Sorority Life (FSL)?
Fraternity & Sorority Life at FHSU is building unbreakable bonds with your brothers or sisters.  These bonds are built through many different activities and opportunities unique to each chapter and the FHSU FSL community, from philanthropy nights to movie nights with your new family.
What chapters are at FHSU?
Fraternities:
Alpha Gamma Rho
Sigma Alpha Epsilon
Sigma Chi
Sigma Phi Epsilon
Sororities:
Alpha Gamma Delta
Alpha Sigma Alpha
Delta Zeta
Sigma Sigma Sigma
How can I keep up to date with FHSU Fraternity & Sorority Life?
Follow us on Facebook, Instagram & Twitter! 
Facebook: FHSU Fraternity & Sorority Life
Instagram: @fhsugreeklife
Twitter@FHSUGreekLife
Can I be a part of a chapter if I am not a first-year or if I am a transfer student?
Sorority: Yes! If you are interested in joining a sorority you can go through fall formal recruitment, or be a part of the informal recruitment. 
Fraternity: Yes! If you are interested in joining a fraternity, our chapters have open recruitment, meaning you have the ability to join at any time.
Can I be involved in other groups and opportunities on campus while being involved in FSL?
Yes! We encourage all FSL community members to be a part of other organizations, athletics, and opportunities FHSU has to offer while you are here!

When I pledge a fraternity or sorority, what will I have to do and how much time will it take?
The responsibilities and the new member period varies from chapter to chapter. Usually, weekly meetings are required. At these meetings, you will learn and discuss the history and the structure of the chapter. Though it varies, most chapters have a written new member program.
Is it hard to balance membership and academics?
The FSL community and each chapter have structures in place that will assist you in balancing academics and your chapter membership.  We want you to succeed as a student and are here to support you in every way possible.
Is it expensive to be a part of a fraternity or sorority?'
Fraternities and sororities are not expensive. Each fraternity and sorority is self-supported from dues paid by its members. In the first year of membership, a few one-time expenses are assessed. Fraternity and sorority lodging and meals are very competitive with (and often less than) other on-campus and off-campus housing options. The cost varies from chapter to chapter. Each chapter has its own treasurer who can set up a payment plan for you.

May I live in a fraternity or sorority as a first-year?
Absolutely! Though it is not required to move into the house as a first-year, first-years can live in a fraternity or sorority house. Freshmen members of fraternities or sororities may be exempted from the residence halls to live in a chapter house. The policies regarding this vary between the chapters. After your freshmen year, members are expected to live in chapter housing until the house is at capacity. Each chapter's policies vary so if you are interested in living in a chapter house, you contact the chapter you are interested in order to set up living arrangements.

If I do not pledge my first semester at college, may I still join a fraternity or sorority later?
Of course! Many students are unsure whether to join or not when they first come to campus, but after being at Fort Hays State University a few months they realize that fraternity and sorority life is for them.

Is hazing a part of the fraternity and sorority life experience?
Hazing is absolutely forbidden. The chapters at Fort Hays State University follow anti-hazing policy and if an incident were to occur it would be reported to the national authorities. Fort Hays State University fraternities and sororities oppose hazing and are committed to an education period which instills a sense of responsibility and commitment in new members.