Dr. Keith Bremer
  Assistant Professor of Geosciences, Geography
  Director of Graduate School & Office of Scholarship
  and Sponsored Projects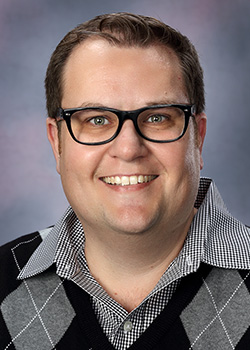 Office: Picken Hall 306
Phone:785-628-4321

Email: kabremer@fhsu.edu
Twitter: @KeithBremer
Curriculum Vitae
---
Educational Background
Ph.D. in Environmental Geography, Texas State University - San Marcos, TX 2011
Dissertation: Urban Environmental Perceptions and its Impact on New Urbanist Communities
M.A. Geo. in Land/Area Development and Management, Texas State University - San Marcos, TX 2007
Research: Socio-Economic Characteristics of Different Land Uses in Austin, Texas 2000
B.S. in Geography, Texas State University - San Marcos, TX 2004
Courses Taught
Scientific Writing
Research Design
Urban Sustainability: Denmark and Sweden
Urban Geography
Geostatistics
U.S. Human Geography: Issues for the 21 st Century
Urban Geography of Hays, Kansas
World Regional Geography
Cultural Geography
Orientation to Geography
Research Interests and Specializations
Urban Geography
Urban Sustainability
Urban Planning
Depopulation
Cultural Landscapes
Publications/Abstracts & Presentations
Day, C.A. and K. A. Bremer. 2013. Modeling urban hydrology: A comparison of new urbanist and traditional neighborhood design surface runoff. International Journal of Geosciences 4(5): 891-897. DOI: 10.4236/ijg.2013.45083
Bremer, K. A. 2009. Socio-Economic characteristics of different land uses in Austin, Texas 2000. Papers of the Applied Geography Conferences 32(1): 392-400.
Professional Memberships
American Association of Geographers
American Geophysical Union
Congress for the New Urbanism
Additional Resources
Software Used
DataCamp - DataCamp is utilized in select courses for it's intuitive learning platform as well as videos and hands-on-keyboard exercises.