FHSU Communication Studies Department previews new 3D virtual campus project: Tiger Range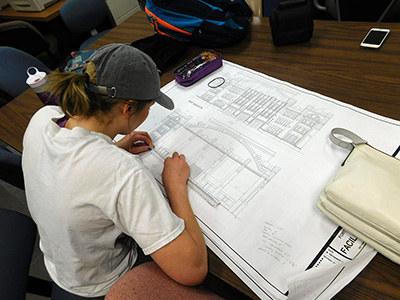 05/06/14 gc/sry
HAYS, Kan. -- Fort Hays State University students in communication studies and the Institute for New Media Studies will provide a behind-the-scenes look at the 3D virtual campus project, Tiger Range, from 10:30 a.m. to noon on Wednesday, May 11, in Tomanek Hall, room 161. This open house event is free and open to the public.

"The project gets its name from the term for the home territory of a tiger," said Dr. Gordon Carlson, assistant professor of communication studies and director of the Institute for New Media Studies. "An Oculus Rift virtual reality system will be used to transport participants into the virtual campus and allow them to interact with the model. This demonstration includes buildings in the Quad of the university bounded by South Campus Drive, College Drive, North Campus Drive and Park Street."

"This project has taught me that we, as communication studies majors, will do things in our careers that we are not going to be comfortable with in the beginning, but we can persevere to create new and innovative projects that will contribute to any culture we find ourselves in," said Vanessa Resh, Shelton, Neb., senior majoring in communication studies.

While still under development, Tiger Range will include campus buildings, landscape items and other environmental objects to enhance the virtual experience of walking across a 3D model of campus. Potential uses for the technology include recruitment, new student and faculty orientation, information kiosks, online tools or mobile apps, and a number of current and upcoming research projects. The project can even be used in conjunction with engineers and administrators to simulate proposed changes to the campus landscape, such as new construction or renovations.

During the event, students of "Issues and Applications in Communication" will display their senior portfolios.

"Fort Hays State University is working hard to develop new technology in support of higher education and encourages students to be pioneers," said Carlson.

For more information, contact Carlson at gscarlson@fhsu.edu or 785-628-5876.