FHSU one of 25 schools across the nation selected for 'hackathon' competition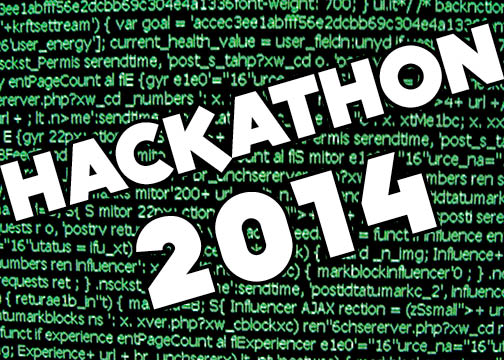 Students from Fort Hays State University are among an elite group from across the country that will compete in the Be "U" Hackathon competition for 2014.

The competition, a function of the United Athletes Foundation and supported and sponsored by Microsoft Supplier Diversity, runs from September through November on 25 university campuses, culminating in a finals event in the state of Washington.

FHSU is in good company. Other universities across the United States that were selected to compete include Indiana State University, Notre Dame, Chicago State, Old Dominion, Hampton, Morehouse and Cincinnati.

The Be "U" Hackathon competition is designed to leverage the talents and resources of the emerging minority collegiate community to enable students to create innovative technologies. These diverse collegiate student teams have the opportunity to create innovative solutions with the support of advisors and mentor-coaches comprised of technology industry leaders.

The United Athletes Foundation, using its relationships with colleges and universities, selected the 25 competing universities.

Dimitry Gimon, assistant professor of informatics, is the faculty advisor for the FHSU team. The students are Eric Stumon, an Oakland, Calif., sophomore; Nicholas Hoffman, a Newton special student; Brittani Tran, a Liberal senior; and Joshua Gale, a Phillipsburg senior. Under the rules, Hoffman and Gale are designated as coders; Stumon and Tran are non-coders.

"I am proud to be involved in this great opportunity for our students," Gimon said. "This competition allows them to put on hi-tech entrepreneurs' shoes by going through the same thinking process. It is amazing to watch students brainstorming, throwing out brilliant ideas and discussing them. I am looking forward to our team getting into the finals so they can see how their idea becomes real."

Teams will compete for scholarship prizes and, potentially, for the opportunity to showcase their concepts to industry executives. From the original 25, a dozen teams will be selected to travel to
Microsoft headquarters in Redmond, Wash., from Nov. 12 through 14 to present their solutions to a panel of UAF, industry and business thought-leader judges. The students will participate in learning and training sessions and the Hackathon competition.

"I see the main outcome for our students is to be part of a global process of making life better through technologies," Gimon said, "which is extremely important for FHSU students because many of them came to our school from small places in Kansas. The Hackathon is a great opportunity to do it. I am thankful to the UAF and Microsoft for running this event and giving this opportunity to our students."

The task for the FHSU team now is to develop a concept plan "that they reasonably, and in good faith, believe can be built and, ultimately demonstrated in a working model," according to the Hackathon rules. The working model can be a mobile app for Windows Mobile or a mobile gaming app for Windows Mobile. It should be a program that provides a useful function for consumers, businesses -- either for-profit or non-profit organizations -- government, non-government organizations and other stakeholders identified and defined by the team. Their creative concept should "have a chance to have a positive impact on peoples' lives."

Judges for the competition will include key members of UAF, Microsoft, the U.S. Hispanic Chamber of Commerce, the U.S. Black Chamber of Commerce and the Asian/Pacific Islander American Chamber of Commerce & Entrepreneurship.

The 25 competing universities were announced during a webcast on Wednesday, Sept. 10, from the Andrew & Walter Young Family YMCA in Atlanta.
About 20 faculty and students, including Dr. Mirta M. Martin, FHSU president, gathered in a classroom at the Center for Networked Learning to participate in the webcast. Speaking about the opportunity the competition represents for FHSU students, Mark Bannister, dean of the College of Business and Entrepreneurship, said, "Microsoft wants to diversify the base from which it can draw employees."

"This is a forward-thinking, world-ready exercise. FHSU is known for its innovation and exploration, so something like the Hackathon is part of our DNA," President Martin told the assembled group. "It is a perfect fit for us to be part of this pioneering group of students nationwide who will be participating in this challenge."

About the United Athletes Foundation
The United Athletes Foundation, founded by former NFL player Reggie Howard, is a 501c3 public non-profit organization created in 2008 by a group of professional athletes who understood their unique role in improving the lives of both the athlete fraternity and society in its entirety. To date, there are more than 150 professional athletes associated with the UAF, including members of the NFL, NBA, MLB, WNBA and professional boxing.

The UAF also boasts an impressive board of directors and board of advisors, including, but not limited to, Chairman Gordon Brown, co-founder; Vice-Chairman and two-time Super Bowl Champion Ray Lewis; NBA Hall of Fame great Julius "Dr. J." Erving; Major League Baseball legend Hank Aaron; NFL Hall of Famer Jim Brown; and civil rights leader and former United Nations Ambassador Andrew Young.