Bickle family donates $1 million for scholarships for athletes and for students from Hoisington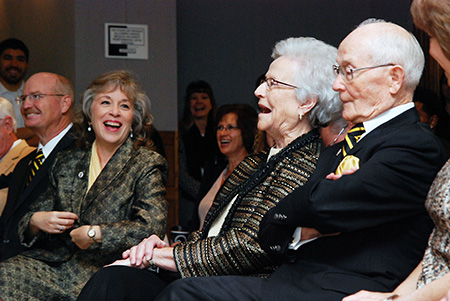 10/09/14 hb/ks
NOTE TO EDITORS, NEWS DIRECTORS: A print quality photo of President Mirta Martin, her husband, John, and Don and Chris Bickle at the news conference can bedownloaded through the "Bickle donation" link on the page at http://bigcat.fhsu.edu/currentevents/news_photos.php
HAYS, Kan. -- Don and Chris Bickle, long known for their philanthropy, announced today a gift of a million dollars for scholarships at Fort Hays State University.
"Don and Chris Bickle and their family have been major contributors to the community of Hays for many years, and today is no different," said Dr. Mirta M. Martin, FHSU president. "Don and Chris recently established two scholarship funds. One will help student-athletes pay for their education, and the other will benefit Hoisington graduates."
The Don and Chris Bickle Student Athlete Scholarship and the Don and Chris Bickle Scholarship Fund for Hoisington Graduates were established with $1 million worth of Commerce Bank stock. The annual athletic scholarship will be awarded to student-athletes who are full-time undergraduate students majoring in any curriculum at FHSU. In addition, three $500 scholarships will be awarded annually to FHSU students who are Hoisington High School alumni.
"There is no denying that these scholarships will enable future Tigers to make their dreams come true in both the classroom and in their chosen athletic program," President Martin said. "Thanks to the generosity of the Bickle family, athletes and Hoisington High School graduates now have even more incentive to become part of the FHSU family by making our university their destination of choice."
Don Bickle thanked Commerce Bank and his business partners through the years for giving him and Chris the wherewithal to make the gift for FHSU students. "As the Lord says, 'You do good and I'll do better,'" he said. "I think it's good that we can give this to you, Mirta, and you'll do better."
Curtis Hammeke, FHSU athletic director, thanked the Bickles for their generosity and talked about the difference the gift would make for student-athletes. "It is hard to describe our sense of gratitude to the Bickles for their major commitment to FHSU, especially our Athletic Department," Hammeke said "At the NCAA Division II level, scholarships are dispersed in equivalencies rather than full rides. Consequently, this generous contribution will positively impact a significant number of student-athletes for many years to come."
"This gift will make a huge impact for students at FHSU and will enable the Foundation to hit our extended goal of $12 million for the Power of One Scholarship Campaign," said Tim Chapman, president and CEO of the FHSU Foundation. "Don and Chris made this commitment based on their dedication and loyalty to student success, but they also wanted to help us ensure that the campaign goal would be met. Their generous gift was made in recognition of their relationship with Dr. Edward H. Hammond, former FHSU president."
The Power of One Scholarship Campaign is a one-year effort in recognition of 27 years of service and leadership by Dr. Hammond to Fort Hays State.
The former president thanked the Bickles and others who have contributed to the scholarship campaign. Like Hammeke, Hammond emphasized the importance of the gift for student-athletes, most of whom not only have to attend classes and exhausting practices, but also have to work at part-time jobs to make ends meet. He said it was important to him that his last fund-raising effort would help FHSU students.
Over the years, the Bickles have made a substantial impact at Fort Hays State University. Because of their generous contributions to ensure the future success of the university, the couple was welcomed as "Diamond Level" members in the President's Leadership Circle in 2010, an achievement that acknowledges those who have given more than one million dollars to FHSU. In 2013, the couple was recognized for 20 consecutive years of giving to the university. Don and Chris are also part of the FHSU Athletic Difference Makers, the most elite club of donors to FHSU athletics. One of their most significant contributions was made in 2010, when they made a donation toward the completion of an indoor training facility at FHSU, today known as the Schmidt-Bickle Indoor Training Facility.
About the FHSU Foundation
The Foundation serves as the fundraising arm of Fort Hays State University. For more information about the Foundation or how to make a gift to benefit the university, please call 785-628-5620, send an email to foundation@fhsu.edu or visit the website at http://foundation.fhsu.edu.
News Conference Video