New president, Dr. Mirta M. Martin, vows FHSU's programs of distinction and people of excellence will act as a magnet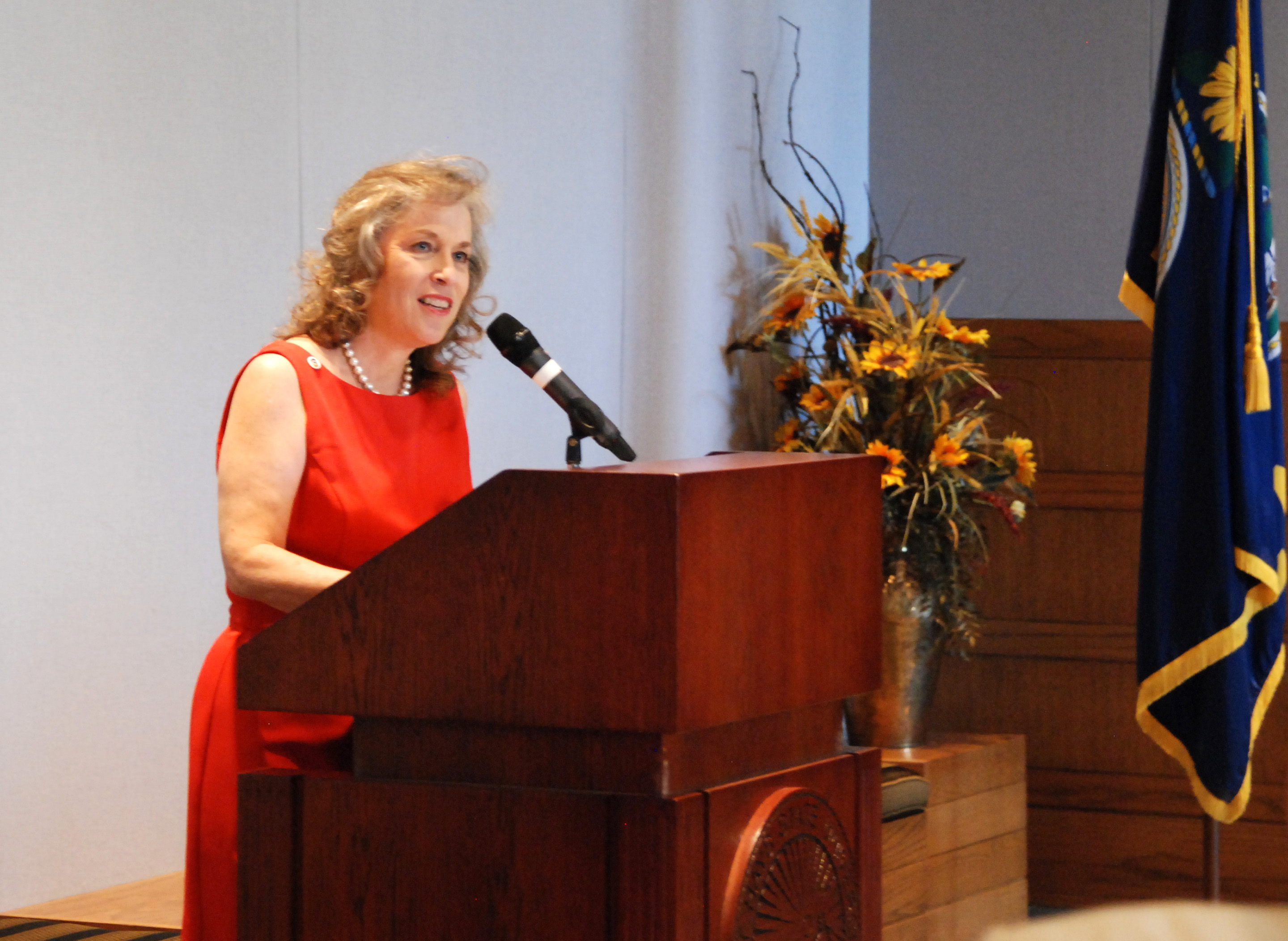 10/24/14
Dr. Mirta M. Martin, president of Fort Hays State University, believes that when people see excellence and excitement and success, they want to be part of it.

"Almost 30 years ago, Fort Hays State University captured the imagination of Kansans with its revolutionary vision of a high-tech high-touch education. Now, it is time for a bold new vision, a vision that builds upon the strengths of our successes and furthers our commitment to remain a true forward-thinking, world-ready university," she said today at a news conference launching a four-day tour of Kansas to visit with media, legislators, civic leaders and alumni.

The tour, beginning on Sunday, Oct. 26, and lasting through Wednesday, Oct. 29, includes more than 30 events in 11 cities.

"I am here today to invite you to join our quest for distinction; to join our quest to become the destination of choice," she said. "Ladies and gentlemen, at Fort Hays State University, we are indeed forward thinking and world ready. We are superbly positioned to become the destination of choice through our programs of distinction and our people of excellence for extraordinary students, faculty, researchers and staff."

Martin assumed the presidency at Fort Hays State four months ago, on July 1, succeeding Dr. Edward H. Hammond, who had been president for the previous 27 years.

"Our new vision will serve the needs of the students who fill our classes today and those who will fill them in the future," said President Martin. "We will engage this new generation of learners who are creative, technologically savvy, energetic, collaborative, socially conscious and adventurous.

"This new generation is certainly the 'now' generation. They are chomping at the bit to participate in the excitement of our age, to make a difference in the world, to improve the human condition and to do so actively, directly, wholeheartedly and now," she said, her voice underlining that final "now."

Dr. Martin's personal story can serve as an inspiration for young people who want to find a path to success.

"I was born in Havana, Cuba, grew up in Madrid, Spain, and immigrated to the United States," she said. "A journey like that stays with you, shapes you and guides your perspective on practically everything. The gift that journey gave me is an unshakable belief in the American dream."

She noted that author James Truslow Adams coined the phrase in 1931, during the Great Depression, when he wrote of the "American dream of a better, richer and happier life for all our citizens of every rank."

"I believe the American dream is the exceptional combination of determination, hard work and opportunity that allows anyone in this country to shape his or her future," she said. "That dream can seem a little beat up these days. The challenges facing our middle class don't help. Neither do the rising costs of higher education. Critics and cynics look for reasons to say the American dream is dying. Someone, somewhere, is probably drafting its obituary this very moment. But not so fast. My own story is an affirmation that the American dream is alive and well. People pursue it today, and their journey leads them to the front door of Fort Hays State University."

President Martin used the example of the current generation of students to emphasize the necessity for 21st-century thinking.

"This is the generation of Twitter, YouTube and crowd funding," she said. "They have watched cataclysmic world events, social phenomena and the creation of new social world orders, all in real time. Our university will possess the ability to attract and retain this increasingly diverse and incredibly ingenious student population. And they will be welcomed by our gifted faculty and our dedicated staff."

She said her vision is to accomplish this vision through creating "an energized and supportive academic environment marked by bold interdisciplinary and collaborative initiatives, by rewarding "innovative and entrepreneurial initiatives."

"We will foster a culture of trust and unleash our talented faculty to share their passions," she said.

The special commitment, she said, is to the students and the university that serves them.

"We will employ a teacher-scholar model and ensure that what we do today, tomorrow and always is in the best interests of our students and our university," she said.

As evidence of that commitment, she pointed to the addition of 24 new faculty positions. "That's 21st-century thinking," she said. She also noted that U.S. News and World Report recognized FHSU's spirit of innovation and commitment to excellence when it named the university's Virtual College as "the best in Kansas and one of the elite programs in the nation."

"The list of national accolades earned throughout our university is long and impressive," she said.

She gave four examples of recent successes:
 In the College of Education and Technology, the National Council on Teacher Quality, in its 2014 Teacher Prep Review, ranked FHSU No. 3 in the nation for Secondary Education and No. 12 in Elementary Education. FHSU was ranked No. 1 among all schools in Kansas.
 In the College of Arts and Sciences, the political science online program was ranked No. 11 in the country by Social Science Careers, a guide to careers and educational programs in the social sciences.
 In the College of Health and Life Sciences, the Kansas Ornithological Society named Dr. Elmer Finck, professor of the Department of Biological Sciences, the Avian Conservationist of the Year for his significant contributions in the field of avian studies.
 In the College of Business and Entrepreneurship, FHSU is one of only 13 colleges and universities in the United States with two accounting graduates to win the Sells Award in the last three years. The Sells Award goes only to those who pass all four sections of the Certified Public Accountant exam with a specified high score and on the first try. Of the nearly 100,000 accountants who take the exam each year, only a few, sometimes less than 10, win the award. In the past 25 years, only 13 schools -- and that includes Wharton, Harvard, Stanford and now FHSU -- have had two graduates in that group. No other Kansas school in the last 25 years has had even one finish in that elite category.

President Martin said the national rankings do not happen by accident but are earned by hard-working, high-quality faculty. "It is FHSU's openness to innovation that makes it possible to offer a high-quality education that meets the needs of the students, employers and communities we serve," she said.

"There is nothing more important to me than family," she concluded. "No matter how wonderful our facilities are, no matter how incredible our technology is, higher education remains a people business. We have world-class faculty and staff who instill knowledge in our talented students so that, together, we can improve the human condition."