Team of FHSU students makes finals of national Hackathon competition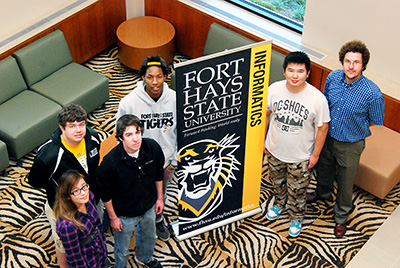 10/15/14 ks

HAYS, Kan. -- A team of students and their advisor will travel to the state of Washington in November to represent Fort Hays State University as one of just 12 universities to qualify for the finals of the national Be "U" Hackathon competition for 2014.
FHSU was selected in September as one of 25 universities to participate in the competition, which is a function of the United Athletes Foundation and supported and sponsored by Microsoft Supplier Diversity.
Melissa J. Hunsicker Walburn, interim chair and assistant professor of informatics, learned today that FHSU was one of the 12 finalists. "These students collaborated effectively across different majors to advance a creative, innovative idea," she said. "While I couldn't be more proud of the hard work, countless hours and dedication of these students and their faculty advisor, I hope their success inspires other talented FHSU students to pursue similar opportunities with confidence in what they are learning here."
Dmitry Gimon, assistant professor of informatics, is the faculty advisor for the FHSU team. The students are Eric Stumon, Oakland, Calif., sophomore; Nicholas Hoffmann, Wichita junior; Brittani Tran, Liberal senior; and Joshua Gale, Phillipsburg senior. Under the rules, Hoffman and Gale are designated as coders; Stumon and Tran are non-coders. Graduate student Yangbin "Nathan" Zhou, Zinzheng, China, is the team's technical advisor.
Walburn also credited Ken Moreno, Hays senior, for assisting with the video presentation that moved the FHSU team into the Hackathon finals.
"The contest rules required a video presentation of the group and their idea," she said. "Ken is a media studies student who spent many hours with this group. He filmed them and worked many late nights to edit this winning submission. While not a formal member of the Hackathon team, he deserves to be recognized as a major contributor to this success story."
The FHSU team will make a presentation of its idea during the finals from Nov. 12 through 14 at Microsoft headquarters in Redmond, Wash.
The other finalists are Claflin University, Clark Atlanta University, Hampton University, Howard University, Lincoln University, Morehouse University, North Carolina A&T University, the New Jersey Institute of Technology, Old Dominion University, Spelman College and the University of Washington.
"This is a great day for the Tiger Nation," said Dr. Mirta M. Martin, FHSU president. "Our people of excellence and our programs of distinction continue to make us the destination of choice. We are proud to earn this national recognition. As I said in September when we were announced as one of the 25 universities originally chosen for the competition, FHSU is known for its innovation and exploration, so something like the Hackathon is part of our DNA."
Gimon said Hackathon officials had advised the teams not to divulge the ideas they will promote at the finals so as not to equip the other teams with competitive information. "I am very excited to see our team members' excitement!" he said. "The atmosphere in the team is great. They all are looking forward to compete in the next step at Microsoft headquarters in Washington. That is a fantastic opportunity for our students. I am also excited about the great support and help that we have received from the Fort Hays State community. I am happy and proud to be a part of this event."
The Be "U" Hackathon competition is designed to leverage the talents and resources of the emerging minority collegiate community to enable students to create innovative technologies. Teams compete for scholarship prizes and, potentially, for the opportunity to showcase their concepts to industry executives.
Judges for the competition will include key members of UAF, Microsoft, the U.S. Hispanic Chamber of Commerce, the U.S. Black Chamber of Commerce and the Asian/Pacific Islander American Chamber of Commerce & Entrepreneurship.
About the United Athletes Foundation
The United Athletes Foundation, founded by former NFL player Reggie Howard, is a 501c3 public non-profit organization created in 2008 by a group of professional athletes who understood their unique role in improving the lives of both the athlete fraternity and society in its entirety. To date, more than 150 professional athletes are associated with the UAF, including members of the NFL, NBA, MLB, WNBA and professional boxing.
The UAF also boasts an impressive board of directors and board of advisors, including, but not limited to, Chairman Gordon Brown, co-founder; Vice-Chairman and two-time Super Bowl Champion Ray Lewis; NBA Hall of Fame great Julius "Dr. J." Erving; Major League Baseball legend Hank Aaron; NFL Hall of Famer Jim Brown; and civil rights leader and former United Nations Ambassador Andrew Young.
NOTE TO EDITORS, NEWS DIRECTORS: A print-quality photo of the team is available for download through the Hackathon link on the page at http://bigcat.fhsu.edu/currentevents/news_photos.php
Photo ID: From left, Brittani Tran; Joshua Gale, Nicholas Hoffmann, Eric Stumon, Yangbin "Nathan" Zhou and Dmitry Gimon.