Hays Symphony Orchestra to feature FHSU woodwind professors in 'Fall Classics' concert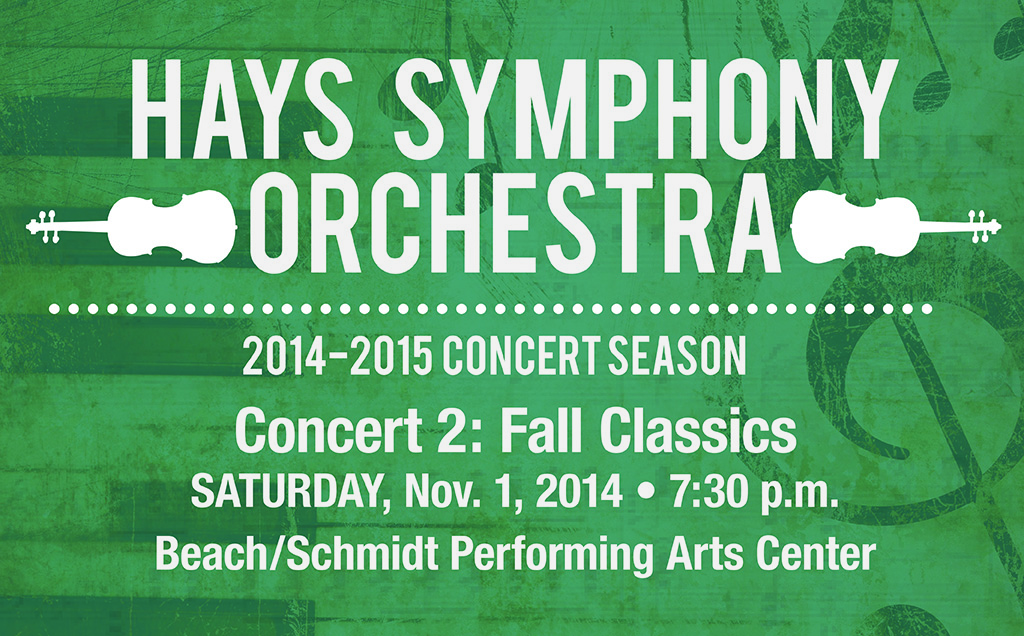 10/23/14
The Hays Symphony Orchestra will perform its "Fall Classics" concert under the baton of Conductor Benjamin Cline at 7:30 p.m. Saturday, Nov. 1, at the Beach/Schmidt Performing Arts Center in Sheridan Hall on the Fort Hays State University campus. Cline is chair of the Department of Music at FHSU.

The concert opens with Georg Philip Telemann's "Oboe Concerto in D Minor," featuring Fort Hays State instructor of oboe Kay Werth. The simple, singing melodies of the oboe contrast with the harmonic complexity Telemann wrote for the rest of the orchestra, which are typical of the baroque period.

Next, FHSU flute instructor Hilary Shepard picks up the pace as soloist in Antonio Vivaldi's flute concerto "La Notte." Like most Vivaldi concertos, the piece contains a virtuoso solo line supported by driving sixteenth notes from the strings, creating a bright, energetic atmosphere. Lovers of Vivaldi's "The Four Seasons" are sure to enjoy this piece.

The orchestra closes the first half of the concert with the second and third movements of Carl Maria von Weber's "Concerto No. 2 for Clarinet," featuring soloist and FHSU clarinetist Dr. Kristin Pisano, associate professor of music and theatre. The concerto explores the rich tone of the clarinet and showcases Pisano's technical abilities with some of the most difficult passages in clarinet literature.

The second half of the concert is one of Wolfgang Amadeus Mozart's most beloved and recorded pieces, "Symphony No. 40 in G minor." The lilting, graceful melodies in the piece are some of his most beautiful work, while the pulsing string accompaniment underlying them provide tension and depth. This symphony will be one of the highlights of the entire 2014-2015 season.

Tickets are $6 for adults; $4 for youths 12 to 18 and for senior citizens; and free for FHSU students with Tiger Card and for children under age 12.

For more information about the Hays Symphony Orchestra's 101st concert season, visit its Facebook page or call 785-628-4533.

Rachel Rayner is majoring in music and English writing and minoring in German. She also writes the blog www.experiencingessen.weebly.com.