FHSU professor wins renovation award from This Old House magazine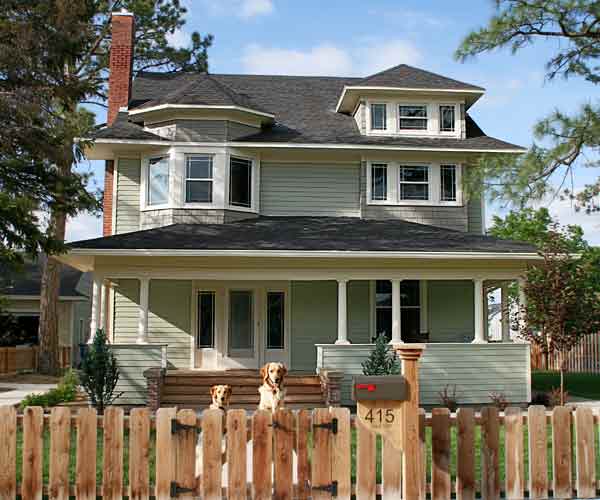 11/14/14
A broken cast-iron sewer, nonfunctioning galvanized water lines and a coal furnace plagued the house at 415 W. 17th in Hays after sitting empty for 40 years. The house, a time capsule, would have continued its journey into decay until an applied technology professor from Fort Hays State University stepped in and gave it a much-needed facelift.

Kris Munsch, assistant professor of applied technology, recently finished restoring the abandoned house and was a runner-up in This Old House magazine's search for America's best remodel in 2014.

His new house, a 1908 Craftsman, was featured in the October issue of This Old House.

Another home in New Jersey ended up taking home the grand prize, but Munsch's house was awarded the "Bring it On Home" award of the 10 finalists receiving Moxie Awards.

Munsch was encouraged to enter the competition back in March, but he never thought he would win anything in a national competition.

"I remember thinking, 'No way I have a chance at this, I'm in Kansas,'" said Munsch. "But then, the next thing I knew, I got a call saying I was in the running for the grand prize in the search for America's best remodel in 2014."

The hardest part, Munsch told This Old House, was taking small bites at the project. The house was overwhelmingly rundown, and Munsch faced the task of restoring it with just himself and the help of inexperienced students.

"With their inexperience, and my workload at school, I simply had to step back on a day- by-day basis and share my vision with them so we could accomplish the goals for the day," said Munsch.

He described hauling 12-foot pieces of drywall up three stories and working through the house, inch by inch. The sewer system was broken, the water lines were nonfunctioning, the windows were cracked and broken, and the roof was leaky.

"Of the 50 houses I've restored over the years, this one has been the toughest," said Munsch.

To keep expenses low and quality high, Munsch did most of the work himself and used the highest quality of materials possible. He also taught his students how to install and work together on the house. "The students that came to work earned an hourly wage but a lifetime of skills," said Munsch.

The project took two years to complete.

The winners of the contest can be found at www.thisoldhouse.com.