FHSU's Virtual College celebrates national distance learning week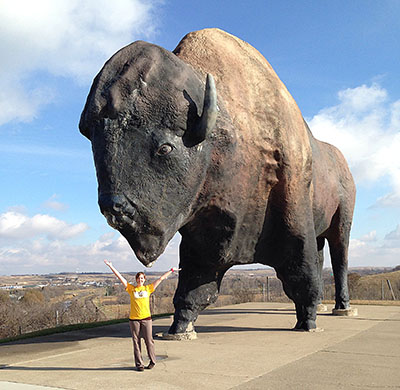 11/24/14 amk
HAYS, Kan. -- Fort Hays State University's Virtual College recently celebrated National Distance Learning Week, an annual event sponsored by the United States Distance Learning Association, which promotes and celebrates the increasing growth and accomplishments in distance programs.
FHSU currently provides more than 6,000 students in more than 20 countries the opportunity to earn online degrees. To celebrate its distance learning students, FHSU's Virtual College recently gave more than 100 free T-shirts to domestic and foreign online students, who then sent pictures of themselves wearing their Tiger T-shirts in local landmarks.
The photos can be found on the Virtual College's Facebook page. Look for "FHSU Virtual College" on Facebook.
A sampling of the submissions:
Jessica from North Dakota sent a picture of herself standing under the nose of a giant buffalo sculpture. "FHSU Virtual College allows me the luxury of traveling with my husband for his job while continuing my education! This photo was taken in Jamestown, North Dakota, home of the world's largest buffalo." (see above)
Kathy from Washington D.C. sent a picture of herself with the Washington monument and the caption: "Enjoying my freedom to learn. As an Army wife, I have loved the opportunity that FHSU has given me to pursue my own degree. It was hard before I found FHSU because I was always having to start over with every move. The Virtual College has allowed me to have a first-class education no matter where I live, from Kansas to Washington D.C."
James and Jennifer from Delaware pictured themselves on the beach: "We are full-time teachers and live at the beach year round. FHSU makes it easy to pursue our master's at a school with a reputable program, without having to leave the coast."
Jessica from Wyoming titled her photo, "Tigers in the Tetons!": "The best part about being a Virtual College student at FHSU is being able to study what I love from the place I love."