FHSU's new president lays out vision of scholarship, entrepreneurship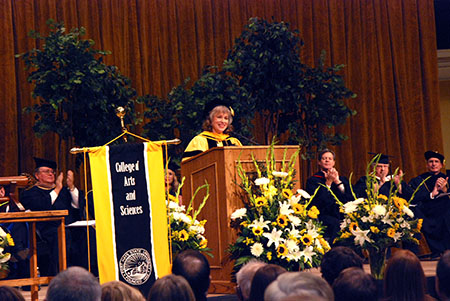 11/21/14 kb
HAYS, Kan. -- History figured prominently in the inauguration of Fort Hays State University's ninth president today as she became the first female president of the university.
But the new president herself, Dr. Mirta M. Martin, had her gaze fixed firmly on the future, even as she made reference to the past.
"We are a testament to the skill, determination and sacrifice of those who raised us up, and we are a guiding light that radiates far beyond the Kansas plains," she said in her inaugural address, referring to the history of the university, "Lighthouse on the Plains," by the late Dr. James Forsythe.
"Every lighthouse has a keeper, and it's the keeper's sacred duty to make sure the light always shines brightly," she continued, "illuminating the path ahead, safeguarding precious cargoes of hope, precious cargoes of dreams, welcoming home all who wish to join us."
"I am honored and humbled to be the ninth keeper of the light at Fort Hays State University," she said to applause from the audience of about 1,200 at the ceremony in Gross Memorial Coliseum.
Earlier, she received cheers to go with the applause when she referred to the history she has made: "Ladies and gentlemen, I am honored to serve as the first female president in the 112-year history of this incredible university and to be the first Hispanic to lead a Kansas Regent institution."
Among the dignitaries present for Dr. Martin's inauguration was Kansas Gov. Sam Brownback, who nodded toward the many accomplishments of her predecessor, Dr. Edward H. Hammond, who spent more than 27 years in the presidency.
"Some people might be hesitant to follow Ed, who has spent almost 30 years at the helm of this university," said Brownback.
"Dr. Martin is not. Hesitancy and fear are not words that have ever been used to describe her," he said, referencing her journey from Castro's Cuba to Spain at the age of 6 and her eventual migration to the United States.
"She came to this country not speaking a word of English. She wasn't afraid. She came here with a purpose and a dream and she has achieved it. She's a person of vision and strength and boundless energy, which is required of a university president. You might say that even before she came to Fort Hays State, she already was a Tiger at heart, bold, committed and fearless. She'll bring those qualities to bear for this great university and make it even greater."
Dr. Martin's inaugural speech was preceded by greetings from Fred Logan, past chair of the Board of Regents; Dr. Eric Deyo, president of the Faculty Senate; Dave Storer, president of the University Support Staff Senate; Arin Powers, president of the Student Government Association; Diane Scott, president of the FHSU Alumni Association Board of Directors; and Denis Miller, chair of the FHSU Foundation Board of Trustees, who was chair of the search committee for a new FHSU president.
President Martin addressed the pioneer spirit that built Hays and the institution that became Fort Hays State University in leading up to her vision of the future. "The future belongs to those who are bold enough to dream it, plan for it and to build it."
"I, too, have bold aspirations and an unrelenting faith in our future," she said, and laid out four things she "envisions" for FHSU under her leadership:
A support system for all students built on a foundation of faculty, staff, public and private partners and "our 68,000 alumni located all across the globe."

A system in which students, through engagement with faculty mentors in research, the arts and community service, "are the co-creators of their education."

A university in which "scholarship and creativity will generate new intellectual property," and an "entrepreneurial and creative community" will provide careers for graduates and "enrich the cultural fabric of our nation and of our region."

A network of "engaged and impactful alumni" who will help with their gifts and time to "connect our graduates with prospective employers." She said that every student on campus should have an alumni "mentor" because "only alums can tell our students how a Fort Hays State degree changed their lives."
"I have faith that Fort Hays State will become the university that the people we serve want it to be, that it will become the university that Kansas needs it to be; and that it will become the university that everyone who works and lives here knows it can be."
"These are bold aspirations, no doubt," she said, "but I am just getting started." She proceeded to lay out two more: a university where every student who pursues an internship will get one, and a university where more and more students will study abroad to experience other cultures in places "far away from home."
Foreign travel was once a luxury for students but is more and more a necessity in a global marketplace, she said.
"The work ahead of us is not just for me, but it is for all of us who care deeply about our university and the future of Kansas," said President Martin. "We must become the destination of choice that attracts and retains the curious, the creative, the socially conscious and the adventurous."
President Martin's conclusion completed a circle begun with the tribute music that preceded the formal presentation of the mace and medallion of office. That music was "Somewhere Over the Rainbow," from the movie "The Wizard of Oz."
Though she has lived in Kansas only a short while, said Dr. Martin, she has known the state since she was a small child in Spain, where she was introduced to Kansas by "a determined young girl" who had, through "circumstances beyond her control," been pulled away from "the only home she had ever known and dropped her in a foreign land."
But in the end, that girl and her friends were able with courage and character to "triumph over evil and discern truth from illusion."
Dorothy, said President Martin, "came to realize everything she needed to succeed she could learn right here, in Kansas, with the loving support of a caring family."
"There really is no place like home, ladies and gentlemen," she said, "and together, we will show the world that there is really no place like Fort Hays State University."