Fort Hays State University hosts third startup weekend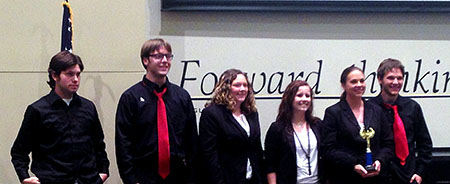 12/01/14
Silverware Savers, a manually operated silverware roller designed for restaurant use to roll silverware into napkins, was the winning team at the third Kansas Startup Weekend, hosted by the College of Business and Entrepreneurship at Fort Hays State University.

Second place went to Falcon, a food truck serving the FHSU campus during the day and Hays bar locations at night. Third place went to Top Shelf, an upscale cocktail lounge and restaurant in downtown Hays.

Kansas Startup 2014 was sponsored by Network Kansas, Sunflower Electric Power Corporation and Commerce Bank of Hays.

Silverware Savers was Laura Regnier, Colorado Springs, Colo., senior; Korby Boswell, Onaga senior; Dani Overmiller, Beloit junior; Matthew McWithey, Winfield senior; Carlos Dominguez, McCook, Neb., junior; and Morgan Lawrence, Dighton junior.

The event began with 45 participants pitching their business ideas on the evening of Nov. 14, then voting on the best ideas, which resulted in seven teams. The teams worked over the weekend with coaches from the fields of accounting, finance, marketing and business strategy to create a viable business concept.

The top three teams received trophies, free business consulting with local firms, free attendance at a business seminar, and a large selection of books on innovation and entrepreneurship.

Coaches were Dr. Emily Breit, chair of FHSU's Department of Economics, Finance and Accounting; Cole Engel, instructor of economics, finance and accounting; Dr. Tony Gabel, associate professor of management and marketing; Scott Gross, an FHSU graphic design graduate who is lead designer for Dessin Fournir Collections, Plainville; Jessica Heronemus, instructor of economics, finance and accounting; Ron Newman, regional director of the Kansas Small Business Development Center; Charlene Nichols, assistant director of the FHSU Alumni Association; Dr. Sam Schreyer, assistant professor of economics, finance and accounting; Charles Wolfe, instructor of management and marketing; and preliminary judge Dr. Mike Martin, assistant professor of management and marketing.

On Sunday evening, each team gave a five-minute presentation to a panel of judges. The judges were Dr. Shinga Masango, lecturer in international business at Sheffield Hallam University, Sheffield, England; Justin McClung, Internet and network solutions manager at Nex-Tech Inc., Hays; and Skip Yowell, a former student who is a co-founder of JanSport, Alameda, Calif.

The next Kansas Startup is scheduled for Nov. 13-15, 2015. For more information, contact Henry Schwaller IV at 785-628-6162 or hschwaller4@gmail.com.

Photo identification:
Silverware Savers -- Silverware Savers with the first-place trophy. From left: Matthew McWhithey, Korby Boswell, Morgan Lawrence, Dani Overmiller, Laura Regnier and Carlos Dominguez.