Fort Hays State establishes Honors College for gifted students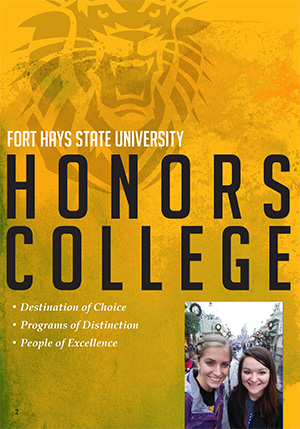 01/22/15
Recruiting has already begun for a new college at Fort Hays State University, a college created with the specific goal of making the university the destination of choice for academically gifted and ambitious students from around the state, nation and world.

The Honors College will also go on the road with the 2015 Student Recognition Programs. Some of the first Honors College students, drawn from the Distinguished Scholars Program, the college's precursor, will make the rounds in this year's 13-city, three-state tour to recognize high school seniors and transfer students who will receive FHSU scholarships for the coming academic year.

The SRPs begin this year in Beloit on Monday, Jan. 26.

"Our Honors College is a program of distinction designed to welcome the brightest young minds to our university," said President Martin. "We will challenge them, nurture them and make them a part of our family."

Matt Means, assistant professor of music and theater, has been named director of the Honors College. Means was founding director of the Distinguished Scholars Program.

"I visited 13 schools in Lawrence and Kansas City last week and spoke to several hundred students in total," he said. "I had longer, individual meetings with five students, and the lowest ACT score of the group was 32."

The FHSU Honors College will offer a challenging curriculum across the range of programs, three enticing new scholarships and housing that will gather them all into one place.

"The Honors College will provide the education, training and experience that will allow these high-achieving, high-ambition students the best possible college experience," said Means.

The college will feature smaller classes made up of Honors College students that will provide opportunities for research and scholarships aimed at preparing students for graduate study and advanced employment.

Another feature of the college will be dedicated living and study space. A floor of McMindes Hall will be designated as honors-only, and honors-only study space will be set aside in Forsyth Library.

Leadership development and peer mentoring will also be major components of the Honors College experience: Honors College students will be part of the Leadership Training Institute, and incoming honors freshmen will be teamed with a upperclassman members who will help the freshmen acclimate to the university environment.

Honors College students will also automatically become members of the university's Fort Hays Honor Society, an invitation-only group requiring a 3.8 cumulative GPA.

President Martin has also announced that the university has funding in place to provide three full-ride scholarships, seven $10,000 scholarships and seven $6,700 scholarships for successful applicants.

Three Regents Scholarships will be available to high school seniors who enroll in the Honors College. These are full-tuition and housing scholarships available to in- or out-of-state students. Up to $450 per semester for books is included. Applicants must meet four of five criteria:

• Be a National Merit finalist or semi-finalist, winner of a National Achievement Award or have attained National Hispanic Recognition program status;
• Have a minimum high school cumulative GPA of 3.7 or higher;
• Have a minimum ACT score of 33 or SAT score of 1460;
• Present evidence on their resumes of exceptional scholastic or community leadership;
• Present evidence of "exceptional intellectual acuity and potential" through their responses to two essay questions.

The other two scholarships are Tier 1 and Tier 2 Honors College Scholarships.

Up to seven Tier 1 Scholarships will be awarded each year: $10,000 total, which includes $4,000 for tuition and fees and $6,000 towards room and board. The housing award is dependent on the student living on the honors floor on campus. The scholarship is open to students already in college or to transfer students, but incoming high school graduates are preferred.

The Tier 2 Scholarship is $6,700 total ($2,700 for tuition and fees and $4,000 housing). The housing portion, as with the Tier 1, is dependent on the student living in the university housing designated for Honors College students.