Donor gift kicks off new study-abroad fund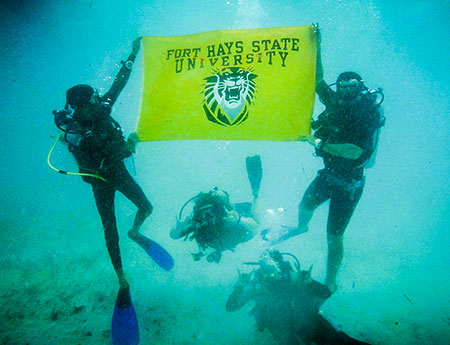 HAYS, Kan. -- The Fort Hays State University Foundation has announced a $10,000 gift to establish a new Center for Language and Culture Study Abroad Fund. The FHSU Center for Language and Culture is a collaborative effort of several campus units to offer support in the areas of foreign language improvement (including English as a second language) and education abroad advising assistance.
The goal of the new fund is to provide financial assistance for living expenses to FHSU students who participate in faculty-led study-abroad programs. It is estimated that the initial gift will benefit approximately 70 students.
Instructor Max Maximov, CLC study abroad coordinator, has worked with dozens of students who have confirmed that offering international experiences adds to the overall quality of education, positions the university strategically among its peer institutions and embodies the "World Ready." part of the university's tagline.
"Just imagine the conversations our students have after graduation, wherever life takes them, when asked, 'What did YOU do when you were in college?,' " said Maximov.
Students who have previously traveled abroad as part of their studies at Fort Hays State, he said, have answered that question like this:
I rode a camel in the Sahara and spent a night at a Bedouin campfire. (Morocco)
I walked the footsteps of Napoleon, from his cradle to his deathbed. (Paris-Corsica-Belgium)
I learned about eco-farming, kayaked next to dolphins and penguins and told the elementary-school kids in a village school about Thanksgiving in the U.S. -- on Thanksgiving Day! (Chile)
I swam with sharks and became a certified scuba diver. (Belize)
I saw Machu Picchu and helped build houses in a poor village. (Peru)
I tanked the energy at Stonehenge, hiked along Loch Ness and saw a Shakespearian play in his hometown. (England-Scotland)
I finally had the peace of mind to figure out my life past graduation as I backpacked 150 miles along the Camino de Santiago. (Spain)
FHSU alumna Brenda Reeve and her husband, Lee, of Garden City, made the initial contribution.
"Study abroad is a fantastic way to further a student's education, not only by attending classes but also by experiencing life in a different country," said Reeve.
She is a longtime FHSU supporter as well as an FHSU Foundation board member. She was inspired to give toward travel-related student expenses because of the role that travel has played in her life and in her daughters' lives.
"Two out of our three children studied abroad and came back with such a different outlook on other cultures," she said. "Their eyes were opened in so many ways! I also believe a student who has had this experience will be amazed to find that future employers are impressed by their willingness to take chances in life and stretch beyond their boundaries."
Some of the Reeves' other contributions to the university include funds for student travel for the FHSU Office of Student Affairs' Learning Communities. A learning community is a group of first-year students who live on the same residence hall floor, share common interests, take classes together and often travel together.