Fort Hays State University professor co-authors book on state voting laws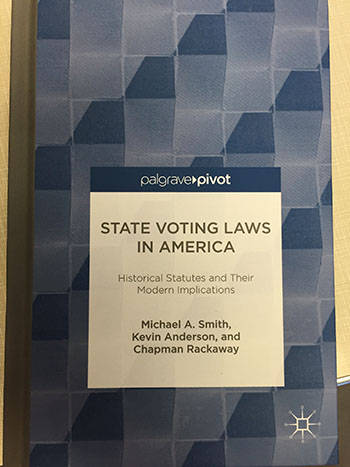 02/04/15
Dr. Chapman Rackaway, professor of political science at Fort Hays State University, recently co-wrote and published "State Voting Laws in America: Historical Statutes and Their Modern Implications." The book offers an empirical analysis of recent voting laws and their effects on voting fraud and turnout.

Rackaway's co-authors are Michael Smith, chair and associate professor of the Department of Political Science at Emporia State University, and Kevin Anderson, associate professor of political science at Illinois State University. Rackaway called the book a "shared vision that all three of us have."

"As political scientists with a particular eye for civic engagement, we track voter turnout and try to find ways that turnout can be increased. What we found potentially disturbing about restrictive voting laws was the high likelihood these laws would actually run the opposite direction and suppress voter turnout," said Rackaway. "Indeed, that was what we found."

Rackaway, Smith and Anderson begin their analysis at the end of the Civil War with the 14th and 15th Amendments that started a trend of expanded ballot access and was later reversed with the institution of Jim Crow laws in 1876. Voting rights were again expanded in the 20th century with women's suffrage, plus a series of Supreme Court rulings and state law changes. Today, however, newer laws are adding additional prerequisites to voting and voter registration.

"State Voting Laws" found that laws complicating voter registration, such as photo ID and birth certificate requirements, decrease voter turnout when combined with poverty. Rackaway also pointed out that voting issues are particularly relevant in Kansas as Kansas Secretary of State Kris Kobach is "a leading proponent of these laws."

"I hope that people who are concerned about both voter fraud and voter turnout will read the book because it shows that there are turnout consequences to restrictive laws," said Rackaway. "If that encourages lawmakers to find more ways to secure the vote while still promoting voter turnout, all the better."