Student organization and volunteers support St. Jude Children's Research Hospital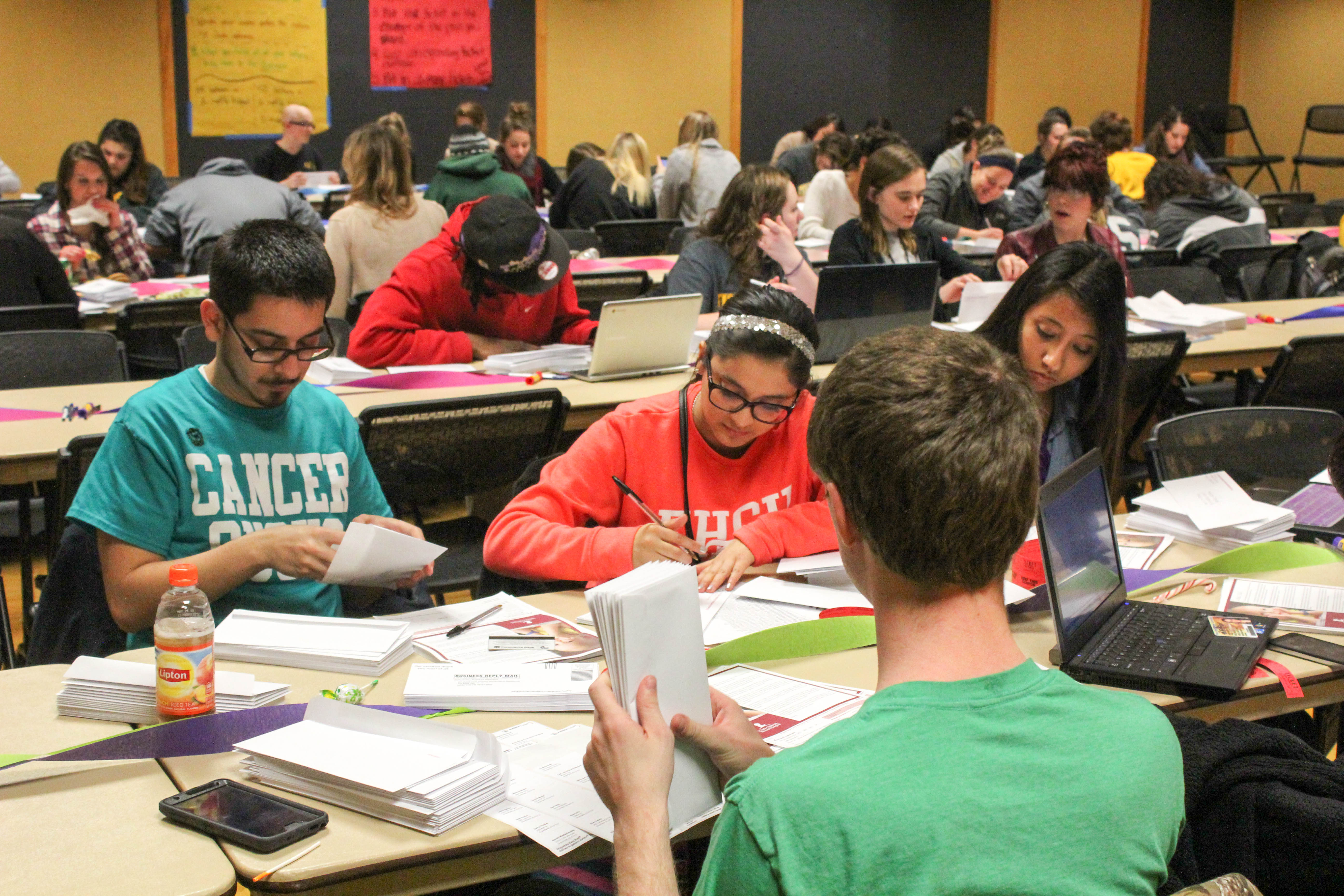 02/26/15
Fort Hays State University volunteer teams prepared 7,000 letters to send to potential donors at the Stripes for St. Jude letter writing event held on campus Tuesday night.

Formerly known as Up Til Dawn, Stripes for St. Jude is a student organization that raises funds and awareness for St. Jude Children's Research Hospital, contributing over $200,000 to the hospital in the group's history. The organization's faculty advisors are Marcella Marez, instructor of communication studies, and Brett Bruner, director of persistence and retention in Student Affairs.

President Mirta M. Martin formed a volunteer team with members of her office staff and welcomed participants. "Tonight, you will be given the chance to become a superhero by making a difference in the lives of children," Martin said. She later recognized the organizers, saying, "Thank you for your leadership in arranging this tremendously successful event. I'm so very thankful for all you and your colleagues do."

Three patient families were on hand to speak to volunteers and share information about their experiences with St. Jude.

Pre-printed letters were supplied by one of St. Jude Hospital's regional offices. Volunteers registered ahead of time and were asked to arrive with 50 or more addresses of potential donors. Envelopes were addressed by hand or with pre-printed labels, then stuffed and sealed. Stripes for St. Jude will return all completed materials to the regional office for postage and mailing.

Nearly 160 participants wrote an average of 50 letters per person, which earned each letter writer a T-shirt commemorating the event. Stripes for St. Jude provided refreshments as well as opportunities to win prizes donated by local businesses. Other activities included inflatable jousting, Minute to Win It games and card making for the children of St. Jude.

Michaela Sasse, Gaylord senior, served as the event and logistics coordinator of the event. "It was very rewarding and refreshing to see so many people show up for the letter writing event," said Sasse. "We really appreciate that people took time out of their hectic schedules. Some volunteers stayed for the entire 5-hour event. It showed that they are committed to our cause."

Donations obtained through Stripes for St. Jude letters will be credited to the FHSU event through an event ID number present on each letter. Total funds raised will be announced two to three months following the mailing.

For more information on Stripes for St. Jude, visit www.facebook.com/stripesforstjude or email Michaela Sasse at mjsasse@mail.fhsu.edu.