Encore Series to host indie-folk sibling band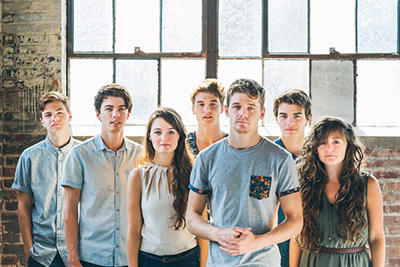 03/02/15
The Hunts, a national indie-folk sibling band, will make their Encore Series debut at 7:30 p.m. Tuesday, March 3, in the Beach/Schmidt Performing Arts Center on the Fort Hays State University campus.

With a harmony-laced take on alternative folk that is both breathtaking and sweetly ethereal, the Hunts are a Chesapeake, Va., based band made up of seven brothers and sisters who have been playing music together almost their entire lives. Ranging from ages 16 to 24, twin sisters Jenni and Jessi and their brothers Josh, Jonathan, Jordan, Justin and Jamison, all learned to sing and play violin as children and spent much of their childhood performing in their community.

After teaching themselves to play instruments like mandolin, piano, ukulele, banjo and drums and widening their following through playing at theatres and festivals around the country, the Hunts started experimenting with songwriting. They soon brought to life a batch of songs that revealed their senses of melody and innocence. Although their tastes now run from folk-rock to noise pop, the Hunts hold true to a songwriting process that taps into each member's unique strengths but remains intensely collaborative.

In November 2012, they released the album "We Were Young," produced by 13-time Grammy nominee Mark Carman and featuring 10 original songs that each tells its own tale of youthful memory, conquering fear, an aching heart or an inspiring journey.
The Hunts are currently on tour for their most recent recording, their debut extended play for Cherrytree Records, "Life Was Simple," which was released in August.

Tickets are now available for purchase at the Memorial Union Student Service Center, by calling 785-628-5306, or by visiting www.fhsu.edu/encore. Tickets for the general public are $30 reserved, $26 unreserved; for seniors and children ages 5-17, tickets are $28 reserved, $24 unreserved; and for FHSU students tickets are $21 reserved, $17 unreserved with a Tiger Card.

This performance is sponsored by High Plains Public Radio.

For more information about the event, contact Vincent Bowhay, assistant director of the Memorial Union and chair of the Special Events Committee, at 785-628-4664 or vebowhay@fhsu.edu.