Fitzhugh wins athletic trainer award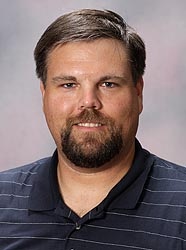 03/25/15
Fort Hays State University's Dr. David Fitzhugh, assistant professor of health and human performance, has won the 2015 Athletic Trainer Service Award from the National Athletic Trainers' Association.

The prestigious national award recognizes NATA members for their exceptional and unique contributions to the athletic training profession.

Fitzhugh, director of the Athletic Training Education Program and coordinator of EMS education at Fort Hays State, is a native of New Mexico. He received his master's degree in health and human performance from FHSU in 1997, then returned to his alma mater 10 years later, following stints at universities in Kentucky and Arkansas.

Fitzhugh will be recognized at the 2015 NATA Convention in St. Louis in June.