'Figaro' to close FHSU's theatre season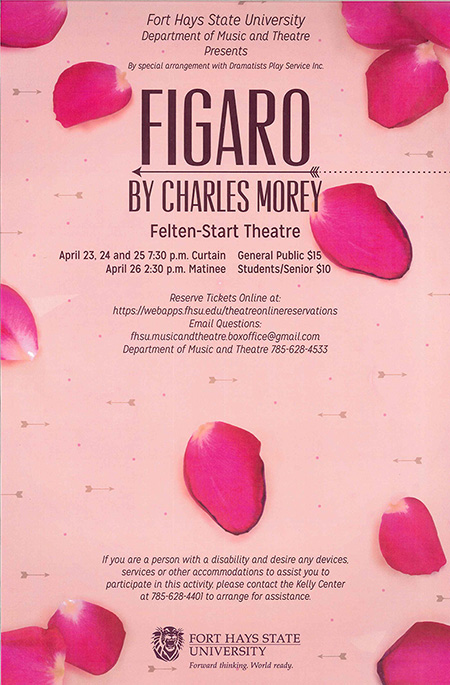 04/16/15
Wrapping up its 2014-15 theatre season, the Department of Music and Theatre at Fort Hays State University will perform Charles Morey's "Figaro" from Thursday to Sunday, April 23 to April 26, in the Felten-Start Theatre in Malloy Hall.

Performances will be 7:30 p.m. Thursday, Friday and Saturday, with a Sunday matinee at 2:30 p.m.

"Figaro" is freely adapted from Pierre-Augustin Caron de Beaumarchais's late-18th-century comedy "The Marriage of Figaro." The title scamp is getting married in the morning, but with everyone scheming to come between him and his bride, Figaro needs help making it down the aisle. He turns to the audience to help him with his mischievous plans.

Tickets for individual theatre performances are $15 for the public and $10 for senior citizens and FHSU students with valid ID.

To purchase tickets ahead of time, contact the Department of Music and Theatre at 785-628-4533. Tickets may also be purchased at the door.