Powerful documentary 'The Hunting Ground' coming to Fort Hays State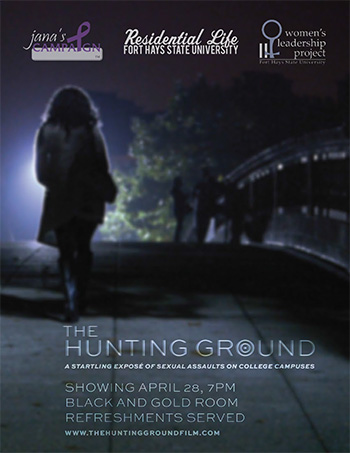 HAYS, Kan. -- Residential Life, Women's Leadership Project and the Division of Student Affairs, all of Fort Hays State University, and Jana's Campaign will bring to the university "The Hunting Ground," an explosive documentary about rape on college campuses.
The film will be shown in the Memorial Union's Black and Gold Room at 7 p.m. Tuesday, April 28.
The film explores an epidemic of violence and institutional cover-ups at colleges across America. The team behind the Oscar-nominated "The Invisible War" presents a scorching exposé of the startling prevalence of sexual assault at bastions of higher learning and of the powerful interests that re-victimize vulnerable students while shielding perpetrators.
A facilitated conversation on the film and light snacks will follow the screening.
Using vérité footage, expert insights, first-person testimonies and interviews, "The Hunting Ground" delivers a devastating indictment of campus "rape culture." Writer and director Kirby Dick and producer Amy Ziering portray a world where one in five women is a victim of sexual assault and where many of the ones who survive then have to face disbelief, apathy, victim-blaming, harassment and retaliation from both their fellow students and the administrators whose job it is to protect them.
The film also presents the work of two rape survivors, Andrea Pino and Annie Clark, who are pursuing an innovative legal strategy that uses Title IX legislation to force colleges and universities to take notice and respond.
Dick and Ziering's most recent feature, "The Invisible War," an investigation into the epidemic of rape in the U.S. military, won 2014 Emmy Awards for best documentary and outstanding long-form investigative journalism. It also won a 2013 Peabody Award, the 2012 Sundance Film Festival Audience Award and the 2012 Independent Spirit Award for best documentary and was nominated for an Academy Award for best documentary feature.
For more information, contact Maryke K. Taute (pronounced maRAYkuh TAWtuh), assistant director of residential life, at 785-628-4245or by email to mktaute@fhsu.edu.