Son continues legacy of Omer and Annabelle Voss with gift to Fort Hays State University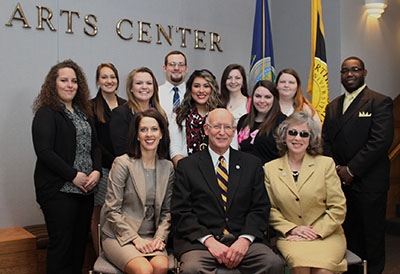 04/28/15 hb/ks
With a gift of $200,000, Omer "Hap" Voss Jr. has created the Voss Advanced Leadership Undergraduate Experience at Fort Hays State University, known as the VALUE program.

Hap Voss, of San Francisco, is the son of Omer Sr. and Annabelle Voss, long-time supporters of Fort Hays State and two people who truly believed in education and the importance of providing young minds with the opportunity to succeed.

Over the years, the Voss family has made generous gifts to the FHSU Foundation. In 2003, the couple established the "Omer G. Voss Distinguished Professorship in Leadership Studies."

FHSU officials gathered for a news conference today to announce their most recent gift. Tim Chapman, president and CEO of the FHSU Foundation, said the $200,000 was an "initial" gift and he invited others to contribute to the VALUE program.

Chapman recalled visiting the couple's home in Chicago many times. When he asked about their various educational gifts, Annabelle Voss said, "Our money seems to go further at Fort Hays State."

Dr. Mirta M. Martin, president, pointed to today's gift as one more example of the value of family at Fort Hays State. "The legacy lives on," she said. "This wonderful gift to FHSU students is also a tribute from Hap to his parents. We care about each other in the Tiger family, and this gift demonstrates how that attitude of caring continues to live over the miles, the years and for many, many, many generations to come. This gift shows the importance of leading from the heart."

Annabelle passed away in 2009, and Omer Sr. passed away three years later in 2012.
According to Chapman, the couple's son, Hap, is a chip off the old block. "Hap's dream is coming true to help Fort Hays State and to fulfill the hopes of his father and mother who wanted nothing more than to support students and help them to become leaders of our country and world."

In presenting the gift, Hap Voss recalled visits to the FHSU campus over the years with his father and mother. In one of those visits, he said his father advised students that to become leaders, they must "dig down and find your skills." Voss Sr. gave the Commencement address in 1961, and when he received an honorarium of $600, he and Annabelle decided to donate it to an FHSU scholarship fund. That was the beginning of financial support for Fort Hays State from the Voss family.

Hap Voss earned an undergraduate degree from the University of Michigan, served in Vietnam with the Navy and returned to school for a graduate degree. He retired a couple years ago as a senior vice president with the Bank of America, but he said he never learned about leadership in college. "Early on, I wasn't the leader I could have been." In discussions with FHSU faculty, he discovered the Leadership Studies program could do even better by establishing the VALUE program. "Leading begins at the edge of your comfort zone," he said, and he decided the gift of $200,000 to create the VALUE program would help FHSU's leadership faculty and students "make it happen."

Curt Brungardt, director of FHSU's Center for Civic Leadership, spoke about his personal connection to the Voss family and what this latest gift would mean to his students.

"Over the last decade, it has been my honor to hold the title of Omer Voss Distinguished Professor of Leadership Studies," Brungardt said. "Omer and Annabelle Voss and their family have had a tremendous impact on this university and especially the Department of Leadership Studies, the Center for Civic Leadership, and most importantly, our students."

Brungardt said he got to spend a lot of quality time with the couple in their home. "I would make the excuse to go to Chicago at least once or twice a year and I really grew close to both of them. We would sit and visit for hours about their life, Omer's time at FHSU, and his advice to our leadership students," he recalled. "On some of those trips Hap was there, and I got to meet and develop a relationship with him as well. Since his parent's death, I now make an effort to go see Hap in San Francisco yearly."

Brungardt spoke at Omer Voss's funeral and mentioned several FHSU leadership studies graduates and how Omer lived on through them. "Now again, with this recent gift and the development of the VALUE program, the Voss family continues to impact FHSU and its students."

The VALUE program is "designed to develop the most promising undergraduates into powerful agents for good, following their educational experience at FHSU," Jill Arensdorf, chair and associate professor of the Department of Leadership Studies, said during today's news conference. "The VALUE program is a year-long curricular and co-curricular experience for upper-division students, where they will be challenged to embrace and dedicate themselves to deeper individual development."

Students in the Voss Advanced Leadership Undergraduate Experience program are able to explore their personal interests and develop a plan of study for one year related to corporate leadership, civic/non-profit leadership, or scholarship/leadership research.

These students can also take advantage of mentoring and coaching, experiential learning, advanced leadership labs, and will, at the end of the year-long program, submit an e-portfolio to present the scope of their work to Leadership Studies faculty and VALUE mentors.

Arensdorf introduced the students who were chosen to participate in the VALUE class for the 2015-16 academic year:
Stephen Anderson, a Kansas City, Kan., senior majoring in Informatics;
Ali Sedbrook, a Thornton, Colo., junior majoring in Organizational Leadership;
Lindsay Smith, a Wichita senior majoring in Organizational Leadership;
Ashley Templeton, a Wilson junior majoring in Organizational Leadership;
Chance Bulmer, a Hays junior majoring in Organizational Leadership;
Lizette Avalos, a Liberal senior majoring in Organizational Leadership;
Tera Mills, an Arkansas City senior majoring in Organizational Leadership;
Emilie Atherton, an Advance, N.C., junior majoring in Organizational Leadership;
Jade Singleton-Reich, a Denver junior majoring in Organizational Leadership; and
Kaitlyn Dinges, a Cimarron senior majoring in Organizational Leadership.

The FHSU Foundation is the fundraising arm of Fort Hays State. To learn how you can make a difference for the university and Tiger students, please visit foundation.fhsu.edu or call the office at 785-628-5620.