Student volunteers travel to Memphis for alternative Spring Break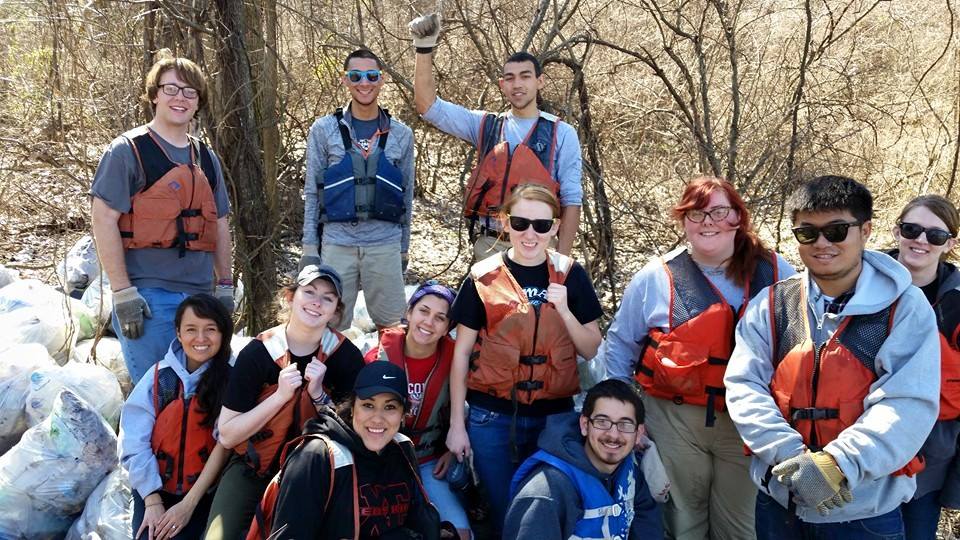 04/10/15
Fort Hays State University students traveled to Memphis, Tenn., for an alternative spring break trip sponsored by Tigers in Service and Stripes for St. Jude.

The 28 student volunteers and their faculty advisor, Jami Carlson, admissions counselor, volunteered at St. Jude Children's Research Hospital and Living Lands and Waters.

St. Jude Children's research hospital is a leading pediatric cancer research and treatment center where patients and families are never billed for treatment, housing, food or transportation.

"I thought it was a wonderful experience that helped me as a person to be more open and getting to experience something that I never thought I would do in college," said Cynthia Navarro-Becerra, Aurora, Colo., freshman. "I love that moment since I got to help this little girl color in a coloring book. She was a patient with cancer. I thought it was nice just spending time with her and getting to know her more."

Jeina Stoumbaugh, Westminster, Colo., junior, echoed Navarro-Becerra's feelings.

Volunteers spent time with patients doing arts and crafts projects, playing board games and coordinating a scavenger hunt.

"I'll never forget being in the Target house and my group was playing a scavenger hunt," she said. "The clue was to go to the place where dreams come true (the DreamWorks room at the facility), and a kid responded with St. Jude being the place where dreams come true. The biggest smile came to my face hearing how our work makes these kids' dream come true."

Volunteers also volunteered with Living Lands and Waters and picked up garbage from the shores of the Mississippi River in Western Memphis.

Living Lands and Waters is an organization that aims to "aid in the protection, preservation and restoration of the natural environment of the nation's major rivers and their watersheds."

Students who participated in five-day Alternative Spring Break Service Trip are listed by hometown.


-- more --
Page 2/Alternative Spring Break

AURORA, Colo.: Cynthia Navarro-Becerra, freshman.
CHENEY: Macy Becker, sophomore.
DENVER, Colo.: Erica Meneses, junior.
ELDORADO: Kaylie Towles, senior.
ELLIS: Wanda Jimenez, freshman.
GAYLORD: Michaela Sasse, junior.
GREAT BEND: Edith Reza-Martinez, graduate student.
HARVARD, Neb.: Brianna Schuck, sophomore.
HAYS: Julie Balzer, sophomore, and Kelsey Bieker, senior.
INMAN: Oaklee Abernathy, junior.
KANSAS CITY, Kan.: Melanie Arellano-Luna, freshman, and Ricardo Zamora, freshman.
LEOTI: Clancy Masterson, junior.
LIBERAL: Lizette Avalos, senior.
OLATHE: Haydee Reyes-Alvarado, freshman.
ONAGA: Korby Boswell, graduate student.
OTTAWA: Carlie Snethen, freshman.
PLAINVILLE: Jessie Carmichael, freshman.
RUSSELL: Kayla DeWald, sophomore.
SALINA: Addison Tritt, junior.
SHENYANG, China: Xiaotian Gao, graduate student.
SMITH CENTER: Victoria Fuller, junior.
ST. GEORGE: Trey Basa, sophomore.
TONGANOXIE: Brooklyn Kerbaugh, junior.
TOPEKA: Joselyne Villa, freshman.
WESTMINSTER, Colo.: Jeina Stoumbaugh, junior.
WILSON: Ashley Templeton, sophomore.

Tigers in Service is an entity of the Center for Civic Leadership with a mission to promote and provide community service opportunities locally, nationally and globally. Stripes for St. Jude is a collegiate philanthropic group which raises awareness and funds for St. Jude Children's Research Hospital.

To learn more about Tigers in Service events, email service@fhsu.edu or www.facebook.com/tigersinservice.