For one grad, walking across the stage requires a bigger step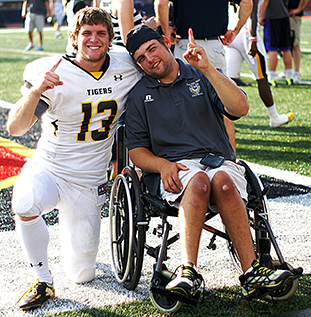 05/15/15
NOTE TO EDITORS, NEWS DIRECTORS: Print quality photos of Steffen are available through the Steffen link on the page at bigcat.fhsu.edu/news_photos.php.

By Diane Gasper-O'Brien
Walking across the stage to receive their diploma means different things to different graduates.

Imagine what it could mean to someone who struggles walking at all, whose only means of getting around is with crutches or a wheelchair.

For Radley Steffen, Hutchinson senior, Saturday morning's trek across the stage at Fort Hays State University's Gross Memorial Coliseum will signify the end of a long road.

Steffen was born with cerebral palsy, and it will take him a little longer to get across that stage than most of the other graduates. He has chosen to use his crutches rather than his electric wheelchair. He will have it no other way.

"I'm going to walk," he said emphatically. "I refuse to use my chair at graduation. I walked at graduation in high school and at juco. So I'm walking."

He's not accustomed to taking the easy way out.

FHSU Head Football Coach Chris Brown said he saw that early on after meeting Steffen. Steffen, who helped with several of Hutchinson High School's state championship football teams under Coach Randy Dreiling, got in touch with Brown when he decided to continue his education at Fort Hays State. Steffen had graduated from Hutchinson Community College in 2010, and when he decided to pursue his bachelor's degree, he found that all his credits were guaranteed to transfer to FHSU.

Steffen got in touch with Brown about helping with the Tiger football team.
He started out as a manager with the team in the fall of 2013, and Brown saw an opportunity for a great learning experience, not only Steffen but his entire team.
Brown started giving Steffen more responsibilities, including reading script and giving signals to the team at practices.

"He really kept us on a schedule," Brown said.

Besides knowing the game of football, Steffen is "a great inspiration," Brown said.

Steffen soon became one of the guys, a big part of the team. Brown started taking Steffen on road trips his senior year, and he was honored the final home game of the season last fall along with all the senior players.

"They gave me a farewell jersey," Steffen said. "That meant a lot."

"I told him last season we needed him on the sidelines, that we were taking him on road trips," Brown said. "He never complains, so he's an awesome guy to have around the kids. He doesn't use his disability as an excuse for anything."

Indeed.

Steffen was born three months premature. He was diagnosed with cerebral palsy, a neurological disorder that affects coordination, vision and hearing. Steffen underwent major eye surgery as a preschooler.

"The doctor told my mom I had a 30-percent chance to live, so I'm pretty lucky to be here," he said. "And I'm pretty lucky not to be a severe case."

Steffen said he also considers himself lucky to be able to finish his bachelor's degree in general studies with an emphasis in business and leadership.

But people who know Steffen credit his work ethic and determination, rather than luck, for his accomplishments. Some of those were fellow students, who watched him deal with everyday challenges while working as a resident assistant in Heather Hall.

"He gets down some, but we all do, and my door is always open to him," said Luke Bellar, a Howard senior who this year lived on the first floor of Heather Hall, where Steffen worked as an RA this semester.

"He doesn't let his disabilities get in his way," Bellar said. "He's doing quite well for himself."

Steffen would like to continue helping coach football and said he has a few ideas to pursue those dreams. Brown, for one, has confidence in Steffen achieving his goals.

"You can tell that kids just love him," Brown said. "He has so much determination, and the more he understands the game, I think things could work out for him coaching in some type of capacity someday."

For now, though, Steffen is looking forward to making that trip across the stage Saturday morning, then returning home to his family in Hutchinson -- with diploma in hand.

"I'm ready to get back home to my family, but I'll miss everyone here," he said. "The people here are very good to me. That's what I'm going to miss the most. I'm very fortunate."

Cutlines: Radley Steffen, a graduating senior at Fort Hays State University, shakes hands with Ed Brown, Bradenton, Fla., senior, in Steffen-on field.jpg, and with Hays junior Drew O'Brien, No. 13, in Steffen-with Drew.jpg.