Zhykin takes second at Kansas Entrepreneurial Challenge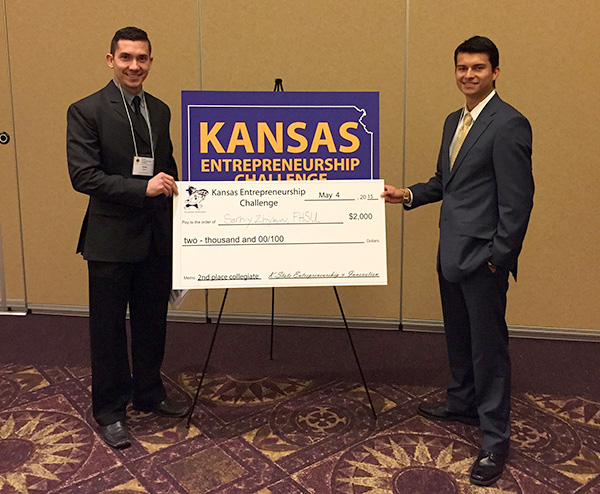 05/12/15 sry
For the first time, Fort Hays State University participated in the Kansas Entrepreneurial Challenge, a competition for planning and pitching business ideas on May 4 at Kansas State University, and graduate student Serhiy Zhykin took second place.

Zhykin, Smithville, Texas, created a business concept for an "Android-based app that provides audio guidance for the blind and visually impaired and uses cutting edge technology developed by Google's Project Tango," said Henry Schwaller, instructor of management and marketing. Schwaller was the team faculty sponsor.

Zhykin competed against winners from Emporia State University and Kansas State University whose business concepts represented the very best ideas at those universities, Schwaller said.

"For FHSU, this event demonstrated the impact that FHSU faculty have on our students. Our faculty dedicated time and effort to work with our students, and as a result, FHSU students develop the skills necessary to compete in the global economy," said Schwaller.

Schwaller cited three faculty members and another graduate student for their coaching and assistance: Dr. Mark Bannister, professor of informatics; Dr. Mary Martin, associate professor of management and marketing; Dr. Dmitry Gimon, assistant professor of informatics; and Andres Torres-Caballero, graduate student.
Pictured: FHSU graduate student Serhiy Zhykin with fellow graduate student Andres Torres-Caballero