Aikido instructor at FHSU attends national seminar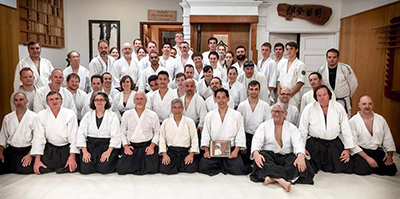 06/24/15
by Rachel Rayner
While most seminars involve hours of sitting and listening to speakers, Fort Hays State University adjunct instructor Brandon Nimz, Hays, spent his time at the Aikido Association of America's national instructor seminar throwing people on the ground.

Aikido is a Japanese martial art that involves joint locks, throws and philosophical teachings.

Nimz owns Aikido of Northwest Kansas, Hays, teaches the FHSU Aikido Club and is on the scholarship committee of the Aikido International Foundation. His dojo has one of two pilot scholarship programs in the United States, which allow local students to study at the dojo for a discounted rate through donations. Twelve students are currently on scholarship.

He and several of his students joined aikidokas from all over the world in Chicago to learn about teaching methodology.

"It makes us think about basic things in a different way," said Nimz.

Stephen Toyoda, president of the association, taught standardized basic techniques while other instructors taught classes on teaching children, running formal demonstrations and tests and massage. Nimz led first aid, CPR and defibrillator classes.

After classes, the aikidokas spent their time socializing with one another. Nimz said that networking is one of the most important aspects of the seminar because it allows the attendees to meet people they would not meet otherwise. Two young aikido students from Rhode Island Nimz met at the seminar are thinking of visiting the dojo in Hays.

"Bonds with other caliber aikido practitioners help us all grow and improve," said Nimz.

For more information about Aikido of Northwest Kansas, visit its website at www.aikidoofnorthwestkansas.com/.