FHSU welcomes new orchestra director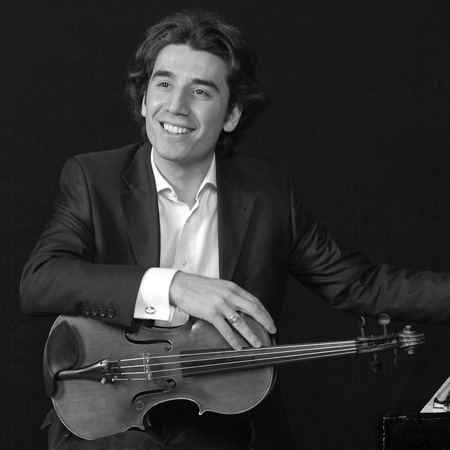 06/17/15
by Rachel Rayner
Shokhrukh Sadikov thinks big. He is the new director of orchestras at Fort Hays State University, and he plans to help Hays reach its full potential to make it an even more exciting environment for students.

Sadikov's ultimate goal for the orchestra program is to develop it further and make it as enjoyable as possible so that students have the same experience they would have at a larger school. He said that the string instruction at FHSU is already very high quality at a low cost, so the reason students choose other universities is because they believe they will have better opportunities there.

Sadikov grew up in Uzbekistan surrounded by music. His mother was a music educator and his father conducted the National Academic Orchestra of Uzbekistan, collaborating with famous musicians. In spite of his profession, Sadikov's father would not let him conduct, saying that he must become a musician first.

"You have to be somebody before you can become a leader," said Sadikov.

He studied viola at the Uspensky State School of Music, a school for gifted children in Tashkent, Uzbekistan. Then, he attended the State Conservatory of Uzbekistan before receiving a scholarship to study at Park University in Kansas City for free tuition, room and board. He decided to go to America in spite of speaking only two phrases in English: "I love you" and "sank you."

"Not 'thank you.' 'Sank you,'" he said.

After years of living in the United States, studying at Park and then at the University of Kansas, Sadikov can now express himself eloquently in English.

In addition to learning English, he studied in Germany for a year, and was able to passably speak German. He speaks Russian fluently, and has participated in master classes and taken lessons in Moscow.

He does not limit his endeavors to music. While studying at KU, he took several computer programming classes, and the logic he learned from music enabled him to excel in the classes. He is currently collaborating on a mobile app to aid efficient practicing.

Sadikov said he likes to continually seek challenges. He has participated in several distinguished music festivals, and with each one he reaches a little higher by listening and watching the others. He wants to surround himself with better players so that he can learn from them.

He has won numerous prestigious competitions; conducted professional orchestras internationally; and founded the award-winning Wakarusa Trio.

"I can confidently say that I have the same amount of experience both professionally and in life as a middle-aged person," he said. "Maturity is shown by the decisions made. I will show it through my decisions and my work."

Sadikov has very practical goals for his new position at FHSU. He wants to ensure his students are healthily challenged and ready for life after graduation. This requires learning when to lead and when to follow.

"Playing an instrument is not enough. You have to be able to work with a community," he said.

He sees his students as more than just faces in his orchestra. They are individuals, and he wants to help them discover their passion and find their places in the world, which might be far different than he or the students expected.

"Open yourself up to something bigger and take the opportunities that come," he said. "Think forward. Think bigger. Think different."

"I'm not afraid of taking that bigger step," he said. "I'm ready for it."