Family viola trio trains at FHSU music camp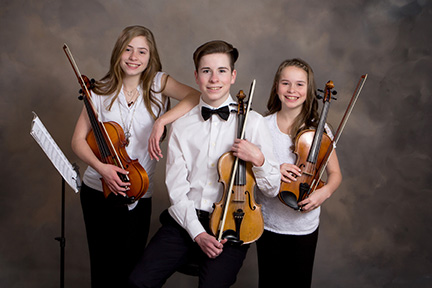 06/05/15
By Rachel Rayner
University Relations and Marketing
The lucky number for the Coleman family, Salina, seems to be three. All three of the Coleman children play viola and will attend High Plains Music Camp for the third time. And, all three have names that start with "J."

High Plains is offered by the Fort Hays State University Department of Music and Theatre and takes place on campus every July. The Coleman children, Jonathan, 17; Jessica, 15; and Jillian, 12, join hundreds of other musicians their age for a week of daily rehearsals in large and small ensembles and mini-classes. In the evenings, they attend faculty recitals, social activities and student performances.

Their parents, John and Lisa, first heard about the camp from Lindsay Ladman Modin, who was Jonathan's fourth-grade orchestra teacher. Although Jonathan was skeptical about the camp at first, afraid they would just rehearse all day, Modin's enthusiasm eventually convinced him to go.

"So in 2013, when Jillian was just old enough to be included, all three applied for scholarships," said Lisa. "Music camp was the highlight of their year."

The scholarships make it possible for the Colemans to attend camp because otherwise tuition would cost $495 per student. The children receive scholarships by sending packages to the camp and the Salina Symphony guild containing recordings of them playing viola and recommendation letters from their instructors. In addition, the Salina Symphony Guild asks them to send artwork about the theme "What Music Education Means to Me."

"The financial awards from both groups enable our children to be part of the camp; otherwise, there would be no way we could come up with that amount of money. This camp is a gift to our family," said Lisa.

Training at camp is intense. The Colemans like it. FHSU faculty, alumni and guest artists teach the students, pushing them to their limits.

"I'm challenged at a higher level at camp than I am in my school program, so it pushes me to grow in skill," said Jillian. "This is especially true of the small ensemble."

According to Jonathan, the knowledge that he has improved as a musician makes auditioning for chair placement in the Salina Youth Symphony easier.

All three Coleman children participate in the youth symphony program, which has three levels of orchestras ranging from preparatory to advanced. Many of the other students in the youth program also attend music camp.

"It's great to spend a whole week with my own Salina Youth Symphony friends in a different setting. I also get to reconnect every year with the new friends I've made at camp," said Jonathan.

Camp is filled with diverse people with one unifying element: a love for music. In spite of the hours they spend in rehearsals, the campers have fun through music.

"This past summer one of my friends recruited about 20 of us to help in her talent show song. It was a blast," said Jessica.

Campers spend hours together in rehearsals for various groups, so they quickly make friends. In addition, they live in the residence halls with roommates and camp counselors, and eat their meals in the McMindes Hall cafeteria. The experience is similar to that of new FHSU students.

"I know living in the dorm for a week is preparing me for future college life," said Jillian.

It certainly has given Jonathan a taste of what it will be like when he attends FHSU. After graduating high school, he plans to major in business and focus on either advertising or communication. When he arrived for his campus visits, there was a message on the marquee welcoming him, and the professors made him feel that he could contribute something valuable to the college. In addition, the Colemans have heard for years that FHSU is one of the nation's best values in education.

Although none of the Colemans will major in music, they all plan to play in the orchestra and keep music as a lifelong hobby.

Jonathan, Jillian and Jessica also share interests in theatre, art and soccer. They play concerts for family members and even referee soccer matches with one another, which has earned them the nickname "the Three Amigos" from their family.

The amigos are involved in soccer as well as music. All are certified soccer referees and recently officiated the Mid America Cup in Wichita in addition to league matches for the Salina Soccer Club. Jessica, who is an important member of the Salina South varsity soccer team, has earned her varsity letter and, by team vote, the designation "Most Valuable Freshman" and "Defender of the Year."

Whether in soccer, music or any of their other activities, the Coleman family operates as a tight-knit team, with John and Lisa serving as supportive and nurturing leaders for their children. Although neither parent plays a musical instrument, they enjoy being in the audience.

"John and I have discovered a beautiful new world of music beyond what we imagined. There's nothing like the feeling of watching and hearing your own child perform as part of an ensemble or as a solo. It takes your breath away," said Lisa.

John and Lisa join other parents in watching the ensembles perform at the end of camp.

"My husband and I love to attend the alternative strings concert on the final night," said Lisa. "Music camp is truly a highlight for us all the way around!"

The entire Coleman family looks forward to music camp because the children work toward their artistic goals. Although the training is strenuous, the Colemans leave camp feeling excited about music.

"When one camp ends, they begin planning for the next summer," said Lisa.

For more information about High Plains Music Camp, visit www.fhsu.edu/musiccamp/.