Former FHSU President Hammond to serve as new president of Team Kansas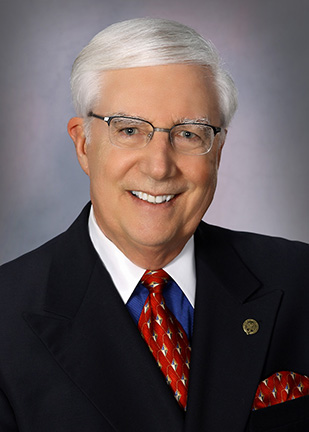 06/19/15
Team Kansas has announced that Dr. Edward H. Hammond will serve as the organization's next president. A former president of Fort Hays State University, Hammond has been a member of Team Kansas for more than 20 years, most recently as vice president.

He was nominated for his new role by outgoing Team Kansas President Don Landoll.

"It is an honor to serve the state in this role," Hammond said. "I look forward to working with business leaders and state officials to expand our workforce and grow the business environment of Kansas."

Hammond accepted the presidency at Fort Hays State in 1987 and remained in that position until 2014, making him the longest serving president of Fort Hays State and the second-longest serving president in the history of the Kansas Board of Regents system. He remains on the FHSU faculty, working with graduate students in the College of Education and Technology. He helped Fort Hays State expand its presence in Kansas and around the world by drawing large numbers of international students. His efforts as president drew national acclaim and earned him several distinguished awards.

Many of his initiatives at Fort Hays State demonstrate the entrepreneurial spirit that will serve him well at Team Kansas. Hammond established partnerships with universities in China that produced annual FHSU enrollments in that country in excess of 3,000 students. He pioneered the construction of two Vestas wind turbines that have helped to offset nearly 90 percent of the university's energy consumption with savings approaching $1 million annually. In addition, he currently is working on a project to invest money from a $334 million equity fund established by the Chinese government in the Kansas aircraft industry.

"Team Kansas has played a vital role in economic development in our state, and will continue to do so under Dr. Hammond's leadership," said Kansas Commerce Secretary Pat George. "He has a wealth of experience and qualifications that made him an excellent choice to serve as the organization's next president and continue building upon Team Kansas' many years of success."

Team Kansas is a group of private business leaders, economic development professionals and state officials who work to attract companies, investment and jobs to Kansas. It partners with the Kansas Department of Commerce and the state of Kansas to share the state's story with businesses and entrepreneurs from around the world. The organization was founded as the Kansas Cavalry in 1973. In 2013, it transitioned from the Cavalry to Team Kansas to reflect its current role as an economic development support group.

For more information, contact Matt Keith, public information officer for the Department of Commerce, at 785-296-4931, mkeith@kansascommerce.com.