Sternberg Museum summer camps inspire passion for science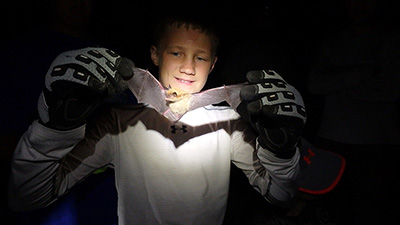 06/29/15
by Samantha Dean
Students of all ages are getting an education on paleontology, biology, geology and ecology in a fun and safe environment now that the 2015 Summer Science Camps and Programs at Fort Hays State University Sternberg Museum of Natural History are in full swing.

Sternberg Museum is offering 11 different camps for anyone interested in natural history and science. So far, the Sternberg has completed seven camps: Fun with Fossils; Reptiles and Amphibians; Bird Biologists; Marvelous Mammals; Kansas Field Naturalist Camp; Sternberg Biology Camp; and the first Weekend Family Camp.

Elementary, middle and high school students from Kansas, Oklahoma, Maine, Michigan, California, Illinois and Ohio are joining in on the hands-on experience the camps have to offer.

"I participated in programs like these growing up in Oregon," said David Levering, museum education and outreach director at the Sternberg Museum. "These camps allow students to build a variety of unique skills, like untangling bats from a nets."

Two elementary school camps are coming soon: Plants, Insects and Spiders, Wednesday, July 1; and Rocks and Minerals, Friday, July 3. Groups are limited to 12 students. The cost is $60 for members and $70 for non-members.

The final middle school camp for students in the sixth, seventh and eighth grade is the Paleontology Expedition Camp, July 19-25. This camp will allow students to dig for fossils and participate in other fieldwork. They will learn how to identify a variety of fossils and how to carefully excavate their findings. The cost is $500 for members and $600 for non-members.

The final high school camp, ninth through 12th grades, is the Sternberg Paleontology Camp, July 5-18. Students will spend 10 days in the field camps learning about paleontology and ecology. Students will learn how to use professional research tools, including GPS, maps and compasses. They will also spend four days at the Sternberg Museum and on the FHSU campus in laboratories examining their discoveries.

The cost is $1,000 for members and $1,200 for non-members.

A few openings are still available for the high school camp, but students must send in their forms as soon as possible since the camp is fast approaching.

One camp that took students out of Kansas and into a state with new critters to study was the Biology Camp, June 6-13, in southwest New Mexico.

"Moving the camp to New Mexico was really last minute," said Levering. "We merged our middle and high school groups, which we usually do not do, and took four students to study with wildlife biologists. This trip gave students interested in the subject a chance to work with scientists in a different state."

The young science enthusiasts had the opportunity to study 10 different species of bats and explore white sand dunes and lava beds. Because the trip was such a success, Sternberg Museum plans to add this camp option for summer 2016.

"Our daughter, Natalie, attended the Life Science/ Biology Camp that went to New Mexico," said Marianna Jones, Kinsley.

"Her experience was amazing. She not only had a great time, but also was able to learn about the wildlife firsthand by catching, handling and observing them in their natural environment," said Jones. "The staff ensured that the students were safe and instructed in all areas of the expedition. It was a wonderful learning experience that she is looking forward to attending again next year."

At the halfway point, the second annual Sternberg Museum summer camps have received an outpouring of positive feedback from campers and parents.

"So far we have received really good responses regarding the camps. We provide students with a cool perspective and an experience that is extraordinary," said Levering. "The natural world is worth studying, and we are showing kids that it is also worth saving."

To keep up with the camps' activities, follow the Sternberg Museum on Twitter @SternbergMuseum.

For more information, go to sternberg.fhsu.edu/active-learning.camps or contact Levering at dalevering@fhsu.edu or by phone at 785-639-5249.