Sternberg Museum to host presentation on fossil fish's travel history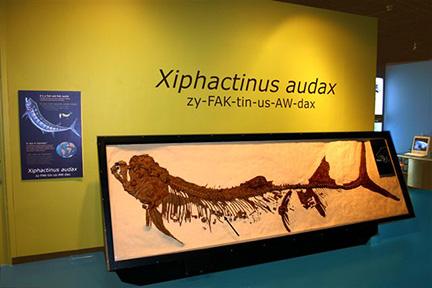 06/10/15
Fort Hays State University's Sternberg Museum of Natural History will host a presentation on a 12-foot fossil fish, discovered by George Sternberg in June 1925.

The presentation, at 7:30 p.m. Saturday, June 13, in the museum lobby, will be on the long, difficult journey the fossil has trenched between western Kansas and its current home in the Miami Science Center in Miami, Fla.

Chuck Bonner and Barbara Shelton, paleontologists at Keystone Gallery near Scott City, restored the fossil and used historical archives to trace its journey from Kansas to its current location. Bonner and Shelton will help celebrate the fossil's 90-year story in the making with a visual presentation on the fossil.

"We want people to understand the history of the fossil," said Shelton, "It deserves to come back into its glory."

After being discovered and partially restored by Sternberg, the fossil hung in the Smithsonian for a number of years. After the Miami Science Center completes its new building, the fossil will be a focal point in the aquarium along with a video that discusses its lineage, referring back to western Kansas and the Sternberg Museum.

"We are really excited to come to the Sternberg Museum," said Shelton. "We are happy that we were able to make the fossil look scientifically accurate, and the fossil looks terrific."

The presentation is open to the public. For more information contact the Sternberg Museum at 785-628-4286 or Chuck Bonner or Barbara Shelton at 620-872-2762.